Kelly Clarkson's private wedding, the tragic death of Paul Walker and Beyonce Knowles' surprise album make the final part of important events in 2013.
AceShowbiz rounds out its annual Kaleidoscope in this fourth and final part. In October good news came from
Kelly Clarkson
who married Brandon Blackstock in an intimate ceremony, as well as from
Kim Kardashian
and
Kanye West
who got engaged. A casting change in "
Fifty Shades of Grey
" also received a fair share of attention.
Meanwhile, Hollywood and movie lovers were once again left devastated by a tragic death when
Paul Walker
died in a fiery car crash, just a few days after Thanksgiving. Nearing the end of the year, reality TV series wrapped up the competition by crowing the winner of the season, while
Beyonce Knowles
gave a big surprise to her fans by secretly releasing her fifth album on iTunes.
OCTOBER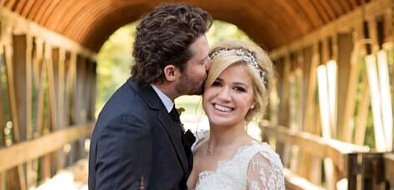 Initially planning a big "earthy" wedding,
Kelly Clarkson
had a change of heart and decided to elope with Brandon Blackstock as she's overwhelmed with the preparation. The couple opted for a low-key ceremony with the beautiful backdrop of Blackberry Farm in Walland, Tennessee. Blackstock's children, Savannah and Seth, from his previous marriage were the only guests at the wedding, but Clarkson's family totally understood it. "We were fine with it. I had known that she was under a lot of stress," her mother said. A month later, the winner of "
American Idol
" inaugural season announced she got pregnant with their first child together.
NOVEMBER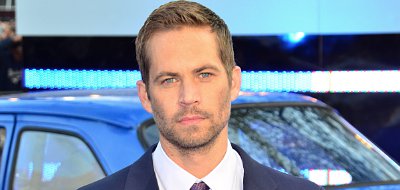 Hollywood lost another of its talent and everyone lost a generous man when
Paul Walker
died in a tragic car accident on Thanksgiving weekend. The actor, best known for his role as Brian O'Conner in the "Fast and the Furious" film series, and his friend Roger Rodas took a joyride while attending an event for his charity Reach Out Worldwide for victims of Typhoon Haiyan. But the fun turned into a tragedy as the 2005 Porsche Carrera GT that Rodas drove and Walker was in hit a light pole and tree on a California street before it burst into flames. The Los Angeles county coroner's office determined that the 40-year-old star died from the combined effects of traumatic and thermal injuries. In the wake of his untimely death, "Fast and Furious 7" which was in the middle of production was pushed back to April 2015 to allow the writers to rework the film.
DECEMBER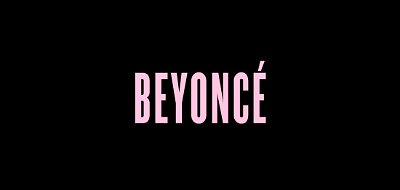 It was like a long year of draught which was ended with a heavy rain when
Beyonce Knowles
unexpectedly dropped her new self-titled album in December, making it the best surprise for music lovers and her fans in particular. Released without prior announcement and promotion, "
Beyonce
" became a critical and commercial success, debuting at No. 1 on Billboard Hot 200 with more than 600,000 copies sold within only three days. Explaining the unorthodox release, Queen Bey said she was "bored" of her music being marketed, but admitted that she "was terrified" about the outcome of the unusual strategy.
Other notable events of the month:
Dec 01: Tom Daley opened up that he's dating a man.
Dec 02: Sam Champion exited ABC's "Good Morning America" to join The Weather Channel.
Dec 02: "Inside Llewyn Davis" and "Fruitvale Station" were among winners at the 2013 Gotham Awards.
Dec 02: Christian Slater and girlfriend Brittany Lopez tied the knot.
Dec 03: "American Hustle" was dubbed Best Picture by the New York Film Critics Circle.
Dec 03: Billy Joel announced that he would play a show per month at Madison Square Garden in New York for the indefinite future.
Dec 03: Zoe Saldana confirmed marriage to Marco Perego.
Dec 04: Gal Gadot was cast as Wonder Woman in "Man of Steel 2".
Dec 04: "Her" won big at 2013 National Board of Review Awards.
Dec 04: Amanda Bynes checked out of rehab, planned to go to college.
Dec 04: The manuscript of Bruce Springsteen's "Born to Run" snatched $197,000 at a New York auction.
Dec 06: Skydance Prods. and Annapurna Pictures teamed up to develop new "Terminator" TV series.
Dec 07: Kate Winslet gave birth to Ned Rocknroll's baby.
Dec 08: "Gravity" and "Her" tied for Best Picture at the 2013 Los Angeles Film Critics Association Awards.
Dec 08: "12 Years a Slave" dominated winner lists of Boston Society of Film Critics and Boston Online Film Critics Awards.
Dec 08: Billy Joel and Carlos Santana were among recipients of the Kennedy Center Honor.
Dec 08: The Wanted's member Siva Kaneswaran said he got engaged.
Dec 09: "The Sound of Music" star Eleanor Parker died at 91.
Dec 10: Bono and Charlize Theron paid respects at Nelson Mandela memorial.
Dec 11: Pope Francis beat Miley Cyrus to be TIME's Person of the Year.
Dec 12: Sony Pictures announced Venom (2017) and The Sinister Six movies.
Dec 13: Beyonce Knowles secretly dropped her fifth album on iTunes.
Dec 13: Khloe Kardashian filed for divorce from Lamar Odom after four years of marriage.
Dec 13: Emilia Clarke landed a lead role as Sarah Connor in "Terminator: Genesis".
Dec 14: Touching memorial for Paul Walker was held after the funeral.
Dec 14: "Lawrence of Arabia" star Peter O'Toole died at 81.
Dec 15: Tyson Apostol was named the Sole Survivor in "Survivor: Blood vs. Water" finale.
Dec 15: "Family Guy" brought back the beloved dog Brian in Christmas episode.
Dec 15: "Homeland" killed off Damian Lewis' Brody in season 3 finale.
Dec 16: Joseph Gordon-Levitt was on board Sandman movie.
Dec 16: Chris Brown's probation was revoked due to October arrest.
Dec 16: Dwayne "The Rock" Johnson beat Robert Downey Jr. as Forbes' highest-grossing actor of 2013.
Dec 16: Shia LaBeouf apologized for ripping off Daniel Clowes' comic for his short film.
Dec 17: Bruce Willis and wife Emma Heming were expecting their second child together.
Dec 17: Tessanne Chin of Team Adam Levine won "The Voice" season 5.
Dec 18: Kelly Rowland confirmed engagement to her manager/beau Tim Witherspoon.
Dec 18: A&E suspended Phil Robertson from filming "Duck Dynasty" following his anti-gay comments.
Dec 18: Simon Cowell confirmed Demi Lovato's departure from "The X Factor (US)".
Dec 19: Barbara Walters named Hillary Clinton as the Most Fascinating Person of 2013.
Dec 19: Reports emerged that Robin Wright Penn had got engaged to Ben Foster.
Dec 19: "It's Kind of a Funny Story" author Ned Vizzini committed suicide.
Dec 19: "The X Factor (US)" crowned Alex and Sierra as season 3 champion.
Dec 19: Selena Gomez canceled the Australian leg of her "Stars Dance" tour to spend some times on her own.
Dec 20: "The Daily Show with Jon Stewart" bid farewell to John Oliver.
Dec 20: Ricky "Lord Infamous" Dunigan of Three 6 Mafia died at the age of 40.
Dec 21: Gabrielle Union was engaged to Miami Heat basketball player Dwyane Wade.
Dec 21: Dot Jones married her longtime girlfriend Bridgett Casteen.
Dec 21: Teresa Palmer and Mark Webber were married.
Dec 22: "Fast and Furious 7" release date was pushed back from July 11, 2014 to April 10, 2015.
Dec 23: "Iron Man 3" was named the highest-selling films of 2013.
Dec 23: The Associated Press picked Jennifer Lawrence as Entertainer of the Year.
Dec 23: Jared Padalecki and wife Genevieve Cortese welcomed their second son.
Dec 23: Home Free was named the winner of "The Sing-Off" season 4.
Dec 23: Jazz Composer Yusef Lateef died at 93.
Dec 23: Paul Wesley and Torrey DeVitto's divorce was finalized.
Dec 23: The Strokes' guitarist Albert Hammond Jr. got married to girlfriend Justyna Sroka.
Dec 24: Drummer Ricky Lawson died at 59.
Dec 24: "Clash of the Titans 3" was canned.
Dec 24: Justin Bieber said on Twitter that he's "officially retiring" from music.
Dec 24: Tom Cruise dropped out of Western movie remake "The Magnificent Seven".
Dec 25: Jenni "JWoww" Farley announced her pregnancy.
Dec 25: Miley Cyrus' "Adore You" music video leaked online.
Dec 25: Emma Stone topped Forbes' Best Actors for the Buck in 2013.
Dec 27: A&E lifted suspension on "Duck Dynasty" star Phil Robertson.
Dec 27: Vanessa Carlton was married to fellow musician John McCauley.
Dec 28: Patrick Swayze's widow Lisa Niemi was engaged to Albert DePrisco.
Dec 28: Bruce Springsteen's new album "High Hopes" arrived early on Amazon.
Dec 28: Rapper Doe B was shot and killed in Alabama.
Dec 29: Robin Roberts came out as gay.
Dec 29: Former F1 Champion Michael Schumacher was in critical condition after ski accident.
Dec 29: Management insisted Justin Bieber was not retiring.
Dec 30: "Wicked" set Broadway record by crossing $3-million mark in a single week.
« Back to Part 1
|
« Back to Part 2
|
« Back to Part 3