December 30, 2009 10:11:43 GMT
'Bachelorette' Jillian Harris picked her man, Paula Abdul gave up her 'American Idol' spot, Primetime Emmys handed out the statuettes.

---
People working in the TV world celebrated the arrival of the third quarter of 2009 when the biggest television event, the Emmys, was held in September. Preceded by Creative Emmy Awards, the event was, for some, the eventual payday of their hard work throughout the last year. Also coming into the spotlight is a major change in a very popular show that sent a shock to its fans in the month of August.


JULY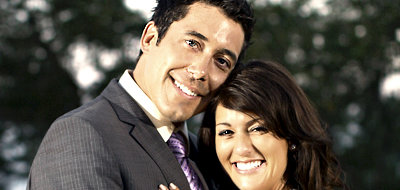 Deemed as one of the most dramatic endings of "" season, the Jillian Harris edition resulted in a proposition on July 27. Jillian picked Ed Swiderski out of Kiptyn Locke although Ed was the guy who left the competition in the fifth week to pursue his career. Ed in return, presented her with and ring and said, "I want to be with you forever. I want a family with you." The couple moved in together around two months after the finale.
Other major events of the month:
Jul 06: earned her first directing debut on "".
Jul 10: "" was replaced by "" in Fall after was diagnosed with cancer.
Jul 10: The cut Putin scene on "" finally got out for public view.
Jul 12: New reality show based on the Jacksons was developed by A&E.
Jul 23: "" crowned its first winner, Anna McCraney.
Jul 24: made surprise appearance at Comic Con to confirm his stint on "".
Jul 26: Creators of "" announced that God would finally appear in the fourth season.
Jul 27: "" Jillian Harris picked Ed Swiderski as her final rose.
Jul 27: Sara Sidle was brought back to "CSI: Las Vegas" as Riley was let go.
Jul 29: struck a deal to come back for another season of "".
Jul 30: made a return on "" after quitting in late 2008.
AUGUST
After eight years of keeping up with Simon Cowell and filtering "" hopefuls, announced via her Twitter on August 4 that she was no longer part of show. She never confirmed whether her departure was caused by an unfair contract made by 19 Entertainment like the flying rumors. She is replaced by effectively in January 2010.
Other major events of the month:
Aug 04: announced on her Twitter that she won't return to "".
Aug 04: chose her second BFF after disappointed by the first season's winner.
Aug 06: Jeanine Mason won "" season 5.
Aug 06: Exec producer announced that Jim and Pam would finally wed on "".
Aug 13: Seth McFarlane confirmed that "" baby Stewie is gay.
Aug 13: The alternate "" pilot that never went on air was eventually provided online.
Aug 13: TNT's "" was not renewed for summer 2010.
Aug 17: read Top 10 List on "David Letterman" in bikini.
Aug 19: Rick Bayless was named winner of "" season 1.
Aug 19: VH1 stopped "" following murder by one of its contestants.
Aug 21: was tapped to be the opening host of "" season 35.
Aug 27: "Seinfeld" cast reunited for the first time since 1998 finale on "" promo.
Aug 30: "" finally gets its first Outstanding Drama Series at 36th Annual Daytime Emmy Awards.
Aug 31: confirmed she was moving out of "".
SEPTEMBER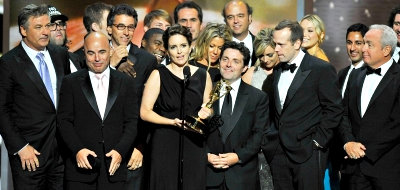 The most awaited television event, the Primetime Emmy Awards, was held on September 20 with "" and "" grabbing the coveted prizes. The former was third-time winner of Best Comedy series while the latter was second-time winner of Best Drama series. NBC's "30 Rock" in fact was the big winner of the night, taking home five out of the 20 nominations it received with the only upset coming from not winning Best Actress in Comedy.
Other major events of the month:
Sep 01: "" was renewed for the fourth season.
Sep 02: announced that she would take a break from "".
Sep 03: made his first TV interview on "" since altercation with .
Sep 04: Michaela Watkins expressed her shock of being kicked out of "".
Sep 08: Through her talk show, showed her God-given hair for the first time.
Sep 09: was announced as the new permanent judge of "" to replace .
Sep 09: donned wig and birth scars as on "" skit.
Sep 12: and won 61st Creative Arts Emmys best actress and actor respectively.
Sep 16: Actress sang live on "".
Sep 16: "" picked chicken farmer Kevin Skinner as fourth season winner.
Sep 22: finally confirmed her return to "".
Sep 25: "" got the ax after only two episodes airing.
Sep 29: "" changed to "" due to the Gosselins' separation.
Sep 30: FOX defended that "" did not air a contestant's crotch.
« | »
© AceShowbiz.com
---
---
More Kaleidoscope News:
---