July 29, 2014 09:02:31 GMT

Danger seems to be following Scott and the gang everywhere. This time, it's not a supernatural being that threatens their lives, but a harmful disease. In a clip for the next episode of "", Lydia's mom, the new science teacher at Beacon Hills High, is the first to find out about the mysterious diseases that strikes the school.

She finds scary rash on the back of lacrosse coach, Coach Feinstock, who has slumped motionlessly on the table. She tells the students to stay in the room and locks the door so that no one outside can enter the building. She calls CDC for help, leading Scott to get suspicious of what is really going on.

July 29, 2014 07:36:27 GMT

After being dumped by Andi Dorfman in the of "", Nick Viall reunited with Andi in the "Bachelorette: After the Final Rose" special. Nick had so many questions in his head and wanted to meet Andi during the "Men Tell All", but Andi wasn't ready at the time so he wrote her a letter that host Chris Harrison passed on her.

Now, Andi and Nick met face-to-face. Nick claimed he was blindsided because Andi gave him so many reasons to believe that he's the one. Asked if she ever loved him, Andi bluntly said no. "The hard part is...feeling like you did," Nick said, before making the shocking revelation that he and Andi had sex during the Fantasy Suite date.

July 29, 2014 05:07:08 GMT

"" has cast actors to fill more "" roles. The show has tapped "" star Tyler Jacob Moore as Prince Hans, and "The Lord of the Rings" trilogy actor John Rhys-Davies to provide the voice of rock troll Pabbie.

The casting news was announced by executive producer Adam Horowitz. He tweeted on Monday, July 28, "We're thrilled to welcome John Rhys-Davies to the #OnceUponATime family as the voice of everyone's favorite rock troll -- Pabbie! #ThisFall!"

July 29, 2014 03:21:21 GMT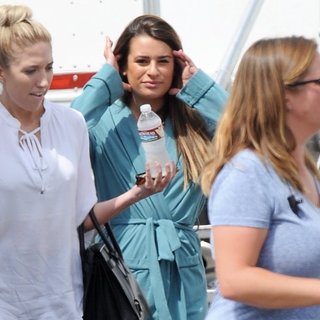 is going to appear on "" before the show brings down the curtain. The actress has landed a guest-starring role in the seventh and final season of the FX series and has been spotted on the set of the drama.

Michele broke the news on Monday, July 28, tweeting, "I'll be appearing on an episode of my favorite show @SonsofAnarchy! Thank you so much @Harparbar & @sutterink #SOAFX." She additionally posted a picture with Paris Barclay, a director on "Sons of Anarchy" who has also worked with Michele on "".

July 29, 2014 02:46:04 GMT

"" has come to the most awaited moment of the season. In the July 28 season 10 finale, Andi Dorfman took the final two guys, Josh Murray and Nick Viall, to meet her parents before she made the final decision of who wins her heart.

Nick got to meet the parents first. He looked so nervous and brought them flowers. During a conversation with Andi's dad Hy, Nick was grilled about their future. Nick asked for Mr. Dorfman's blessing to propose to Andi.

July 29, 2014 01:59:53 GMT

has responded to 's diss that the former "" actor was "unprofessional" when they worked together on "" in 2010. Apparently refusing to let the beef go on, a rep for Sutherland handles it in a professional way.

"Kiefer worked with Freddie Prinze, Jr. more than 5 years ago, and this is the first he has heard of Freddie's grievances," the rep says. "Kiefer enjoyed working with Freddie and wishes him the best."

July 28, 2014 09:15:58 GMT

has landed a guest-starring role on an animated show. The raptress is set to lend her voice to a character on Cartoon Network's "Steven Universe". She will be featured in the episode titled "Coach Steven" which is scheduled to air on Thursday August 21 at 6:30/5:30c.

The Young Money femcee will play Sugilite, a super-strong fusion of Garnet and Amethyst, two of the show's magically powered "gems" who help protect the world. According to TV Guide, the character will be the latest motivation for young and enthusiastic Steven on his quest to become a fully powered guardian of humanity. Sugilite is deemed "a little unstable."

July 28, 2014 08:38:33 GMT

"" plays with the fate of Damon and Bonnie which is left up in the air following the season 5 finale. At the show's Comic-Con panel on Saturday, July 27, The CW shared a hilarious video which sees and questioning their future on the show.

The 6-minute clip opens with Damon and Bonnie holding hands as they're "giving into the white light of oblivion." But the light suddenly turns off and the two actors find themselves abandoned on the set. They then begin speculating about their fate, refusing to believe that their characters are written off the show.

July 28, 2014 07:11:01 GMT

New tidbits from ": Freak Show" were revealed during the show's panel at San Diego Comic-Con over the weekend. Executive producer Tim Minear, who was joined by stars , , , , and at the event, announced the character names.

While details of the roles are still kept secret, at least relationships between some of the characters are no longer mysteries. , as revealed before, is the head proprietor of the freak show named Elsa Mars. Paulson has also been announced to play conjoined twins Bette and Dot Tattler.

July 28, 2014 06:01:34 GMT

Footage from "" - "" crossover episode was shared during the "Family Guy" panel at Comic-Con on Saturday, July 26. The nearly-5-minute video shows the Griffins arriving in Springfield where they are greeted warmly by Homer Simpson.

Homer believes he and Peter will get along well. Bart and Stewie make prank phone calls while their fathers hang out at a bar, where they start arguing over Pawtucket Patriot Ale and Duff Beer. Things quickly turn physical which leads into an epic fight involving radioactive exposure and a spaceship.

July 28, 2014 03:45:42 GMT

An impending ending and a possible new beginning were discussed during "" panel at the Comic-Con International on Sunday, July 27. Lead actor was absent because he's "doing important service for Vogue magazine," so series creator Kurt Sutter explained.

But Hunnam appeared in a hilarious video mocking his fashion photo session. In the clip, he was being massaged and manicured by other cast members. "This is the seventh season of the show. For a show to stay on the air that long requires the massive support of our fans," he said, before scolding , Boone Junior and for not treating him appropriately.

July 28, 2014 02:52:48 GMT
"" cast took a final bow at San Diego Comic-Con as the show is nearing its end. Stars , , , , , , , , , and Nathan Parsons as well as executive producer Brian Buckner were present to bid emotional farewell to fans.

Bauer cried several times during the show's final Comic-Con panel, including when she recalled her "last day at Fangtasia." She continued with teary eyes, "I've been crying for a year about when that day would come. With [], that's the most significant relationship for me and for Pam. I thought he would be rock solid and sweet, but when I saw him crack ... I was like, 'Oh no.' "

July 28, 2014 01:21:57 GMT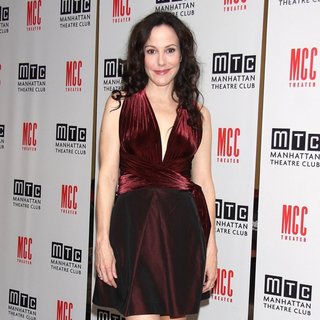 "" announced major casting news at the San Diego Comic-Con. The show has tapped for a recurring role in season 2. The former "" star will play Naomi Highland, who is described as "tied inextricably to Reddington."

Regarding the burning question of Reddington's real relationship with Elizabeth Keen, EP/creator Jon Bokenkamp said, "The question of who is Reddington to Elizabeth Keen is the central conceit to the show, but we're really not going to answer that."

July 26, 2014 15:54:14 GMT

The CW debuts a new promo each for returning series "" and newbie "" at the San Diego Comic-Con. The former which is led by will premiere the third season on October 8, while the latter which stars will debut on the network a day prior.

"Arrow" promo includes views of in the Arsenal costume, as Ray Palmer, and Karl Yune as Maseo. Meanwhile, the sneak peek for "The Flash" teases the effects of Barry Allen's superhuman speed.

July 26, 2014 06:09:51 GMT

New footage from "" season 2 was unleashed at the San Diego Comic-Con. One of the clips which is obtained by Entertainment Weekly features Ichabod and Abbie using a skull and some incantations to summon a new powerful demon to fight the horseman.

The other video which has landed online via shows the comedic side of the show. In it, Ichabod and Abbie stop by a bank as they investigate a case. When a banker offers him a deal on a credit card, Ichabod scolds him, "These people entrust you with their fortune, yet you cannot entrust them with a simple inkwell?" referring to a pen attached to a desk.