News
>
Celebrity Gossip
July 28, 2014 09:23:29 GMT

Scheana Marie Jancan tied the knot with her fiance, Mike Shay, at Hummingbird Nest Ranch in Santa Susana, California on Sunday, July 27. An insider told Hollywood Life that there were "lots of pink and gold" at the nuptials.

The wedding was attended by family and friends, including stars of "", Gretchen Rossi and Slade Smiley, stars of "", Golnesa Gharachedaghi and Leila Gharache, and "" couple Rachel and Brenden Villegas. Scheana's former co-star on "", Joyce Giraud, as well as were also among the guests.

News
>
TV News
July 28, 2014 09:15:58 GMT

has landed a guest-starring role on an animated show. The raptress is set to lend her voice to a character on Cartoon Network's "Steven Universe". She will be featured in the episode titled "Coach Steven" which is scheduled to air on Thursday August 21 at 6:30/5:30c.

The Young Money femcee will play Sugilite, a super-strong fusion of Garnet and Amethyst, two of the show's magically powered "gems" who help protect the world. According to TV Guide, the character will be the latest motivation for young and enthusiastic Steven on his quest to become a fully powered guardian of humanity. Sugilite is deemed "a little unstable."

News
>
Movie News
July 28, 2014 09:10:10 GMT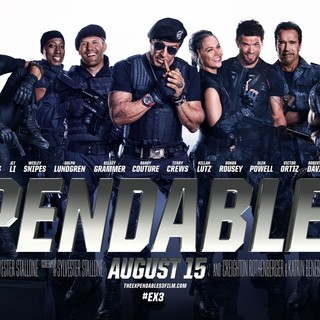 ©
"" arrives early in its DVD-quality copy via torrent sites. The actioner led by has been illegally downloaded nearly 189,000 times in just 24 hours, while the film itself won't hit U.S. theaters until August 15.

Back in 2009, "" also leaked ahead of its theatrical release but it was available on Megaupload only in its rough cut. Bronx resident Gilberto Sanchez was arrested for illegally uploading the film and sentenced to a year in prison. Megaupload was later shut down and MPAA is suing the defunct website and seeking monetary damages.

News
>
Music News
July 28, 2014 08:49:41 GMT

supported during a gig at the Providence Performing Arts Center in Rhode Island on Saturday night, July 26. Introduced as "best bartender in the world," the rocker made an appearance onstage, joining his pal for final songs "Pay No Mind" and "Loser".

As reported by Billboard, the former member of performed acoustic and provided background vocals for the songs. They were later joined by Sean Lennon on a tambourine for a medley of "Where It's At" and "One Foot in the Grave". Lennon also served as the opener, performing with his band Ghost of a Saber Tooth Tiger.

News
>
TV News
July 28, 2014 08:38:33 GMT

"" plays with the fate of Damon and Bonnie which is left up in the air following the season 5 finale. At the show's Comic-Con panel on Saturday, July 27, The CW shared a hilarious video which sees and questioning their future on the show.

The 6-minute clip opens with Damon and Bonnie holding hands as they're "giving into the white light of oblivion." But the light suddenly turns off and the two actors find themselves abandoned on the set. They then begin speculating about their fate, refusing to believe that their characters are written off the show.

News
>
Movie News
July 28, 2014 08:28:45 GMT

After releasing the first sneak peek at "" at the San Diego Comic-Con Friday, July 25, Lionsgate debuts online a new teaser trailer for the movie. The Capitol bans "any association of the Mockingjay symbol" as rebellion begins in the districts of Panem.

's Katnis is given an important role to lead the people as Plutarch Heavensbee () puts it, "No one else can do this but her." However, 's Alma Coin disagrees. "She won't be able to handle it. The games destroyed her," she argues.

News
>
Celebrity Gossip
July 28, 2014 08:23:55 GMT

and received special honors at 2014 Young Hollywood Awards. The annual awards event was held at The Wiltern Theater in Los Angeles on Sunday night, July 27.

Vanessa won Trendsetter Award while Justin won Champ of Charity Award for his work with Make-A-Wish foundation. was the one who presented the award to Justin at the event.

News
>
Celebrity Gossip
July 28, 2014 07:57:27 GMT

and reportedly got cozy at a Comic-Con party over the weekend. As reported by E! News, the couple was seen packing on PDA as they attended Entertainment Weekly Comic-Con party on Saturday night, July 26, holding hands and sharing a passionate kiss.

"They were so together," an eyewitness said of "" actor and the "" actress at Hard Rock Hotel's Float Bar. Another source claimed that the pair "were hot and heavy" and that "they weren't hiding their PDA at all."

News
>
Movie News
July 28, 2014 07:17:10 GMT

Test footage for a solo "" movie has appeared online, featuring the fully-masked hero apparently voiced by who played the character in "". The CGI video shows a mix of action and comedy as the swordman taking down bad guys.

It starts with Deadpool singing a song before looking at the camera and greeting the viewers, "Oh, hello there. I bet you're wondering. Why the red suit? Well, that's so bad guys can't see me bleed." What follows next is an action scene inside a car with a bit of gunplay involved.

News
>
Celebrity Gossip
July 28, 2014 07:12:15 GMT

A "Zombie Walk" session at the San Diego Comic-Con turned into disaster when a woman got seriously injured after being struck by a car. According to San Diego Police Department, the car which carried a deaf family and their children was waiting as a large crowd of people who dressed up as zombies walked across the street on Saturday, July 26 at around 5:30 P.M.

In a statement, the police said that "the 48-year-old male driver slowly rolled forward trying to get out of the area" after a few minutes because the two children "were afraid of the crowd." Some of the zombie cosplayers apparently got angry. They "surrounded and began punching the car," smashing the windshield. During the chaos, a 64-year-old woman and a man fell.

News
>
TV News
July 28, 2014 07:11:01 GMT

New tidbits from ": Freak Show" were revealed during the show's panel at San Diego Comic-Con over the weekend. Executive producer Tim Minear, who was joined by stars , , , , and at the event, announced the character names.

While details of the roles are still kept secret, at least relationships between some of the characters are no longer mysteries. , as revealed before, is the head proprietor of the freak show named Elsa Mars. Paulson has also been announced to play conjoined twins Bette and Dot Tattler.

News
>
Music News
July 28, 2014 06:17:50 GMT

It's a sweet week for . His hard work of releasing a new music video everyday for eight continuous days paid off when he finally climbed atop Billboard Hot 200 with his latest record "". He said, "I've been doing the same thing for 30 years and all of a sudden I'm having the best week of my life."

Due to the relentless viral music video campaign, his latest spoofs of such hit singles as ' "Happy" and 's "Blurred Lines" made headline on the internet. His popularity on social media jumped more than 3,000% this month, giving him more exposures than , , and .

News
>
Movie News
July 28, 2014 06:12:37 GMT

Exciting announcements came from Legendary Pictures' panel at the San Diego Comic-Con over the weekend. The studio announced a sequel to Gareth Edwards' "" and a new King Kong movie that focuses on the giant's home "".

Edwards will be back at the helm for "" after he completes "Star Wars" standalone film. The director was absent at the event, but he delivered a message through a pre-recorded video, saying that he needed a break from a big sci-fi franchise. "So I'm up here doing a small sci-fi movie," he joked.

News
>
Celebrity Gossip
July 28, 2014 06:09:49 GMT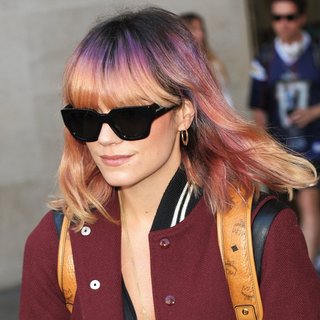 Australian Federal Police (AFP) will launch an internal investigation on police officers who got involved in 's joke photo. Lily previously pulled a prank by sharing on her social media accounts a joke picture featuring her and Australian police officers on July 27.

In the picture, Lily is being handcuffed by a cop while she kneels down. Some other cops are seen standing near her. She captioned the picture, which was taken at Gold Coast Airport in Queensland, with "#uhoh." Not long after that, Lily posted the link of the picture on Twitter.

News
>
Celebrity Gossip
July 28, 2014 06:04:23 GMT

's fans went crazy after their favorite star shared a picture of him going naked while on a moving boat. The member took to Instagram on Sunday, July 27 and uploaded a censored photo of him in his birthday suit.

In a caption for the snap, the boybander joked that he lost his pants. "Damn that was my last pair!" he wrote. The "Story of My Life" hitmaker looked upset in the photo as if he was making a protest with someone behind the camera.