News
>
Music News
November 24, 2014 06:30:12 GMT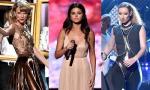 was among performers at the 2014 American Music Awards, which aired live on ABC from the Nokia Theater in Los Angeles on Sunday night, November 23. The singer kicked off the event with "Blank Space", the newest single from her "" album.

The 24-year-old superstar recreated the dinner scene from her "Blank Space" music video which was released earlier this month before being joined by creepy dancers who danced behind her while holding picture frames.

News
>
Celebrity Gossip
November 24, 2014 05:52:56 GMT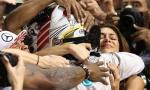 showered her boyfriend with hugs and kisses after he won the F1 title at the Yas Marina circuit in Abu Dhabi on Sunday, November 23. The singer, who could not contain her happiness after witnessing Hamilton crossing the finish line, rushed to her boyfriend and kissed him through the helmet.

The former member of proudly shared a photo of the sweet moment on Instagram. "Congratulations babe for winning the #2014F1WorldChamionship !!! I'm soooo proud of you!!! #GodisGood #abudhabiGP," she captioned it. She also added a photo of her and Hamilton posing with the trophy. "Ahhh!!! My man @lewishamilton #2014F1WorldChampion #soblessed," she gushed.

News
>
Music News
November 24, 2014 04:49:38 GMT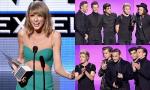 received the first-ever Award of Excellence at the 2014 American Music Award which has just been wrapped up. The country-turned-pop superstar accepted her trophy from while her "Out of the Woods" was played in the background.

After a video tribute surrounding her latest album "" was shown, Swift thanked Ross and praised her for being a woman who "stood up for herself in a time when it was not popular for a woman to stand up for herself." Looking gorgeous in a green dress, she then gave shout outs to her fans and addressed her feud with Spotify in her acceptance speech.

News
>
Music News
November 24, 2014 04:48:59 GMT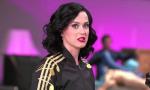 It's official; is booked to perform at next year's Super Bowl halftime show. The NFL announced the news at halftime of the Cowboys-Giants game on Sunday, November 23, following months of speculation about who will headline the prestigious event.

The 30-year-old pop star tweeted following the announcement, "@SNFonNBC @NFL Yeppers! And I've already started testing out ideas! #halftime." In a video released in collaboration with Pepsi, she teases fans with ideas for her upcoming performance.

News
>
Celebrity Gossip
November 24, 2014 04:27:36 GMT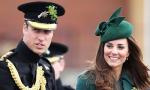 Guests will need to pay about $100,000 to attend a fundraiser for St. Andrews University in New York which will also be attended by Prince William and Kate Middleton. The event, which is held to celebrate their alma mater's 600th anniversary, will take place at Metropolitan Museum of Art in Manhattan on December 9.

According to the Sunday Times, a table for 10 will cost £64,000, or about $100,000. The price includes two VIP passes which will give chances to meet the Duke and Duchess in person.

News
>
TV News
November 24, 2014 04:19:40 GMT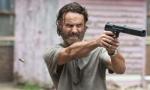 The rescue mission continues in the next episode of "" before the show takes a long hiatus for the holiday season. In a preview for the said outing, Rick meets with someone from Dawn's group and lays out a proposal to trade Dawn's officers that they have kidnapped with Beth and Carol.

While Rick, Daryl, Tyrese and Sasha prepare for a showdown with Dawn and her group, Father Gabriel may find himself in danger after escaping the church. Glenn and Maggie are also seen in an intense situation.

News
>
Celebrity Gossip
November 24, 2014 04:18:58 GMT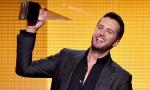 took home the trophy for Favorite Male Country Artist at the 2014 American Music Awards on Sunday, November 23 . During his acceptance speech, the "Crash My Party" singer showed his humble side by thanking everyone from top to bottom.

"Thank you AMAs. Thanks for having me out here. It's amazing to be here in LA watching all this music," he told the audience, "I want to thank God above for letting me tour night in and night out on the road. I want to thank the fans... want to thank all my management - my booking agent Jay Williams - I always forget ya. All my guys out on the road. My band, my crew, my bus driver..."

News
>
Music News
November 24, 2014 03:55:13 GMT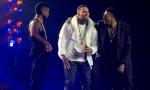 invited some surprise guests when he recently brought his "UR Experience" tour to Los Angeles. He excited the crowd who packed the Staples Center when he brought out and performed with fellow R&B stars including and .

Alsina, who opened the show earlier that night, reunited with Usher to perform "I Luv This S**t". Brown appeared onstage mid-song and helped his pals to finish the track. He later treated fans to a solo performance of his own hit single "Loyal" before rejoining Usher for their collaboration "New Flame".

News
>
Movie News
November 24, 2014 03:40:46 GMT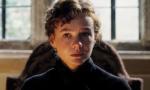 The trailer for Thomas Vinterberg's "" has been released, featuring 's singing voice. The actress is heard singing a folk song titled "Let No Man Steal Your Thyme", backed up by co-star , in the first trailer of the period drama.

The film is based on Thomas Hardy's novel of the same name. It was Hardy's first classic English pastoral novel which was published 140 years ago on November 23, 1874. Mulligan stars as Bathsheba Everdene who attracts three very different suitors: Gabriel Oak (Matthias Schoenaerts), a sheep farmer, captivated by her fetching willfulness; Frank Troy (), a handsome and reckless Sergeant; and William Boldwood (Sheen), a prosperous and mature bachelor.

News
>
Celebrity Gossip
November 24, 2014 03:28:37 GMT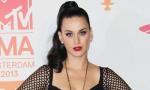 is still angry at some paparazzi who followed her every move in Australia. The "Roar" hitmaker, who is currently on "Prismatic" tour Down Under, in a Twitter post on Friday, November 21, saying their paparazzi had "no respect, no integrity, no character. NO HUMANITY." Back then, Perry was furious after the paparazzi refused to leave her alone at the beach after she requested repeatedly.

In some posts sent out the next day, Perry said she did not want media to publish photos of her from the outing at the beach. "Remember AUS anyone printing or posting unauthorized photos of me in a bikini from these DISGUSTING/PERVERTED OLD MEN is AGAINST my will!" she wrote. "Also remember Jamie Fawcett we hv pictures of ur tiny penis & rather large gut. Ur a true sicko for taking pictures of us while being naked."

News
>
Celebrity Gossip
November 24, 2014 03:28:13 GMT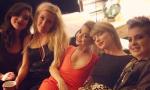 celebrated her 24th birthday along with her celebrity friends including , , , and on Saturday night, November 22 in Los Angeles. According to E! Online, and were also in attendance.

Sarah posted on Instagram on Sunday two photos taken from the party. In one photo, Sarah posed with Taylor, Kelly, Ellie and Hailee in a bedroom. She wrote alongside the photo, "It's a ladies party. No boys allowed." In another photo, the "" star was seen smiling widely as her male friends presented her with a birthday cake. She captioned it, "I had the best night last night!!! Thank you to all who came!!! I love you all."

News
>
Music News
November 24, 2014 03:19:18 GMT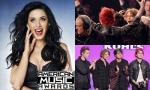 More winners at the 2014 American Music Awards, which is underway at Los Angeles' Nokia Theater, have been unveiled. Following performances from and , and her new husband hit the stage to present with Favorite Album in Pop/Rock for the boys' third chart-topping LP "".

That's the second award and Co. have received at the event. Earlier tonight, the British group was named Favorite Band/Duo/Group in Pop/Rock, beating tough competitors like and .

News
>
TV News
November 24, 2014 03:02:23 GMT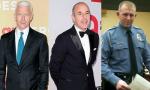 A number of TV journalists have recently met with Darren Wilson, the Ferguson police officer who fatally shot Michael Brown in August this year, in hopes of scoring first exclusive interview. Those who reportedly have had meetings with Wilson include NBC's , ABC's George Stephanopoulos, CBS' Scott Pelley and CNN's and Don Lemon.

CNN's Brian Stelter broke the news on Sunday, November 23. He told his audience on "Reliable Sources", "Some high-profile news anchors have met Wilson. They've talked with him one-on-one in secret locations entirely off the record - all in the hopes of landing his very first television interview." He added, "My sense from my sources is that it's mostly the anchors doing the talking in these off-the-record meetings, it's mostly Darren Wilson listening and getting to know the person."

News
>
Music News
November 24, 2014 02:45:52 GMT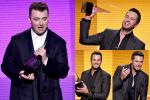 The 2014 American Music Awards continues. , , and a.k.a. rocked the stage at Los Angeles' Nokia Theater with their cover of The Romantics' "What I Like About You" before was announced as the winner of Favorite Male - Latin award.

Afterwards, "" stars Danai Gurira and introduced a performance by . The Las Vegas-based rockers treated viewers to "I Bet My Life", the new single from their upcoming sophomore effort.

News
>
Movie News
November 24, 2014 02:39:25 GMT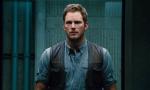 The first "" trailer is one of the things to look forward to this Thanksgiving. Universal Pictures has released a teaser to announce that the trailer will be released during Thanksgiving football on NBC which starts at 8:30 P.M. EST.

The teaser is the first to feature the film's cast. and appear as the theme park's staff, with her throwing a worried look at him. The teaser also pays tribute to Steven Spielberg's "Jurassic Park" film by using a version of John Williams' original theme song.