News
>
TV News
July 12, 2014 06:32:30 GMT
returned with a new poster for the 13th season of "". Heidi poses nude for the artwork of the upcoming season of the Emmy-winning TV show which will premiere on July 24.

In the picture, Heidi actually wears nothing but a pair of nude strap heels. Her toned body is covered by a digitally imposed hanger dress. The judge of "" is photographed together with Tim Gunn, who wears a checkered suit while glancing at the camera.

News
>
Celebrity Gossip
July 12, 2014 06:21:55 GMT

Renee Oteri is expecting her first child with husband Bracy Maynard. She is just over three months along with the pregnancy and due January 19, 2015. The real estate agent, who competed for Juan Pablo Galavis' heart on the reality dating show "", told PEOPLE, "We're so excited! Bracy is already paranoid- always checking in and making sure I'm okay. He's in dad mode already!"

Oteri explained that the pregnancy had been smooth sailing. She also has not experienced any morning sickness. "I'm feeling good," she said, "We just had an appointment and this baby will not sit still !"

News
>
Celebrity Gossip
July 12, 2014 06:12:28 GMT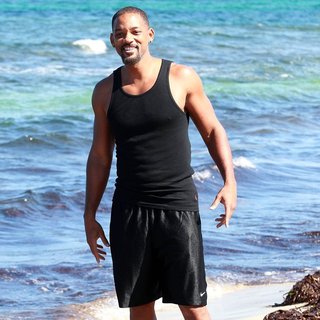 apparently just had an awkward moment with a fan at the beach in Ibiza. On Thursday, July 10, the actor was mobbed by a group of fans, including a topless woman, who were eager to take a selfie with him. The star of "", who sported a black tank top, shorts and white sneakers during the outing, was all-smiles as he took a photo with a man, draping his arm around his shoulders. The topless woman, meanwhile, walking on his other side.

During his holiday trip, Smith also met up with at Amnesia nightclub and posed together for a photo. Wearing a white shirt, Smith flashed two peace signs as the DJ made an excited expression. "Will Smith in the club rn #Ibiza #2on," Harris captioned the snap. A manager of Cream nightclub also had a chance to take a photo with the 45-year-old actor.

News
>
Movie News
July 12, 2014 06:07:59 GMT

The first trailer for drama comedy "" is made available for viewing pleasure. plays a New Yorker who inherits an apartment from his estranged father. He heads to Paris to liquidate the apartment, but his plan comes to a screeching halt when he faces an unexpected road block.

Kline's down-and-out Mathias Gold discovers an old lady is living in the building with her daughter. The trailer gives a sneak peek at the banters between the two and shows his awkward run-in with her daughter in the bathroom. plays the old lady, and portrays the daughter.

News
>
TV News
July 12, 2014 06:05:50 GMT

FOX may have a second thought about its reality show that will feature people dating in their birthday suit. Individuals with knowledge of the project reveal that production of the pilot has been halted, though producers were already hired, casting was completed and plans to build the set were made.

According to the sources, Simon Andreae, FOX's executive vice president of alternative entertainment, was fast-tracking the still-untitled project with producers A. Smith & Co. Productions, but the top brass at the network has put it on hold. A source says the project is dead, but another says it's simply put on hold pending new leadership following the departure of FOX entertainment chairman Kevin Reilly in June.

News
>
Music News
July 12, 2014 05:58:20 GMT

can be very nice too. A new video recently surfaced showing the singer, who's been making headlines for his antics and his run-ins with the law, stopping his car to say hi to a little girl who's been waiting for him along with older Beliebers.

The Canadian superstar pops out of the window and grabs the 4-year-old fan named Hayley, who wears a cute pink dress and a matching bow. He hugs her and kisses her on the cheek before sweetly telling her, "It's way past your bedtime, little one."

News
>
Celebrity Gossip
July 12, 2014 05:46:10 GMT

is open to the possibility of being Playboy's model. In an interview at a event for Gillette on July 9, she revealed that she might accept Playboy's offer in the future.

The 22-year-old model said, "I never like to say never because there are circumstances that I could do pretty much anything if it inspires me and if I think that it's cool at the time. But right now, at this point in my career, I'm not doing Playboy."

News
>
Movie News
July 12, 2014 05:15:14 GMT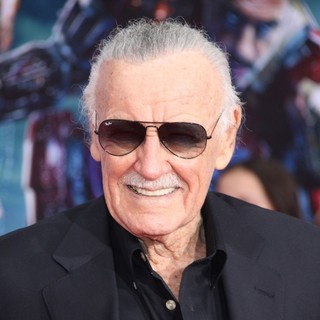 After making a brief appearance in "", Stan Lee will make a cameo in another movie adaptation of Marvel comic book. The comic book writer reveals during a visit to London Film and ComicCon event that he has filmed a scene for "" which is due May 1, 2015 in the U.S.

He first commented on the success of Marvel's movies, "All it can do is make it better for Marvel if we do these movies and the movies are successful. There are people reading Marvel comic books that would have never thought to read a comic book before. It helps the comic book business. The movie business has been unbelievably incredible. The Marvel movies are about the biggest money-making movies of all."

News
>
TV News
July 12, 2014 05:13:29 GMT

"" showrunner Alex Gansa has shared details of season 4 in an interview with Entertainment Weekly. Following [SPOILER ALERT!] the death of ' Nicholas Brody, the show is undergoing a major shake-up with new faces and new setting. "There's so many new roles to be cast, it's like doing another pilot-which is exciting and terrifying at same time," Gansa shares.

The new season will fast forward six months after events in the season 3 finale and Carrie doesn't sport a baby bump in a picture released via . Gansa explains, "She has given birth to the child." He refuses to say "where the kid is," but hints that Carrie won't juggle her job as a field agent with raising a child for the time being. "One of the reasons she's found herself in Afghanistan and Pakistan is it's a place where you're disallowed from bringing a dependent," he adds.

News
>
Celebrity Gossip
July 12, 2014 05:12:09 GMT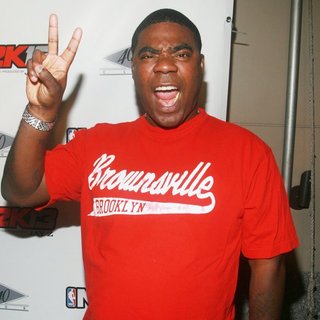 has filed a lawsuit against Wal-Mart, the company which owns a truck which allegedly hit his limo in a June crash on New Jersey Turnpike. The actor/comedian, who suffered from numerous broken bones due to the crash, filed the suit in U.S. District Court in New Jersey on Thursday, July 10.

"Wal-Mart was careless and negligent in the ownership and operation of its motor vehicle, which caused Mr. Morgan to suffer severe personal injuries," the document read. It also alleged that Wal-Mart "knew or should have known" that the truck driver Kevin Roper had been awake "for more than 24 consecutive hours" prior to the crash.

News
>
Movie News
July 12, 2014 05:03:04 GMT

"" has found a love interest for . "" actress is tapped to play a witch, starring opposite the "" actor who is already set to play the titular hunter in the supernatural actioner.

The film will see the semi-immortal witch hunter wandering the streets of modern New York City. He is forced to partner with his natural enemy, a female witch, and the unlikely allies must stop a villainous witch queen from obtaining a relic and unleashing plague upon humanity.

News
>
Celebrity Gossip
July 12, 2014 04:59:40 GMT

makes a confession that she knew her ex-husband was cheating on her in a teaser video for the upcoming episode of "". She even admits that she "had to lie to everyone" to cover it up.

In the clip obtained by , she is discussing her move from the home he shared with Lamar with her sister when she makes the shocking revelation. "He's wearing his ring full time. F**k your ring, you were wearing it when you were f***ing someone else too!" the 30-year-old star exclaims angrily.

News
>
Music News
July 12, 2014 04:57:00 GMT

lets fans take a peek into the upcoming music video for her newest single, "Come Alive". In a preview arriving on YouTube on Friday, July 11, the hotel heiress/DJ is seen performing the song while sitting on a swing covered with pink and white roses. In another scene, she appears as an angel in a white bejeweled corset completed with wings.

The full music video, which will also feature a unicorn, is expected to be released in the coming days. Hilton recently explained the concept of the visuals in a behind-the-scene clip she shared via E! News. " 'Come Alive' is all about love and how it makes you feel alive," she said.

News
>
Movie News
July 12, 2014 04:18:04 GMT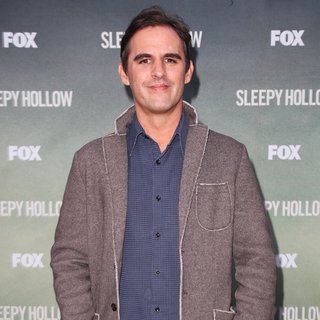 It seems that Roberto Orci is no longer involved in "" franchise. In a new interview with IGN, he hints that Sony has no concrete plans for future films despite the fact that "" already locked June 10, 2016 as release date and a fourth one was set for May 4, 2018.

Orci penned the first two movies with his writing partner Alex Kurtzman. "" arrived May 2 this year in the U.S. and went on to rank the lowest box office in the franchise including Sam Raimi's trilogy. The scribe was initially expected to reprise his role in the third film, but he now says he is "not officially involved in it."

News
>
Celebrity Gossip
July 12, 2014 04:11:39 GMT

was spotted taking a picture with model Tanz Watson. Tanz posted the picture on Twitter on July 10, captioning it with, "Hold up hold up got my homie @selenagomez."

In the picture, Selena placed her left hand around Tanz's waist, while her right hand touched Tanz's shoulder. She puckered her lips near Tanz's face while Tanz smiled for the camera. The photo was seemingly taken when the "" actress had a party with her friends in New York on Wednesday.