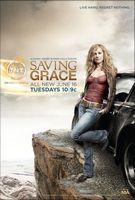 TV Info
---
Category
TV Series
Genre
Drama, Crime, Thriller
Starring :
Holly Hunter
, Leon Rippy,
Kenny Johnson
,
Laura San Giacomo
, Bailey Chase, Gregory Cruz, Lorraine Toussaint, Dylan Minnette, Bokeem Woodbine

August 14, 2009 02:08:39
The running time of "
Saving Grace
" has wound down and will officially come to a halt next summer. TNT has ordered three additional episodes on top of the original 15 so that producers can wrap it up with the second part of season 3 consisting of final nine episodes.
After the second season last summer, TNT put the order for 15 episodes which will be split into two. The first nine are the ones currently airing on the cable, and the rest are supposed to go in the winter. With the three extra episodes, the series can have another half season which serves as the ending for the whole drama.
...
June 04, 2009 11:06:59
TNT has released a sneak peek to the season premiere of "
Saving Grace
" as well as its promotional photos. The drama show starring Academy Award-winning actress
Holly Hunter
will enter the third season on Tuesday, June 16 at 10/9c with the episode called "We're Already Here".
At the end of the second season, death row inmate Leon Cooley, who shared visions of Earl with Grace, was executed, leaving a hole in Grace's life. Soon, she began having dreams of a young drug addict named Neely, which lead Grace to believe Neely also shares a connection with Earl. Meanwhile, Ham's divorce was finalized. Ham hopes he and Grace can finally be together, but Grace might not be on the same page.
...