Kim Kardashian broke up with NFL boyfriend, DJ AM was found dead in his apartment, and Khloe Kardashian took the risk in marrying Lamar Odom.
In between July and September 2009, AceShowbiz reviewed there were scandals, run-in with the laws, deaths, marriages, awards shows, rants and many other things that happened. Those major events were summarized in form of kaleidoscope, which covers occurrences in music, TV, movie, and celebrities' personal life.
Joy and grief blended all together in the third quarter of 2009, a period of which witnessed A-list celebrities' break-up, marriages, and sudden death among the most highlighted issues. Some famous figures celebrated their milestones in the universe with the arrival of new members into their families, the others mourned the lost of loved ones, while the rest attempted to build a brand new chapter in life.
JULY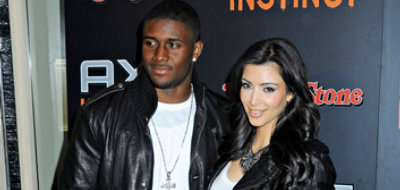 More than two months after confirming in a radio interview that she already purchased an engagement ring,
Kim Kardashian
had her representative announcing her separation from boyfriend
Reggie Bush
, whom she began dating in 2007. The confirmation sent people in total shock since after two years of dating, it was believed that the high profile couple would make it to the altar. Keeping the reason that ignited the break-up just for her and Reggie, Kim wrote on her official blog that she was doing okay after the separation and thanking fans for their love and support.
AUGUST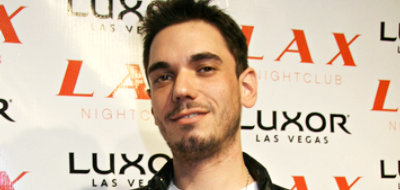 36-year-old DJ AM was already unresponsive when authorities broke into his New York City apartment on August 28 after receiving a 911 call reportedly made by a friend. A crack pipe and prescription pills were found near his body which was discovered "in bed, face down," with no shirt but was wearing pants. Further investigation found out that multiple OxyContin pills were in his mouth and stomach by the time he was dead.
Other major events of the month:
Aug 01: Mark Wahlberg and his longtime living partner Rhea Durham walked down the aisle.
Aug 01: Celebrity couple, Ali Larter and Hayes MacArthur, got hitched.
Aug 05: Reps announced Stephen Moyer and Anna Paquin's engagement.
Aug 10: A baby boy was born for Jennifer Hudson and her fiance David Otunga.
Aug 12: Rep confirmed Anna Faris and Chris Pratt had wed in July.
Aug 15: Alyssa Milano got married to her fiance David Bugliari.
Aug 17: Eric Dane and Rebecca Gayheart's naked threesome tape was unleashed.
Aug 22: Milla Jovovich married her fiance Paul W. S. Anderson.
Aug 24: Stefania Fernandez was named Miss Universe of 2009.
Aug 24: Los Angeles County coroner ruled Michael Jackson's death a homicide.
Aug 25: Chris Brown was formally sentenced to five years probation for assaulting Rihanna.
Aug 28: DJ AM was found dead at his New York City apartment.
Aug 28: Emily Blunt and John Krasinski got engaged after less than a year of dating.
Aug 31: David Boreanaz's second child, a baby daughter, was born.
SEPTEMBER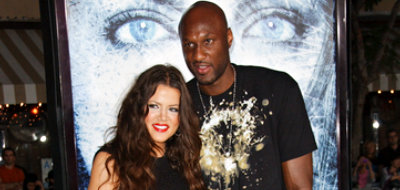 Khloe Kardashian
and
Lamar Odom
got hitched after dating for just about a month, hosting a wedding service at the home of music mogul Irving Azoff, a family friend, in Beverly Hills on September 27. There were 250 A-list guests attending the affair to witness the bride being walked down the aisle by her step-father Bruce Jenner, with sisters
Kim Kardashian
and
Kourtney Kardashian
serving as bridesmaids.
Other major events of the month:
Sep 01: LeAnn Rimes announced her separation from dancer husband Dean Sheremet.
Sep 04: Christina Milian and her fiance The-Dream eloped in Sin City.
Sep 08: Maksim Chmerkovskiy and Karina Smirnoff called off their engagement.
Sep 09: Nicole Richie and Joel Madden welcomed the arrival of their second child, a baby boy.
Sep 09: A spokeswoman for Katherine Heigl confirmed the actress was adopting a baby.
Sep 12: Publicist confirmed Lauren London has given birth to Lil Wayne's baby.
Sep 14: Actor Patrick Swayze passed away after losing his battle against pancreatic cancer.
Sep 17: Avril Lavigne and Deryck Whibley announced separation after more than three years of marriage.
Sep 19: Michelle Williams confirmed separation from her boyfriend Spike Jonze.
Sep 19: Zooey Deschanel wed her musician fiance Ben Gibbard.
Sep 22: Rep announced Sarah Michelle Gellar had given birth to a baby girl.
Sep 22: Jude Law's former girlfriend Samantha Burke gave birth to his baby.
Sep 23: Rep confirmed Ellen Pompeo had given birth to her first child, a baby daughter.
Sep 27: Khloe Kardashian and Lamar Odom got hitched after dating for just about a month.
Sep 28: Emmy Rossum's husband Justin Siegel sought legal separation from her.
Sep 29: The New York Medical Examiner ruled DJ AM's death accidental.
« Back to Part 1 | Continue to Part 4 »