Nick Jonas confirmed his side project with The Administration, Adam Lambert drew controversy with his raunchy stage act, Susan Boyle broke U.S. record.
The last three months of 2009 see some artists announcing new record deals and 2010 tour dates. As highlighted events meanwhile, AceShowbiz picks up
Nick Jonas
' confirmation about his side project with The Administration, jaw-dropping performance from
Adam Lambert
at 2009 American Music Awards which received mixed reviews and
Susan Boyle
's record-breaking achievement with her debut album which blocked other artists from No. 1 spot of Hot 200 for several weeks.
PART I: EVENT
OCTOBER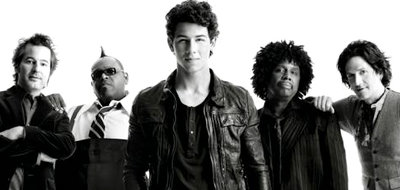 Long rumored
Nick Jonas
' solo project was finally confirmed in late October by his mother Denise Jonas. He will launch the project in early 2010 under the moniker Nick Jonas and The Administration. Soon after the confirmation, his band
Jonas Brothers
were speculated to break up. In response to the break-up report, Nick and his bandmates/brothers
Joe Jonas
and
Kevin Jonas
were quick to release a joint statement, insisting what is currently done by Nick is just a side project and will not affect their work as a band.
Other major events of the month:
Oct 02: Snoop Dogg announced Wonderland High School Tour dates.
Oct 06: Pharrell Williams confirmed Rhea as N.E.R.D's new singer.
Oct 08: Taylor Swift announced second leg of her "Fearless" tour.
Oct 10: T.I. got double victories at 2009 BET Hip-Hop Awards.
Oct 12: David Archuleta revealed his Christmas tour dates.
Oct 12: JoJo reached distribution deal with Interscope for her new album.
Oct 15: Lady GaGa announced "The Monster Ball" tour with Kid Cudi.
Oct 15: a-ha announced their split and final tour.
Oct 15: Craig Morgan won Video of the Year at 2009 ICM Awards.
Oct 15: Lady GaGa collected two trophies at 2009 Los Premios MTV Awards.
Oct 20: Chris Brown announced "Fan Appreciation" tour dates.
Oct 22: Robbie Williams was chosen as the recipient for Outstanding Contribution to Music Award at 2010 BRITs.
Oct 26: Lady GaGa won Best Video at 2009 Q Awards.
Oct 27: Nick Jonas' solo project with The Administration was confirmed.
Oct 31: Solange Knowles confirmed her departure from Interscope Records.
NOVEMBER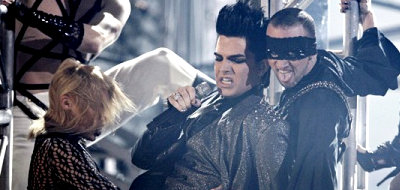 On the eve of his album release,
Adam Lambert
showcased his debut single live for the very first time at 2009 American Music Awards. He stimulated oral sex, locked lips with his male keyboardist, gestured audience with his middle finger and did other sexually-charged acts. In response to the jaw-dropping performance, more than 1,500 people sent their complaints to ABC. Moreover, Parents Television Council (PTC) also slammed the TV network. Adam himself repeatedly said during several occasions that he didn't mean to upset people.
Other major events of the month:
Nov 04: John Mayer announced "Battle Studies" tour dates.
Nov 05: Beyonce Knowles bagged three trophies at 2009 MTV Europe Music Awards.
Nov 05: Calle 13 won five golden gramophones at 2009 Latin Grammy Awards.
Nov 05: Jay-Z revealed the second leg of "The Blueprint 3" tour.
Nov 10: Taylor Swift led nominations list of 2010 People's Choice Awards with three kudos.
Nov 11: Taylor Swift took home five trophies at 2009 Country Music Association Awards.
Nov 18: Kings of Leon got Woodie of the Year at 2009 Woodie Awards.
Nov 19: Janet Jackson was revealed to have quietly returned to A&M Records.
Nov 22: Taylor Swift received five kudos at 2009 American Music Awards.
Nov 23: Adam Lambert's closing performance at 2009 American Music Awards drew controversy.
Nov 23: DAY26 confirmed their departure from Bad Boy and got signed to Atlantic Records.
DECEMBER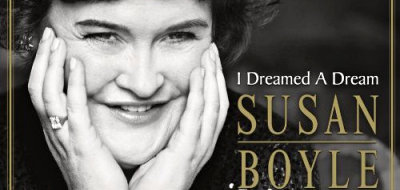 Susan Boyle
was named female solo artist with the highest sale debut when her first album "
I Dreamed a Dream
" topped Billboard Hot 200 with 701,000 copies. It then continued ruling the U.S. Albums chart for four weeks in a row, pulling in a total of 2,465,000 copies and becoming the second-best selling album this year behind
Taylor Swift
's "
Fearless
" which has scanned more than 2,933,000 to date.
Other major events of the month:
Dec 01: Nick Jonas and The Administration announced 2010 tour dates.
Dec 01: Norah Jones revealed "The Fall" traveling show.
Dec 01: Black Eyed Peas unveiled "The E.N.D." world tour.
Dec 02: Susan Boyle ruled Billboard Hot 200, breaking this year's best opening week record.
Dec 02: Beyonce Knowles led 2010 Grammy Awards nominations with ten nods.
Dec 02: Nick Jonas debuted his side project with The Administration.
Dec 02: Susan Boyle scored fastest selling debut of 2009.
Dec 10: Carrie Underwood announced "Play On" tour dates.
Dec 10: Miley Cyrus' song was pulled out from 2010 Grammy Nominations list.
Dec 11: Mariah Carey revealed "Angels Advocate" tour dates.
Dec 17: John Frusciante quit Red Hot Chilli Peppers.
Dec 18: Que was kicked out of DAY26.
Dec 23: Metallica's self-titled effort was named best selling album to date.
Dec 28: Jenny Berggren Quits 'Ace of Base', Deciding to Go Solo.
PART II: MUSIC VIDEOS
More events in: January-March | April-June | July-September