December 25, 2010 07:31:29 GMT
Continuing the tradition of listing hottest new music acts of the year, AceShowbiz brings to attention the likes of Jackie Evancho, B.o.B and Lee DeWyze as breakthrough artists of 2010.

---
2010 is about to end. Many albums and singles have been rolled out throughout the year, battling for the first spots on various charts across the country and competing for coveted awards at many prize-giving events. Some came from veteran artists like , and , and the others came from budding singers who tried to make their big break in the game.

Looking back in the past 11 months, AceShowbiz decides to continue dedicating its year-end article to those newbies who are poised to become music fans' favorites, selecting 10 out of the many based on their chart performances and other notable achievements. Starting their move in 2010, these sought-after music talents are expected to continue shining in the years to come.


B.o.B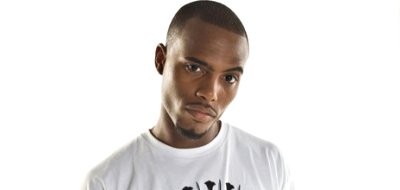 Starting his career as an underground rapper, caught the attention of Hip-Hop community even before he released his debut album or sealed a deal with major label. Once he dropped his debut single "Nothin' on You", he wowed music fans in the United States and across the pond. From debuting at No. 89 on Billboard Hot 100, the -assisted track rose to the first position in early May. It back then became the fastest chart-topping single for a male vocalist since , , and stormed the list between November 2005 and April 2006. With his genre-bending rap style and his skills of messing with guitar, drum and piano sounds, he is sure not just a one hit wonder.
This Atlanta MC emulated the success of "Nothin' on You" with his second single "Airplanes" which this time around features . It peaked at the runner-up place on the U.S. singles chart and got on its remix version. His easy, yet smart lyrics and the rock sound carried by Hayley made the already unique track stand out even more when combined with the Slim Shady's fury verses. The revamped version earned him a Grammy nomination for Best Pop Collaboration with Vocals. It's not the only nomination he gets at the awards show as he receives four more nods including Best Rap Album for his first effort "". He also got a handful of nominations at the other coveted prize-giving events such as MTV Video Music Awards.
Greyson Chance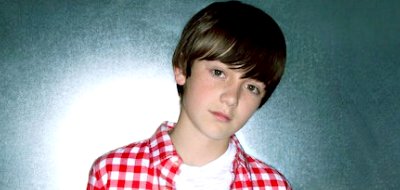 Gifted with boyish look and lovable voice, drew millions of views on YouTube for his home-made video which features him covering 's song. He had his dream of becoming a singer come true when spotted him on the internet and invited him to her TV show for his first ever performance on national television. He got a thumb up from GaGa herself and not long after being discovered, he was quickly signed to DeGeneres' newly-launched label, ElevenEleven Records.
His story seems so familiar with another fairytale of young pop idol who was also discovered more or less on the web, but his music is different from the Canadian singer's. While the "Baby" hitmaker started his career with those bubble gum pop tracks, this 13-year-old boy from Wichita Falls, Texas went straight to a pretty grown-up song. His debut single "Waiting Outside the Lines" has inspirational lyrics on it. A mini album is currently being prepared before a full-length set is rolled out. A traveling show with is also expected to begin in January 2011, the year when his journey to become the next global pop singing sensation will continue.
Bruno Mars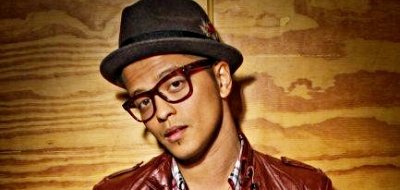 Before releasing his own music, spent his time writing and producing songs for other artists like , , and . He emerged from behind the scenes lending his vocal on the hooks of 's debut single "Nothin' on You" and of 's solo hit single "Billionaire". From assisting other artists for chart-busting tracks, now it's time for Mars to show what he can do with his own pipe. He dropped a mini album as an introduction to his music and then moved forward with a full studio set. Growing up in a musical family and listening to wide variety of music from doo-wop medleys to contemporary songs make him rich of music colors which are then represented in the album.
Having the title speak for itself, "" mirrors his diverse music influences which blend the element of pop, rock, reggae, R&B, soul and Hip-Hop into a sweet sound, and great pop music sound. Preceded by chart-topping compelling love song "Just the Way You Are", the album debuted at No. 3 on Billboard Hot 200. The next single "Grenade" reached No. 2 on the U.S. singles chart, giving him his second straight Top 3 single. Nearing the end of the year, he bagged seven Grammy nominations including double nods in Record of the Year, cementing himself as one of the new artists to watch out in 2010 and the years to come.
Lee DeWyze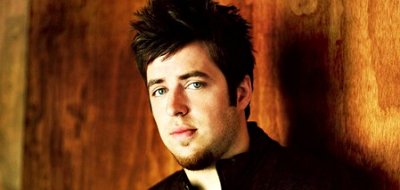 , a paint salesman, shot to stardom after participating on "". His growth and maturity as a self-taught artist gave him a lot of votes to send him to the finale of the TV show. One of the contestants who never landed on the bottom three, he was praised by judges for his soulful voice and his ability of shedding his shy persona and showing confidence from time to time. He battled it out for the first place against and got the most votes with the covers of 's "The Boxer", 's "Everybody Hurts" and 's "Beautiful Day".
By winning the "Idol", he got signed to 19 Entertainment and later released his debut album "" in partnership with RCA Records. His album is not just a collection of catchy songs, it tells story in each of the tracks, sketching out a compelling tale of a relationship through its ups and downs. The album climbed to No. 19 on Billboard Hot 200 with its lead single "Sweet Serendipity" rising to No. 38 on Adult Pop Songs chart.
Willow Smith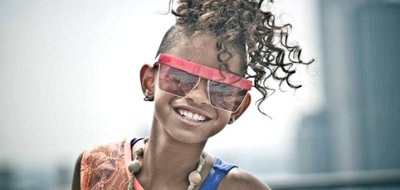 Adorable got her big break in music while she was barely 10 years old. She captured people's heart with her sassy yet kiddie friendly dance track "Whip My Hair", a quality of music which is far above an artist of her age. Despite being a daughter of celebrity couple and , the 2009 winner of Young Hollywood Awards needed no references from her famous parents to seal a deal with 's Roc Nation. She caught Jigga's attention right after the music was played, before he was informed who and how old she was.
The fun-loving song celebrating the freedom, energy and expression every youngster has peaked at No. 11 on Billboard Hot 100 and rose to No. 5 on Hot R&B/Hip-Hop Songs chart. Now, she is currently working on her debut album and there will be more to come from her. With her rare talent, clear vision of what she wants and the help of the hitmaker himself Jigga, she is sure to burst the chart once again next year. As much as drawing attention on the chart, she will also be stealing spotlight on stage. This young girl will be touring across Europe with good friend starting March.
Mike Posner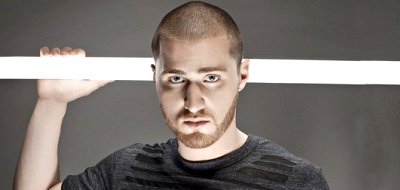 's success didn't come overnight. He worked hard as an indie artist while juggling his time to study in Duke University. He explored every sound that creates genre-bending music and continued to make innovation during the process. His street album "A Matter of Time" came to attention as it climbed to No. 1 on iTunesU chart and later sparked a major-label bidding war. He was finally signed to J Records and charmed mainstream music fans and broader audience with his irresistible single "Cooler Than Me". The mid-tempo song with catchy hook was a huge success, selling over 1 million copies and soaring to No. 6 on Billboard Hot 100.
Hot on the heels of his major success, he moved forward with the plan of releasing a studio album. An eclectic, lovingly-crafted collection of soulful tunes titled "" was released in August, spawning distinct music "like nothing else out right now," and containing killer hooks in each of the tracks. It debuted at no. 8 on Billboard Hot 200. Completing his impressive chart performance even more, he was nominated as T-Mobile Breakthrough Artist at American Music Awards and Best Push Act at European Music Awards near the end of the year.
Far East Movement
Representing different generations of Chinese/Japanese, Korean and Filipino backgrounds, had already been on the move to take music scene by storm before their debut album "" hit the stores. Their single "Like a G6" is a club-ready anthem who dragged people straight to the dance floor and earned them their first No. 1 single on Billboard Hot 100. It sat at the penthouse of the chart for more than one week and made them the first Asian-American group to break the chart and stay on top.
On the road, the boys from West Coast have done shows with , and . Their high-energy music will continue to grow on music fans as they have a bunch of live concerts on their calendar. They will rock "'s Rockin' Eve with " along with the likes of , , , , , , , , , , and .
Jackie Evancho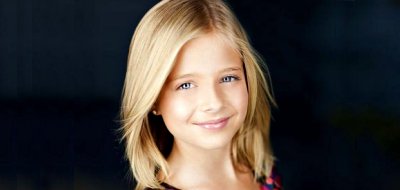 It was almost impossible not to adore . Her innocence and her raw, yet rare talent make this 10-year-old little girl one of a kind. She turned people's head with her soprano voice when taking part in "" and instantly became one of the judges and audience's favorites. 2010 is the just beginning of her music career which started quite well. She dropped a mini album "" which is filled with covers of holiday classics in November and it debuted at No. 2 on Billboard Hot 200 and survived several weeks on the Top 10 list.
This made her become talk of the town since she was the youngest female solo artist to break the Top 10 list in the Nielsen SoundScan history. Next for Jackie will be a full album of classical crossover material that she will start recording in early 2011. To polish her skill, the little girl who took her music inspiration from "The Phantom of the Opera" has started to learn how to play violin and write her own songs.
Waka Flocka Flame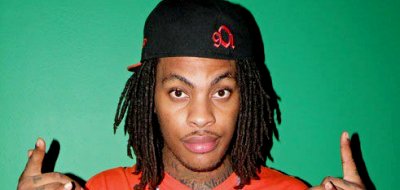 never dreamed of becoming one of the sought-after rappers. He used to shy himself away from music and focus on his love for basketball instead. But, he apparently has a hidden talent since once he tried his hands in music, the result was quite impressive. He managed to make an impact on the industry than most rappers who have spent their entire lives trying to do it.
His debut single "O Let's Do It" peaked at No. 7 on Billboard Rap Songs chart, leading him to get a Rookie of the Year nomination at 2010 BET Hip-Hop Awards. The achievement was followed by another success as his first album "" burst Billboard Hot 200 by entering at No. 6. He continues to impress Hip-Hop circle by ruling Rap Sons chart with his third single "No Hands" which at the same time climbed to No. 2 on R&B/Hip-Hop Songs chart.
Nicki Minaj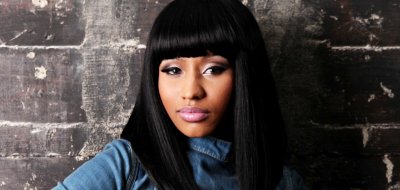 is a hitmaker who continues to break music scene with a bang. Having duets with a number of big stars like , and , she took her time when it came to her debut album because she wanted everything to be perfect, and the wait was worth it. The first lady made a history when ruling Billboard Rap Songs chart with her single "Your Love". She became the first female rapper to top the list since reigned the chart in 2003 with "Magic Stick" which features .
Her move was proved to be unstoppable. She silenced the haters when once again breaking the record when bowing at No. 2 on Billboard Hot 200 and selling around 375,000 units with debut album "". She became the first femcee in more than a decade to pull that kind of impressive number since 1998 "" (423,000). In her home, she has collected two trophies from BET Awards and three from BET Hip-Hop Awards. Her handful music nominations in the past months were completed when she gets a nod for Best Rap Performance by a Duo or Group at Grammys near the end of the year.
© AceShowbiz.com
Browse
Nicki Minaj Pictures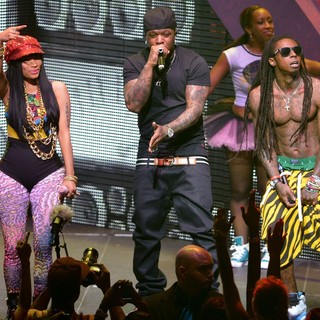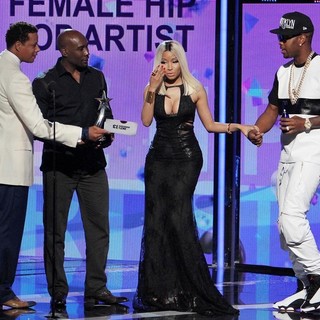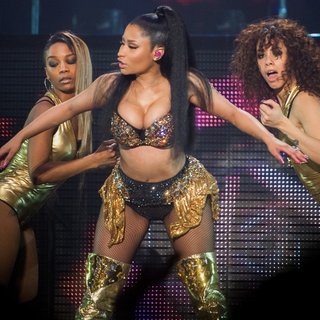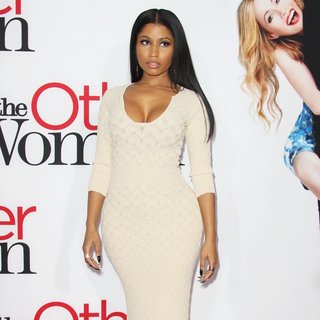 ---
---
---