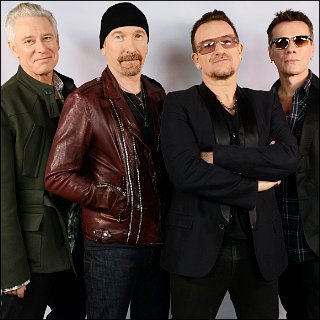 Profile
---
Famous as :
Rock band
Birth Name :
The Hype
Birth Date :
September 25, 1976
Birth Place :
Dublin, Republic of Ireland
Claim to fame :
Album "
How to Dismantle an Atomic Bomb
" (2004)
Biography
---
Irish rock band U2 began its tale when in autumn 1976, the 14-year-old Larry Mullen, Jr. posted a note on his secondary school, Mount Temple Comprehensive School in Dublin, bulletin board, seeking musicians for a new band. Four friends responded and joined up, they were
Bono
(b. Paul David Hewson on May 10, 1960, in Dublin, Eire); Dave Evans (aka the Edge, b. August 8, 1961, in Barking, Essex, England); Dik Evans who is the brother of David "the Edge" Evans; and Adam Clayton (b. March 13, 1960, in Chinnor, Oxfordshire, England). All of the joined personnel resulted in a 5-piece band, known at the time as Feedback, consisting of Mullen (b. March 13, 1960, in Chinnor, Oxfordshire, England) on drums, Adam Clayton on bass guitar, Bono on vocals, and Dave Evans and his brother Dik on guitar.
After 18 months of practice, the band decided to change their name into The Hype. And so they started to perform with their new name at a talent show in Limerick, Ireland on March 17, 1978. As fate would have it, they won the talent contest and brought home £500 prize. Happened by chance, one of the judges of the show happened to be the CBS Records' Jackie Hayden, who was impressed with the band that he later gave them studio time to record their first demo. Sadly, the demo wasn't a great success because the Hype was still an amateur and that lack in experience and studio time even combining to hamper their efforts. It's just a start anyway. At almost the same time, many started to critic the band's name. One of the many was the Dublin punk rock guru Steve Averill, better known as Steve Rapid of The Radiators from Space, who recommended that "The Hype stinks, at least as a name."