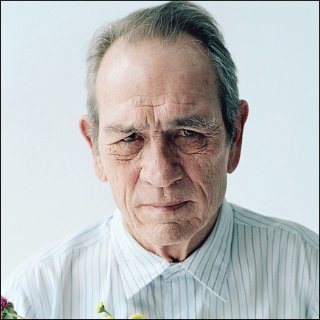 Profile
---
Famous as :
Actor

Birth Date :
September 15, 1946

Birth Place :
San Saba, Texas, USA

Claim to fame :
As Marshal Samuel Gerard in "The Fugitive" (1993)


Biography
---
by AceShowbiz.com
---
the pioneer actor implicitly considering him a rival. Meanwhile, the producer of "Eyes of Laura Mars" made use of the most popular genre at that time, suspense-thriller to gain profit. The movie told about a fashion photographer played by Faye Dunaway who suddenly had the ability to 'see' a serial killer in his work, then she hired a police detective played by Tommy to catch the killer.

The 1981 Golden Globe Awards nominated Tommy for his role in "Coal Miner's Daughter" (1980) while ironically his opposite, Sissy Spacek won an Oscar in the same year. Not learning from his mistakes, the next year Tommy showed a bad-working attitude in "Back Roads" (1981). He was impatient towards people whom he thought were wasting his time. His co-star Sally Field expressed her disappointment "I never want to work with him again". The disgrace, however, didn't stop him from meeting his second wife, Kimberlea Gayle Cloughley. They were married on May 30, 1981 and had two children, Austin Leonard Jones and Victoria Kafka Jones.

Being only nominated so far, this time he came out as a winner in the 1983 Emmy Awards for Outstanding Lead Actor in a Limited Series or Limited Special category through TV movie "The Executioner's Song" (1982). The brilliantly portrayed character of a criminal, who chose to be executed than life-imprisoned, was regarded as very disturbing yet very human at the same time. After such a gleaming performance, he didn't score anymore hit until seven years later in mini series "Lonesome Dove" (1989) where he worked with Robert Duvall and nominated for 1989 Emmy and 1990 Golden Globe. After that, he presented uncanny suspect of the assassination of Kennedy in successful movie "JFK" (1991).

Next appeared in "The Package" (1989) had earned him an opportunity to work with director Andrew Davis who would later direct him again in his biggest strike, "The Fugitive" (1993). With Harrison Ford as Dr Richard Kimble, a husband who was wrongly accused of killing his own wife, Tommy acted as the U.S. Marshal who pursued Dr. Kimble. This movie noted him as very apt to such character. For the worth-watching acting, in 1994 he finally got his first Oscar for Best Actor in a Supporting Role, a Golden Globe for Best Performance by an Actor in a Supporting Role in a Motion Picture, and an MTV Movie Award for Best On-Screen Duo shared with ...