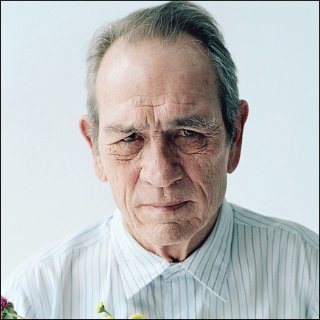 Profile
---
Famous as :
Actor

Birth Date :
September 15, 1946

Birth Place :
San Saba, Texas, USA

Claim to fame :
As Marshal Samuel Gerard in "The Fugitive" (1993)


Biography
---
by AceShowbiz.com
---
If there is ever an actor with such credibility to play in every single genre, that would be Tommy Lee Jones. From gracefully starting as soap opera actor, it seems improbable that he is one of the familiar faces in military films. His career was indeed prosperous in the particular genre for his face might have been chiseled out of marble, so hard that it's more suitable to be in action movies. As a matter of fact, hard act movies are not always everybody's favorite compared to drama or comedy. Tommy seemed to realize it, saying "If military movies were automatically successful we'd make nothing but military movies. But seriously, patriotism is one thing that all Americans have in common."

As tough as his feature, his childhood was not that easy too. Tommy who was born on September 15, 1946 in San Saba, Texas came from a family that raised cattle to make a living. They had to face the impact of long drought in early fifties that devastated the farm. At the age of three, Tommy was supposed to have a sibling but the child died while still a baby. His parents, Clyde C. Jones and Lucille Marie were easily divorced and remarried before eventually divorced again. Furthermore, Tommy described his relationship with his father as abusive and very much distant. "He wasn't there for me that much."

Instead of immersing himself in sadness, Tommy directed his life to a better track. He was apparently a clever student and very good at football. These attributes brought him a greater future. He received a scholarship for admission in a prominent boys school, St Mark's School of Texas. By then, he managed to make a living for himself by being a construction worker and working in an oil field. Unexpectedly, the continual football interest earned him another scholarship to Harvard, majoring English and American Literature. However, his ambition to be part of the famous football team, Dallas Cowboy, should be abolished when his small built didn't support the role to be a pro. This was the time when he led himself to acting. Joining drama club, he gained the opportunity to perform Shakespeare's works on stage until he graduated from Harvard in 1969 with the rank cum laude.

His next mission was to move to New York for the sake of a better job. Astonishingly, the job was retrieved ten days ...