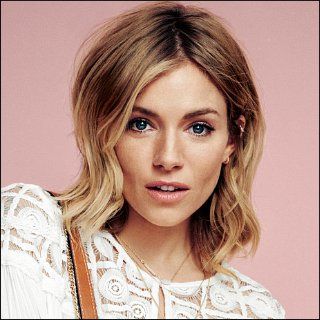 Profile
---
Famous as :
Actress, model

Birth Name :
Sienna Rose Miller

Birth Date :
December 28, 1981

Birth Place :
New York City, New York, USA

Claim to fame :
As Fiona Bickerton on TV series "Keen Eddie" (2003-2004)


Biography
---
by AceShowbiz.com
---
placed her in Simon West's action drama series entitled "Keen Eddie" (2003) to portray Fiona Bickerton. Although it was well received, the show was canceled in 2003 after it was aired for 13 episodes. Disappointed but not discouraged, she kept looking for another opportunity to enhance her status, but only got minor roles in the 2004 big screen productions of "Layer Cake" and "Alfie."

What Sienna did not expect was that she would helplessly fall in love with the leading man of "Alfie," Jude Law, who also experienced the same feeling. Within a month after her first acquaintance of the gorgeous actor, she decided to split with her boyfriend, David Neville, a model whom she had dated since 2001. The news of her becoming Law's new girlfriend created great sensation as Jude had just officially divorced his wife, Sadie Frost. This undoubtedly propelled her to receive more publication and automatically brought her name to the surface. With this increasing status, she gloriously earned a supporting role in Lasse Halstrom's "Casanova" (2005) opposite Heath Ledger.

Happily engaged to Law after he proposed to her on Christmas Day 2004, Sienna was shocked upon her heartthrob's confession in July 2005 of an affair he had with his children's nanny, Daisy Wright, while filming "All the King's Men" in Louisiana, U.S. Devastated by Law's infidelity, Sienna put no delay to end their engagement even though Law had revealed his regret publicly. After several months, however, she was willing to give him a second chance under some terms, especially that of not cheating on her again. Meanwhile, Sienna's career went smoothly as she was cast to play the lead female in "Factory Girl" (2006) while also being able to make her West End debut, playing Celia in the stage production of "As You Like It" at Wyndham's Theatre in London.

Barely one month together, this blonde beauty was discovered by Law to conduct the same ill deed with his best friend, actor Daniel Craig, whom she met during the production of "Layer Cake." This relationship has reportedly started months before she began dating Law which meant that she had cheated him right behind his back. Feeling betrayed, Law then ordered her to leave their home in London and by middle October 2005, the couple ultimately ended their engagement amid the tidings on her pregnancy. However, the story between them apparently still continued for they were ...