January 01, 2014 05:36:23 GMT
The list highlights such potential hits and ambitious series as gritty drama 'Black Sails', comedy 'Rake' and dark detective show 'True Detective'.

---
Everybody's looking to have a fresh start in New Year and so are TV networks which add new programs to their line-up in early 2014 in hopes to gain more viewers in addition to maintaining loyal fans with the returning popular series. To help you pick among the pile which freshmen that meet your interest, AceShowbiz presents a list of New TV Series to Watch this midseason.

Michael Bay-executive produced pirate drama "" and Alfonso Cuaron-co-created fantasy series "" as well as "" and "", which mark the first TV series regular roles for and respectively, are among those that should not be missed. Anticipation is also high for the arrival of a new face in TV's late-night slot, with ready to take over the hosting duty on NBC's "".


Believe
Premiere: TBA (after the 2014 Winter Olympics)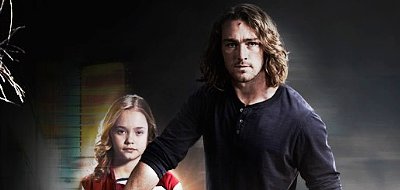 There couldn't be a better time for NBC to launch "". Fresh from his work on potential Oscar-contender "", Alfonso Cuaron directed the pilot of the fantasy/sci-fi series which he co-created along with Mark Friedman. The high concept drama follows a young girl with special abilities who is under the protection of a wrongfully convicted death-row inmate. Initially reluctant to take on the role as her protector, he eventually forms a bond with the girl. Having "" co-creator and "" director J. J. Abrams on board as executive producer only helps further boost the show.
Black Sails
Premiere: January 25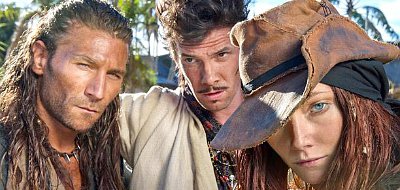 From the director of "" film series, Michael Bay, comes a gritty pirate drama, "". Serving as a prequel to Robert Louis Stevenson's famed novel "Treasure Island", the story follows ruthless high seas Captain Flint () and his crew who fight for the survival of New Providence Island. "There's a reason people are still talking about this world. It had adventure, ships, battles and all the intrigue that has come to be apart of that world. We're hoping to capture that," said showrunner Jon Steinberg, who promised that the show wouldn't be rife with cliches though the "Pirates of the Caribbean" film series has long taken on the genre. So confident Starz in the period drama that it has ordered the second season even before the show premieres.
Helix
Premiere: January 10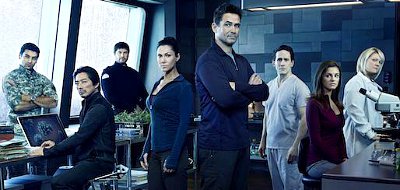 "" showrunner Ronald D. Moore returns to Syfy with another sci-fi series. Teaming up with Lynda Obst, Cameron Porsandeh (series creator) and Steven Maeda ("") as executive producers, he presents thriller "", which follows a team of scientists who travel to a research facility in the Arctic to investigate a potential outbreak of disease. The remote area itself is surely a big challenge for them to survive when an unknown virus turns a person into something not-human, but that's just the tip of the iceberg as they slowly uncover the chilling truth beneath a conspiracy.
Intelligence
Premiere: January 7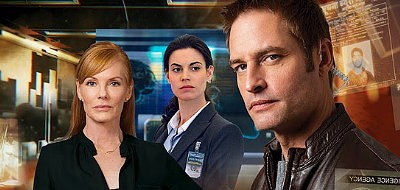 Almost four years after "" ended, finally returns to the small screen with "". In his first regular TV role since the adventure-supernatural series, he plays a high-tech intelligence operative with a super-computer microchip in his brain that allows him to access any data needed to protect the U.S. from its enemies. He's basically a non-goofy version of Bartowski, but that doesn't make him perfect. His appetite for reckless, unpredictable behavior and disregard for protocol is a major concern of his boss, played by "" alumna . Revealing what attracted him to join the show, Holloway gushed, "I thought the script was really smart and current."
Late Night with Seth Meyers
Premiere: February 24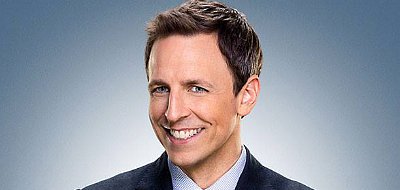 After years of being the head writer on "", it's now time for to take the center stage on his own show. Thus when is moving from the "Late Night" show to the "Tonight Show", the "SNL" alum passes the baton to his former co-star. Bringing laughs won't be a difficult task for Meyers who has been in charge of the sketches on the weekend variety show, but how he interacts with his guests and audience is another thing that viewers should be tuning into.
Looking
Premiere: January 12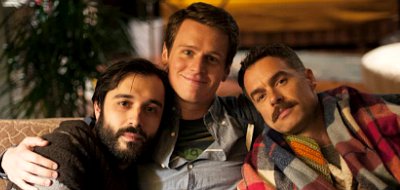 "A gay version of '', " so people dub HBO's new series "". As the title suggests, the drama comedy follows three gay friends who are looking for love in San Fransisco, dealing with dating and coming-of-age problems in the process. Despite this seemingly similar concept, co-creator Michael Lannan insisted it's not a queer take on the -created show or "Sex and the City". "They're both great shows," he said. "But I think ours is distinct in its tone and feeling. Our characters are in their 30s, coming up on 40. It's a different age group." With gay actors , Murray Bartlett and Russell Tovey in the lead roles, the sensual drama tries to capture the experience as realistic as possible.
Rake
Premiere: January 23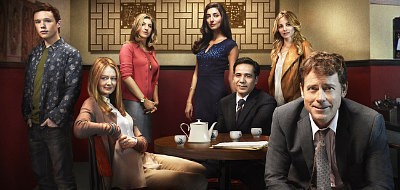 A brilliant man in his job with a terrible personal life may sound similar to the main character on some previous shows like "" and "", but with Oscar winner in the lead role, "" at least deserves a try. Based on a successful Australian series of the same title, the drama comedy features Kinnear as a criminal defense lawyer whose personal problems have lead him to self-destructive behavior. With cleverly written script that lured the actor to sign up, the show delivers witty humor that will get viewers rooting for his character, Keegan.
True Detective
Premiere: January 12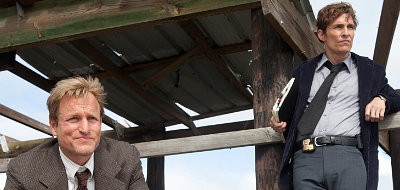 If you're a fan of a dark and serious detective drama, "" is the right choice. Directed by "Sin Nombre" helmer Cary Fukunaga, the first season of the anthology series centers on two detectives' hunt for a serial killer in Louisiana across seventeen years. Revisiting the case now that they're completely different men as they were, the former teammates reopen unhealed wounds and it soon becomes clear that darkness lives on both sides of the law. Taking the key roles are Emmy-winning actor and , who recently drew praises for his role as an AIDS patient in "". With such impressive cast, the show is likely to be a critic darling if not a potential hit for HBO.
Other new TV series to premiere in midseason 2014:
January 1: ""
January 2: ""
January 7: "", ""
January 8: "Chicago PD"
January 9: ""
January 10: ""
January 13: "", ""
January 16: "Under the Gunn"
January 20: ""
January 21: "Opposite Worlds"
February 17: ""
February 26: ""
March 6: ""
March 9: ""
March 11: ""
March 19: ""
March 31: ""
April 1: ""
TBA: "", "American Dream Builders", "", "", "", "", "Us & Them"
© AceShowbiz.com
---
---
---