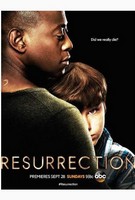 TV Info
---
Category
TV Series
Genre
Drama
Seasons
2
Production Co.
ABC Studios
Distributor
ABC
Official Site
click here

Cast and Crew
---
Main Cast
Omar Epps as Martin Bellamy
Matt Craven
Devin Kelley
Frances Fisher as Lucille Langston / Lucille Garland
Kurtwood Smith
Sam Hazeldine
Samaire Armstrong
Nicholas Gonzalez as Deputy Connor Cuesta
Mark Hildreth
Landon Gimenez
The Story
---
The people of Arcadia, Missouri are forever changed when their deceased loved ones suddenly start to return. An 8-year-old American boy (Landon Gimenez) wakes up alone in a rice paddy in a rural Chinese province with no idea how he got there. Details start to emerge when the boy, who calls himself Jacob, recalls that his hometown is Arcadia and an immigration agent, Martin Bellamy (Omar Epps), takes him there. The home he claims as his own is occupied by an elderly couple, Harold (Kurtwood Smith) and Lucille Garland (Frances Fisher), who lost their son Jacob more than 30 years ago. While they look different, young Jacob recognizes them as his parents. Those closest to the family try to unravel this impossible mystery, including Sheriff Fred Garland (Matt Craven) whose wife Barbara drowned 30 years ago trying to save Jacob. But this boy who claims to be the deceased Jacob knows secrets about his own death that no one else knows-secrets that Fred's daughter Gail (Devin Kelly) will begin to investigate and discover to be true.
The Stills
---