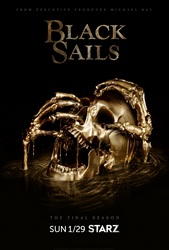 TV Info
---
Category
TV Series
Genre
Drama
Starring :
Toby Stephens
, Hannah New, Luke Arnold, Jessica Parker Kennedy, Tom Hopper, Zach McGowan, Toby Schmitz, Clara Paget, Mark Ryan, Hakeem Kae-Kazim, Tadgh Murphy

January 01, 2014 12:01:23
Everybody's looking to have a fresh start in New Year and so are TV networks which add new programs to their line-up in early 2014 in hopes to gain more viewers in addition to maintaining loyal fans with the returning popular series. To help you pick among the pile which freshmen that meet your interest, AceShowbiz presents a list of New TV Series to Watch this midseason.
Michael Bay-executive produced pirate drama "
Black Sails
" and Alfonso Cuaron-co-created fantasy series "
Believe
" as well as "
Rake
" and "
True Detective
", which mark the first TV series regular roles for
Greg Kinnear
and
Matthew McConaughey
respectively, are among those that should not be missed. Anticipation is also high for the arrival of a new face in TV's late-night slot, with
Seth Meyers
ready to take over the hosting duty on NBC's "
Late Night with Jimmy Fallon
".
...
July 27, 2013 11:07:15
Starz is apparently highly confident about its upcoming series "
Black Sails
". The network has given an early renewal to the Michael Bay-produced show, more than five months before the series' scheduled premiere in January 2014.
"Michael Bay, Jon Steinberg and their teams delivered a spectacular first season of Black Sails, and we are incredibly proud of everyone's work," Starz CEO Chris Albrecht explains the early renewal. "Based on the strong fan response to the preview screening at last week's Comic-Con, we felt an early order for a second season would allow the writers, cast and crew enough time and space to continue crafting such unique and epic storytelling."
...