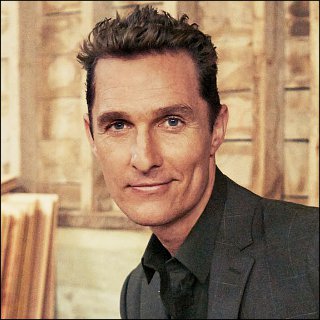 Profile
---
Famous as :
Actor

Birth Name :
Matthew David McConaughey

Birth Date :
November 04, 1969

Birth Place :
Uvalde, Texas, USA

Claim to fame :
As Jake Brigance in "A Time to Kill" (1996)


Biography
---
by AceShowbiz.com
---
Hollywood might have the awards scorers like Jack Nicholson and Al Pacino or pure entertainers like Seann William Scott and Jason Biggs. But between those two layers there was a need for something to fill in the middle, some actors who were not only lightly amusing but also astonishing at the same time. Simply charming in "How to Lose a Guy in 10 Days" (2003) but was dumbfounding in "A Time To Kill" (1996) Matthew McConaughey easily slipped under this category.

Born November 4, 1969 in a small town of Uvalde, Texas, he was raised in a conservative catholic family. His father Jim McConaughey was an ex pro footballer and a gas salesman while his mother Kay was a substitute teacher. Refusing to get involved in his father's business after his graduation from Longview High School, Longview, Texas in 1988, he moved to Australia only to do odd jobs, such as dish washing and scooping chicken dung. He finally made up his mind to return to U.S. and entered University of Texas. He was one step away from becoming a lawyer but immediately felt something was missing. After reading Og Mandino's book which emphasized on "do it now", without further hesitation he quickly turned to film directing. From 1991 onwards, he started to dig his artistic talents by posing for commercials especially beers and also acting for students' film projects. To gain qualifications from his school, he directed a short film titled "Chicano Chariots" in 1992 and graduated the following year. Soon after the graduation he was seeking jobs in which he had become so fond of. Drinking beer in a hotel bar in Austin, he never thought that his destiny was about to change.

His meeting with a casting agent named Don Phillips led to another meeting with director Richard Linklater. Initially, the Texan director hesitated using him as an actor in his film "Dazed and Confused" (1993) because he was thought too handsome. However, after he grew mustache and beard, Linklater immediately said okay. In fact, his role was extended from only 3 scenes to 300 lines because the impressed Linklater encouraged him to do impromptu. Matthew and his co-stars Milla Jovovich and Ben Affleck were suddenly highly recommended new stars. Such notice won him a part in "The Return of the Texas Chainsaw Massacre" (1994) where he played the cannibalistic killer, Vilmer. Although his part here was ...