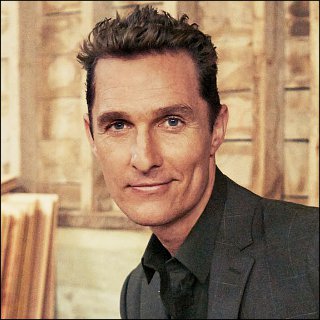 Profile
---
Famous as :
Actor

Birth Name :
Matthew David McConaughey

Birth Date :
November 04, 1969

Birth Place :
Uvalde, Texas, USA

Claim to fame :
As Jake Brigance in "A Time to Kill" (1996)


Posed with his model partner Camila Alves and their newborn son, Levi Alves McConaughey, on the cover of OK! magazine, on newsstands July 24, 2008.
Ranked 1st in In Touch Weekly magazine's Hollywood "Beach Bums" list in 2007.
Voted No. 1 in People magazine's list of "Hottest Bachelors" in 2007.
Made the list of "The Sexiest Stars Under The Sun" compiled by Life & Style magazine in May 2007 for having the Perfect Pecs.
Had his legs chosen as the 2nd Hollywood's Sexiest Legs according to a poll conducted by Life & Style magazine in March 2007.
Has his own line of T-shirt called j.k. livin.
Named the 10th Most Annoying People of 2006 in a poll conducted by Star Magazine.
Made the Top 5 in the poll on Sexiest Stars in America conducted by In Touch Magazine (August 2006).
Bared his chest in an ad to promote Dolce & Gabbana's "The One" perfume for men (February 2008).
Shares the same birthday with the rapper Sean Combs aka P. Diddy.
Was surprised by Jay Leno on "The Tonight Show with Jay Leno" (1992) with a tape of him doing airline training but recalled no memory of it.
Hurt his face while training for his role as a fighter in the New Line Cinema's comedy flick "The Grackle" (December 2007).
Included in Forbes.com list of America's Most Eligible Bachelors in August 2007.
Was encouraged by his then girlfriend, Sandra Bullock, to work out in gym to build six packs.
Chosen as the No. 1 "Most AB-ilicious Star" in Life & Style's list of celebrities with toned stomachs (May 2007).
Dropped a role in "The Jackal" (1997) to star in "Contact" (1997) and "Amistad" (1997).
Had his wax figure unveiled for public view in Madame Tussauds "Big Night" attraction in Las Vegas on April 19, 2007.
Honored for his "Beach Body" in the so-called "What is Sexy?" list compiled by Victoria's Secret in April 2007.
Is the 3rd Hollywood's Hunk according to the 'Guy Candy' list compiled by TV show Access Hollywood in March 2007.
Collected $61,600 for US victims of 2005's Hurricanes after his 1971 Corvette Stingray sold out on auction website eBay (August 2006).
Put his beloved sports car, the 1971 Corvette convertible, on eBay.com to raise money for Oprah Winfrey's Angel Network's Hurricane Katrina and Rita recovery efforts (July 2006).
Volunteered to help the victims of Hurricane Katrina in 2005.
Appeared in the back cover of November 2005 issue of Cosmopolitan Magazine.
Owns a 1,600-acre ranch in west Texas, which he bought for $500,000.
Suffered from baldness and was under treatment.
Owns a production house named JKL Productions which stands for "Just Keep Livin'!" taken from his character in "Dazed and Confused" (1993), David Wooderson's life philosophy.
Was named Grand Marshall by the 47th edition of The Daytona 500 in February 2005.
Promoted his movie "Sahara" (2005) by traveling around U.S. with his personal Airsteam trailer for a month.
Came with Penelope Cruz to the 2005 Grammy Awards.
Supported his college football team The Texas Longhorns by standing on the sidelines during the 2005 Rose Bowl in which Longhorns beat Michigan 38-37.
His role as Dirk Pitt in "Sahara" (2005) was almost taken by Hugh Jackman, but Jackman was too busy filming "X-Men 2" (2003) and performing on Broadway's production, "The Boy From Oz".
Appeared in the advertisement of Stetson Black Cologne.
Remains friends with his ex-girlfriends.
Is a big fan of Washington Redskins NFL team.
Loves to play golf, tennis and frisbee occasionally.
Played in the same movie "The Newton Boys" (1998) with his brother Rooster McConaughey.
Was a candidate for a role in "Speed 2: Cruise Control" (1997).
Was the first option to play Jack Dawson in "Titanic" (1997) but the role eventually went to Leonardo DiCaprio.
Went to Peru soon after the filming of "A Time to Kill" (1996).
Likes to listen to John Mellencamp's music and wore a T-shirt from Mellencamp's "Whenever We Wanted" tour in his movie "A Time to Kill" (1996).
Hired a maid to clean his house everyday after the paycheck from his movie "Boys on the Side" (1995).
Spoke in Australian accent post his one-year stay in the continent in 1989.
Was crowned "Most Handsome" in his Longview High School senior year.
Joined the college fraternity Delta Tau Delta during his study in University of Texas.
Develops a close bond with his mother Kay McConaughey.