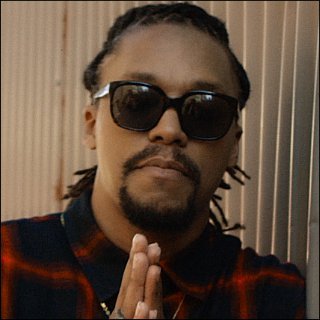 Profile
---
Famous as :
Rapper

Birth Name :
Wasalu Muhammad Jaco

Birth Date :
February 16, 1981

Birth Place :
Chicago, Illinois, USA

Claim to fame :
Single "Kick, Push" (2006)


Biography
---
by AceShowbiz.com
---
Born in a Muslim family on February 17, 1982, Wasalu Muhammad Jaco aka Lupe Fiasco was the fifth child out of nine siblings. His father is an engineer as well as an apt drummer while his mother is a gourmet chef. Little Fiasco was raised in Westside of Chicago and pursued his education at Illinois' Thornton Township High School. Rapping had gone into his head while he was still very young, but gangsta rap was popular during the time that he was intimidated by the profane lyrics produced by the rappers at that time. Thus he gave up rapping as a career choice.

However, when he heard Nas' 1996 album, "It Was Written", Fiasco was dumbstruck and instantly attracted to the art of rapping. At 19 years old he had formed a rapping group called Da Pak that were signed by Epic Records and released a single. Unfortunately, the group split up just after they were about to begin but fortunately for Fiasco who chose to go solo after that.

He immediately signed to Arista Records but when chairman and CEO Anthony "L.A." Reid stepped down from the position, he too had to quit from the label. Refusing to stop in the track, Fiasco recorded a number of mixtapes and began uploading them on-line. Soon enough he was a quite popular Internet artist that his work was heard by renown rapper Jay-Z.

His appearance in Mike Shinoda's mixtape "Fort Minor: We Major" landed in the hand of Jay-Z who later on offered Fiasco to join his Roc-A-Fella label. Since Fiasco had already started mixing, releasing singles and gained money from it, he had enough preparation to start his own record label. Thus he turned down the offer from Jay-Z to start 1st and 15th Entertainment which is an imprint of Atlantic Records.

Through his own label, Fiasco released his debut studio album called "Food and Liquor". The album became a major success, gaining as much as four nominations at the 2007 Grammy Awards. Fiasco, by then was acknowledged as one of the rappers who was closely associated to A-listers in Hip-Hop community such as Kanye West, Pharrell Williams and Jill Scott. Together with the first two musicians he formed a supergroup called Child Rebel Soldiers who spawned many mixtapes.

He released an album called "The Cool" that proved to be another hit for him through two strong singles called "Dumb ...