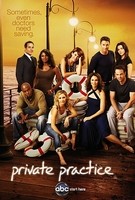 TV Info
---
Episode Premiere
February 12, 2009

Distributor
ABC

Genre
Drama, Comedy

Show Period
2007 - 2013

Production Company
ABC, ShondaLand


Cast and Crew
---
Director
Mark Tinker
Screenwriter
Jon Cowan, Robert Rovner, Krista Vernoff, Debora Cahn
Main Cast
Additional Cast
Synopsis
---
Dr. Addison Montgomery is back at Seattle Grace.
Or, more accurately, she's dancing in a bar near her old stomping grounds. She has reason to celebrate. Her old boyfriend, Dr. Derek 'McDreamy' Shepherd, just saved her brother Archer's life by removing a sack of parasites from his brain. Derek is also at the bar, but he dashes out. Fearing that Archer may be in trouble, Addison, Naomi and Sam run after him.
No, Archer is fine. Derek is busy with another patient, Jen, a pregnant woman who has just come out of surgery and can't breathe. And Derek can't figure out why. But, he's smart. We have faith in him.
Addison finally finds Derek. Archer is complaining of blurry vision, so he's been demanding a new CT scan thinking some of the parasites are still stuck in his head. But Derek refuses to order the scan, saying that Archer is perfectly ok. Not only is Derek being stubborn, he's also acting like a total punk to Addison. Jeez, we know these two have a history, but he could be a little nicer.
When Addison confronts Derek about being rude, he explains the situation with Jen. During surgery on the woman, he accidentally nicked her aneurysm. He fixed his mistake yet the poor woman is rapidly getting more ill and he can't tell what's wrong. Addison orders a doppler scan to be done on Jen's baby. It may be the baby that's sick, not the mother.
Using the doppler, Addison's prediction proves to be correct. The baby's heart rate is dropping because it's anemic and its symptoms are being mirrored in Jen. Addison orders an antibody screen to be done to figure out what to do next.
Meanwhile, Addison gets Richard, the chief of surgery, to order Archer's new CT scan. The hospital needs to prove that Archer is better before it releases his story to the media. Seattle Grace needs to capitalize on this story to boost its reputation.
Addison also starts acting like Jen is her patient, refusing to show Derek any lab results. They bicker again like an old couple. Some things never change, right? There are two options to save Jen. An in utero blood transfusion could possibly kill both mother and baby; while if Addison delivers the baby prematurely at least Jen's life won't be at risk, even if the baby's will be.
But, when consulting with Jen, the mother is adamant that the baby won't live if taken out now. Derek, going against Addison's advice, offers the transfusion as an option. Jen demands the transfusion no matter how much Addison tries to talk her out of it. Again, like old times, Derek is in the doghouse with Addison for even suggesting the transfusion.
Then, during the operation, Jen's lungs start to fill up with fluid. She can't breathe. Derek tells Addison to just keep going through with the transfusion. Although she skillfully performs the procedure, she rants about the time she almost killed Derek's family with food poisoning on Thanksgiving and he saved the day with hot dogs. Really, this is what she cares about? Anyway, Jen's lungs start to drain and the transfusion is a success.
Back in Archer's room, Richard hands him his new CT scans. Archer knew it. There are still cysts on his brain. Derek didn't get all of the parasites. He's going to die! Any minute!
Faced with his imminent demise, Archer breaks down in tears and confesses his sins. He confesses that he slept with Mark Sloans's girlfriend back in college and also crashed Sam's beloved Plymouth back in the day. If the parasites don't kill Archer first, then his two old college buddies will.
Before the massacre happens, Derek rushes into the room with the scans. Archer isn't dying. Those aren't cysts on his brain, they're harmless pockets of fluid that will safely disperse in a few days. Everybody's too disgusted with Archer to kill him now.
Addison and Derek check in on Jen, who seems to be recovering fine. The baby is ok, too. When Jen hears the good news, she says, "I was so scared I kept thinking the tigers would think I was...baby...cut...blue." A stream of nonsense words keep coming out of her mouth. Derek leans over to figure out what's wrong and...
Well, you have to read the recap of Grey's Anatomy episode 515 "Before and After" to find out.