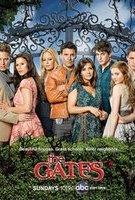 TV Info
---
Episode Premiere
June 27, 2010

Distributor
ABC

Genre
Drama, Crime

Show Period
2010 - 2010

Production Company
Fox TV Studios


Cast and Crew
---
Director
David Barrett
Screenwriter
Grant Scharbo
Main Cast
Additional Cast
Brett Cullen
McKaley Miller
Georgia Cole
James Preston
Shannon Lucio
Kyle Secor
Devon Gummersall
Louis Herthum
Marcus Lyle Brown
Lauren Nash
Synopsis
---
Former Chief of Police Phelps was killed by a single gunshot wound to the back of the head. Things like that just don't happen in The Gates. Frank Buckley wants Nick to do his best to manage the situation. But the new chief isn't interested in a management position; all he wants to do is find the person who killed a cop.
Chad Taylor was the senior police officer at The Gates until he was booted off the force. Many of Chad's old incident reports are missing. He suspects Phelps was taking payoffs from folks in exchange for making their problems disappear. One of those MIA reports involves Claire Radcliff. Blood was seen on her blouse during a traffic stop. When Nick asks about the incident, hubby Dylan says Claire gets nosebleeds. Uh huh.
Marcus is taking the death of his old boss hard. A woman named Teresa offers to buy the troubled cop a cup of coffee: black, two sugars. Fear not, chivalry isn't dead. Marcus offers to spring for a muffin. This leads to a first date where Teresa tells Marcus that she asked him out because his wounded look led her to believe they had something in common. Maybe fate brought them together.
Peg Mueller tells Andie the strange markings she recently noticed on her back could be a stress-related rash. After all, she's been juggling feelings for two different guys. Andie seems to buy into the theory. But judging by the look on Peg's face, we're thinking there may be more to the story. Meanwhile, Andie does her best to give Charlie the cold shoulder while trying to digest Brett's revelation that he loves her. See? Stress!
Lukas is taken aback by Brett, who has had a change of heart about taking advantage of his wolf-like ways. Lukas also has problems at home when Nick pops by to question him about a vandalism incident the old police chief may have made disappear. His dad, Simon Ford (we'll just call him Papa Wolf), shoos Nick away before backhanding Lukas across the face. Simon tells his son, "I am done covering for you."
Devon wants a vial of Claire's blood to use for a spell to erase the memory of Mrs. Cooper, the woman who saw Claire driving the murdered contractor's truck. We suspect Devon wants the blood for a more diabolical purpose. Claire does, too. When Sarah sets up an ice-cream outing for their school-buddy daughters, Devon pops by and makes a veiled threat aimed at Emily. Claire realizes she has no choice but give her what she wants.
Chad says there was once a database containing fingerprints of all residents. Marcus tracks a match for prints found inside the old chief's car. They belong to Simon Ford. When Nick pays him a return visit, Simon says he was paying off the chief to keep his son out of trouble. Claire tells Dylan that she also bribed Phelps to lose the report involving her bloody road stop. Looks like the old police chief was there to serve, protect and extort.
Feeling that Nick is harassing his dad, Lukas takes out his frustrations on Charlie. Surprisingly, Brett steps in before Lukas can do any real damage. When Andie gets wind of the incident, she invites Charlie to join her for some horseback riding which ends with an intimate kiss in a field as Lukas secretly watches from the woods. You know, nobody likes a peeping wolf.
Peg calls Andie's dad to tell him that his daughter's current medical condition relates to her deceased mother. Thomas Bates is devastated by this news. Why? Well, Andie's mom was a succubus, a legendary demonic creature who seduces men to sustain an existence. Peg pleads with Thomas to tell Andie the truth. She says, "Any male she comes in contact with could be in mortal danger." Sorry, Charlie.
Another fingerprint match is discovered in the ex-police chief's SUV. They belong to the guy who has been most helpful in the investigation: Chad Taylor. The gun found in Chad's home matches the make and model used to kill Phelps. Chad swears he didn't kill anyone as Nick charges him with murder.
A box of tea from Devon's spa is seen on a table at Chad's place. Nick finds this curious since Chad was prohibited from setting foot inside The Gates. Devon explains that she gets online orders from all over the world. After Nick leaves the spa with some complimentary tea for Sarah, we can see by Devon's look that she's a little concerned about being on the new police chief's radar. We're just wondering why.