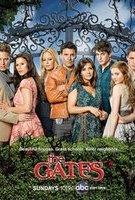 TV Info
---
Episode Premiere
September 19, 2010

Distributor
ABC

Genre
Drama, Crime

Show Period
2010 - 2010

Production Company
Fox TV Studios


Cast and Crew
---
Director
Fred Gerber
Screenwriter
Grant Scharbo, Gabrielle Stanton
Main Cast
Additional Cast
McKaley Miller
Devyn Tyler
Kyle Secor
Linden Ashby
Rachel DiPillo
Synopsis
---
Lots and lots of vampires are looking for Devon Buckley. But only Mia knows where she is. She brings Devon the materials she needs for yet another spell. This one allows her access to a future vision that is all about Charlie. Nick's lovesick son doesn't look good in Devon's vision. Actually, he doesn't even look alive.
Speaking of Charlie, he isn't thrilled with his parents when they tell him the family is leaving The Gates. Things are going great with Andie and there's no way he wants to leave her. Meanwhile, Brett comes clean about watering down Andie's medicine. He heads over to the Monohan house with Lexie to warn Charlie that he could be in danger. But Charlie is gone. He's off to the woods with Andie.
Ben McAllister and the rest of the vampire community want to serve justice to Devon. Dylan and Claire need to find her so they can shut her up before she spills the news that it was Claire's blood that helped kill Vanessa. Devon comes out of hiding to warn Sarah that Charlie's life is in danger. At least now Nick knows that Devon is somewhere inside The Gates. Unfortunately, Ben McAllister knows this, too.
Charlie and Andie decide to make the most of the time they have left by getting intimate in an abandoned cabin. Nick gets a lock on his son's location and heads out to the woods with Andie's dad, Thomas. Brett and Lexie track them, too. Along the way, Brett learns how Lexie really feels about him. A scream is heard. Andie kneels before her true love. With tears in her eyes, she says, "I killed him. I killed Charlie."
Peg is called to help Charlie. He's alive, but his life force severely depleted. There's only one person who can help. Peg says, "Devon can help him. But it would be through the dark arts. And with dark magic, there is always a price."
Marcus is curious about all the hush-hush conversations Leigh's having with the Chief. He also gets a call from someone looking for Isabelle Armont. It's not the first time Marcus has fielded a call to speak to this person. Looking for answers, Marcus breaks into Leigh's house. He finds that mysterious box we first saw in "Breach."
Leigh explains that a spurned man from her past used voodoo to take away her heart so she could never love another. This explains the beating sound coming from inside the box. Like many others, she moved to The Gates to seek refuge. Leigh isn't even her real name. It's Isabelle. Isabelle Armont. Marcus tells Leigh about the calls he's been getting. Fear covers Leigh's face. This bad man from her past knows where she is.
Claire and Dylan track Devon to her spa. Nick arrives shortly after and convinces them to spare Devon long enough so that she can help Charlie. They move through the streets of The Gates only to find themselves surrounded by Ben McAllister and a few other vengeful vampires. An epic battle takes place in the pouring rain with Dylan, Claire and Nick surviving the night.
Nick drives away with Devon as Claire and Dylan stay to clean up the mess that's been made. But Claire warns Nick that they will be coming for Devon soon enough. Devon says she'll save Charlie with a revival spell that needs to be injected just after death. That means Devon must kill Charlie in order to save him.
Devon places her hand over Charlie's mouth causing him to flatline, but the spell works and Charlie is miraculously revived. While recovering, Charlie gets a voice message from Andie saying she's going far away so she can never hurt him again.
Dylan and Claire come to the Monohan home to take Devon. Before they can take her away, Charlie staggers into the room. Something is wrong with him. When his dad steps over to him, Charlie's eyes glow bright red. His evil glare sends Nick flying across the room. Everyone is shocked. Everyone, but Devon. Sarah says, "What did you do to my son?" Devon's smug reply, "I told you I could bring him back. I never said he'd be the same." Now it doesn't look like anyone will be leaving The Gates.