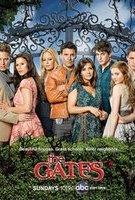 TV Info
---
Episode Premiere
August 15, 2010

Distributor
ABC

Genre
Drama, Crime

Show Period
2010 - 2010

Production Company
Fox TV Studios


Cast and Crew
---
Director
David Barrett
Screenwriter
Gabrielle Stanton
Main Cast
Additional Cast
Victoria Platt
Georgia Cole
James Preston
Devyn Tyler
Roger cross
Louis Herthum
Linden Ashby
Andrea Powell
Paul Blackthorne
Rachel DiPillo
Cheryl White
Leland Jones
Synopsis
---
At another one of those classy, cliquey social events we've come to love at The Gates, Ben McAllister and Simon Ford get into a little scuffle about lawn sprinklers. There's always been bad blood between these two, probably because Ben's a vampire and Simon's a werewolf. And vampires don't like when werewolves set their sprinklers to sprinkle while they're walking to their car. Hey, humans don't like it either.
Simon's wife, Joan, totally ticks him off when she suggests making an adjustment to the sprinkler timer. That would be a sign of weakness and alpha werewolves don't play that way. Simon says he's sick of both his wife and his son, Lukas. He takes off into the night.
The next morning, Sarah finds a beaten and bloodied Simon unconscious on his front lawn. And, yes, those sprinklers were cranking out the H2O in full force.
Ben McAllister is the prime suspect in the attack but has a solid alibi. Nick learns that Simon had some past issues with Coach Ross. But he alibis out, too. Nick asks Lukas if he heard anything the night his dad was attacked, but the boy was doing homework with music blasting through his headphones. Nick then discovers that Simon's skipped out of his hospital room through a window several stories up.
Simon made a call to Karen Crezski after his hospital escape. Nick hears arguing as he approaches the Crezski home and Coach Ross hears someone sneaking around outside the window. So, he reaches out and violently yanks the eavesdropping police chief inside. Ross growls at first but settles down when he realizes the person he just manhandled isn't a threat. He says, "I'm sorry. I thought you were a vampire." Honest mistake, right?
Nick learns there's another secret society living inside The Gates -- lycanthropes, AKA werewolves. Ross says that a decade-long truce has been broken if a vampire attacked Simon.
If that's the case, no one is safe. When Nick realizes that werewolves have super-sensitive hearing, he knows Lukas lied to him about listening to loud music the night his father was attacked.
Lukas comes clean about beating up his dad because he was getting rough with his mom. Under the circumstances, Nick won't pursue a case against the boy. But there's another problem. Simon was alpha and Lukas defeated him.
Now the boy is going to be challenged by the other werewolves, who will likely kill him. Coach Ross offers to say he was the one who challenged Simon. He'll take the heat and make sure that Lukas and his mom will be safe. Ross then thanks Nick for treating him and his kind with respect.
Peg Mueller would flip out if she knew her daughter, Mia, was hanging with Devon. But right now, she's only upset because of the Devil's Weed she finds growing outside Devon's spa. Peg says, "It's used for the darkest of dark magic." It sure looks pretty though. Meanwhile, Mia learns about Andie's secret and gets mad at Peg for not giving her the 411 regarding her friend. Chalk that one up to doctor-succubus confidentiality.
Andie worries that even though Brett is a werewolf, she could still hurt him. But werewolves regenerate faster than humans. Any pain she may send his way won't last for long. Could this mean these two will become more than friends again? And what about Charlie?
Christian steps up his efforts to woo Claire away from her hubby by threatening to spill the beans about their little blood-hunting adventures. Claire tries to put Christian in his place, but he attacks her. When Dylan sees Christian's fang marks on his wife's neck, he tracks down his old vampire pal and ties him to a tree.
Dylan drenches Christian with water and then wipes his face dry. Any lotion he may have been wearing for protection is now gone. The sun rises in the distance. Christian lets out an anguished scream as sunbeams strike his face. Later, Dylan assures Claire that their old friend won't be a problem any longer.
As Nick relaxes in his yard, he's startled by the sight of Simon Ford standing before him. The disgraced werewolf assures Nick that he stopped by only to say that he's leaving The Gates. He also has a warning. Simon says, "Vamps and wolves weren't meant to live side by side. It's unnatural. Buckley may think he can hold it together, but the day is coming. And you don't want to be here when it does."