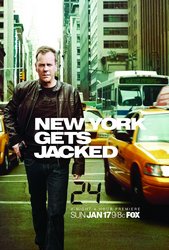 TV Info
---
Category
TV Series
Genre
Action, Crime, Drama, Thriller
Seasons
8
Production Co.
Imagine Ent., Fox TV, Real Time
Distributor
Fox TV
Official Site
click here

The Story
---
Season 1
Season 1 begins and ends at 12:00 AM, and occurs on the day of the California presidential primary. Jack Bauer must protect Senator David Palmer from an assassination plot, and rescue his family from those responsible for the plot, who seek retribution for Jack's and David Palmer's involvement with a covert U.S. mission in the Balkans.
Season 2
Set 18 months after season 1, season 2 begins and ends at 8:00 AM. Jack must stop a nuclear bomb from detonating in Los Angeles, then assist President David Palmer in proving who is responsible for the threat.
Season 3
Set 3 years after season 2, season 3 begins and ends at 1:00 PM. While struggling with a heroin addiction, Jack must re-infiltrate a Mexican drug cartel in order to acquire a deadly virus being marketed underground. Jack must then stop the mastermind behind the virus from releasing it.
Season 4
Set 18 months after season 3, season 4 begins and ends at 7:00 AM. Jack must save the lives of Secretary Heller (his new boss) and his daughter Audrey Raines (with whom Jack is romantically involved) when they are kidnapped by terrorists. The same terrorists then launch further attacks against America, and Jack is forced to use unorthodox methods to stop them, methods which will have long-term consequences for both Jack and the U.S.
Season 5
Set 18 months after season 4, season 5 begins and ends at 7:00 AM. Jack is believed to be dead by everyone except a few of his closest friends. Terrorists with connections to the U.S. government attempt to steal nerve gas in order to protect U.S. oil interests in Asia, and Jack must resurface to stop them as well as dismantle the government conspiracy.
Season 6
Set 20 months after season 5, season 6 begins and ends at 6:00 AM. Jack is released after being retained in a Chinese prison for twenty months. Terrorists plot to set off suitcase nuclear devices in the United States and Jack must stop them; later, Jack has to prevent sensitive circuitry from falling into the hands of the Chinese to prevent war between the U.S. and Russia.
Season 7
Season 7 will begin and end at 7:00 a.m. The initial back story will feature Jack Bauer on trial for his actions in the pursuit of justice. Meanwhile, a major national security incident occurs when the firewall responsible for protecting America's government computer infrastructure is breached. It will also feature the show's first female president, Allison Taylor, played by Cherry Jones, and ex-main character Tony Almeida will be returning to the show despite his apparent death in season 5. This will be the first season to see Jack not working with CTU because it was disbanded by the U.S. government at some point after the events of Season 6.
The Stills
---