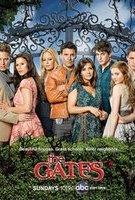 TV Info
---
Episode Premiere
September 12, 2010

Distributor
ABC

Genre
Drama, Crime

Show Period
2010 - 2010

Production Company
Fox TV Studios


Cast and Crew
---
Director
Holly Dale
Screenwriter
Grant Scharbo
Main Cast
Additional Cast
McKaley Miller
Georgia Kole
Shannon Lucio
Lori Heuring
Ashley LeCont Campbell
Synopsis
---
Ever have one of those days when a hideous, vengeful creature is trying to kill you from beyond the grave? Well, Nick Monohan is being haunted by Teresa, the woman who tried to kill him in "The Monster Within." Devon says Nick's nightmares will cease if he tries some of her special tea. Nick is reluctant to do so, because he doesn't trust Devon. The chief's a smart guy.
Nick's nightmares stretch beyond the bedroom. He convinces Dylan to tell him where Teresa's body is buried to makes sure she's really dead. Nick digs feverishly into the muddy grave pulling out a handful of worms and a necklace that belonged to Teresa. Nick confides his problem to Peg, who says he needs to confront the spirit if he ever wants it to leave our world.
Nick sends Leigh and Marcus home early so that he can be alone at the station. He's hoping Teresa will pay him a visit. He gets his wish as a hideous representation of the dead girl closes in on him. Nick tells the creature that he didn't kill her. He clutches his hands to his head and... WHOOSH! Teresa is gone. At least, she's gone from the police station. Now she's lurking outside the Monohan home as Dana sits alone in the living room.
Dana hears something in the darkness but believes it's just Charlie trying to scare her. The next day, Sarah finds Teresa's locket stuck in the garbage disposal. A panicked Nick orders Sarah to ditch the necklace when he sees her wearing it. They hear Dana screaming from the pool. Charlie has gone underwater and isn't coming up. That's because Teresa has hold of his leg. Looks like she's trying to keep her promise of killing Nick's family.
Nick dives in and frees his son from Teresa's grip. Charlie is lifted out of the pool, shaken but safe. Sarah, however, is not as lucky. Her body jolts and her eyes change. Teresa is inside Sarah, possessing her. After the kids are put to bed, Nick spreads salt around the doorways. Peg told him it would keep the spirit out of the house. But Teresa is already inside Sarah and pointing a gun at Nick.
Peg knows something is going down at Nick's house and asks Leigh to meet her there. When the deputy arrives, Sarah/Teresa shoots her. Teresa says she wants justice. She wants Nick dead. In order to save his family, Nick has no other choice but to agree to her demand.
They head out to Teresa's shallow grave, where Nick apologizes for killing her brother. The suspected criminal did some terrible things but he didn't deserve to die by his hand. Tears stream down Sarah/Teresa's face as Nick points his gun to his head. Then Sarah collapses. Just like that, Teresa is gone from our world.
Charlie has been avoiding Andie at all costs. But when he was drowning in the pool, all he could think about was her. Charlie tells Andie that they'll get though her issues together. It won't be easy, so Charlie suggests the first thing they do is get some steak. He read that "unique" people like Andie need lots and lots of iron. Nice.
When Emily comes home early from school, she catches Claire slurping down a snifter of blood. The timing couldn't be worse when a representative from the Department of Child Services stops by to evaluate Emily's living situation. Emily's Aunt Nancy, whom we met in "Little Girl Lost," drove her down from St. Louis because, well, carpooling saves gas. At least, that's what Nancy says. Claire doesn't buy this eco-friendly argument. She knows Nancy has her sights set on Emily.
Emily aces her interview with the social worker, but that doesn't stop Aunt Nancy from asking for a copy of the adoption papers. Claire and Dylan realize that the time has come for them to tell Emily what they really are. Surprise, surprise. Their daughter already knows. She has questions which her parents are now happy to answer.
Leigh is fine -- she says she was wearing a bulletproof vest when she was shot. Both she and Peg promise not to reveal what happened, since Sarah doesn't remember anything. That doesn't matter. Nick knows he can't keep secrets from his wife any longer. He tells her everything. Sarah understands that Nick kept the secrets to protect their family. But now that she knows, she doesn't want to live there anymore. Sarah says, "We're leaving The Gates."