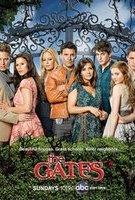 TV Info
---
Episode Premiere
September 05, 2010

Distributor
ABC

Genre
Drama, Crime

Show Period
2010 - 2010

Production Company
Fox TV Studios


Cast and Crew
---
Director
Steve Shill
Screenwriter
Robert Hewitt Wolfe
Main Cast
Additional Cast
Georgia Cole
Paul Blackthorne
Rachel DiPillo
Gloria Votsis
Lori Heuring
Russ Blackwell
Synopsis
---
Emily Radcliff has been kidnapped. Claire and Dylan can't get her back without Nick's help. When Christian makes contact, he wants Nick to ask Dylan and Claire about their time in St. Louis. It's where they found Emily. This was shortly after Claire murdered her parents.
Jump back eight years when Dylan, Claire and Christian used to hunt together under the night glow of the Gateway Arch. While at a bar, Claire sets her sights on a couple of drug runners. They are the perfect victims. These lowlifes won't be missed.
After the kill, cries come from a bedroom in the couple's home. Both Claire and Dylan realize they have a chance to make things right by providing a better life for this baby girl they've found. They leave St. Louis and move to The Gates with their new daughter, Emily.
Back in the present, Leigh discovers that Christian is somewhere inside The Gates. Nick, Dylan and Claire track him down at an unoccupied house. They chain him to a chair and embark on a desperate interrogation process. Christian says he'll gladly reveal Emily's whereabouts, but only after Dylan kills Nick. Dylan's fangs come out and Nick draws his gun, his finger trembling on the trigger.
Enraged, Dylan punches Christian in the gut. The interrogation continues and Christian accidentally reveals Emily's location. He brought her to St. Louis where she's been staying with her aunt, a woman named Nancy. She's the sister of Emily's biological mother. Nancy and her husband, John, have been looking for their niece ever since she disappeared. Now that they've found her, they don't want to let her go.
Dylan and Claire have all the paperwork regarding Emily's closed adoption. Nick informs Nancy that, in the eyes of the law, the Radcliffs are the girl's rightful parents. As Emily bids adieu to her aunt and uncle, she says she hopes to see them again. Nancy promises that day will come soon.
She forebodingly says, "We know where you live now. And we can't wait to visit The Gates."
Andie doesn't understand why Lexie is wooing Charlie when she's obviously into Brett. Could it be because Brett is obviously into Andie who is obviously into Charlie? Lexie figures out that Andie is a succubus who could possibly kill Brett. He believes it's worth the risk because he loves her.
When Lexie tells Charlie that Andie's the one who made them sick, Andie knows Brett spilled her secret. She wants him out of her life. She wants to be with Charlie. Andie tells Charlie that she needs the life force of others to survive. It's always something, right? Andie assures Charlie that she's taking medicine so they can be together. But this is way more than this mere mortal can bear. Charlie says thanks, but no thanks.
Sarah is upset with Nick because he didn't tell her what was happening with Emily. She wants to know why he wouldn't share something this big. Nick can't give her an answer. Sarah knows that look on his face. We're thinking she saw it back in Chicago. Sarah was just really hoping she'd never have to see it again.
Now that Emily is safe at home, Dylan and Claire believe they can weather any storm that comes their way. As for Christian, Leigh releases him on a dark road outside of town. She says, "Thank you for visiting The Gates. Don't come again." That won't be an issue since Claire is waiting for him in the night shadows. She steps up to Christian and drives a stake through his heart. You have to admit, this is way more effective than just chaining the guy to a tree.