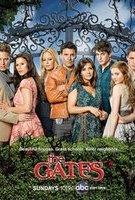 TV Info
---
Episode Premiere
September 19, 2010

Distributor
ABC

Genre
Drama, Crime

Show Period
2010 - 2010

Production Company
Fox TV Studios


Cast and Crew
---
Director
Arthur Albert
Screenwriter
Jared Romero, Richard Hatem
Main Cast
Additional Cast
Brett Cullen
McKaley Miller
James Preston
Roger Cross
Andrea Powell
Rachel DiPillo
Andrew Elvis Miller
Synopsis
---
Frank Buckley wants to be a vampire. It's the only way he can spend eternity with the woman he loves. There's a big anniversary party for Frank and Vanessa at the Radcliff place. Afterwards, Buckley wants his loving wife to turn him. This news won't go over well with the werewolves out there. Both Dylan and Coach Ross believe it'll look like the man who runs The Gates is choosing sides.
Devon is ticked when she hears about Frank and Vanessa's bloodsucking plans. She grabs one of those creepy facial masks she made in "Jurisdiction," pulls out the vial of Claire's blood she scored in "What Lies Beneath" and grabs a jar of those werewolf eyes she stole in "Digging the Dirt." We're not sure what Devon's whipping up, but it probably has something to do with the spell she casts on Sarah.
Coach Ross and Karen Crezski show up at the anniversary bash to support Buckley's decision to become a vampire. Sarah asks to have a private chat with Frank because that's what Devon had told her to do. The conversation's cut short when someone nails a bloody heart to Dylan's door along with a note reading: Even Vampires Die.
The events of the evening can't sway Buckley's desire to be turned. Back in their own home, Vanessa sinks her teeth into her loving husband but something goes terribly wrong. A poison is present in Buckley's bloodstream. Vanessa gasps for air and ages rapidly. She continues aging until eventually shriveling up into a mummified corpse. Yes, even vampires die.
Fingerprints on the threatening note belong to a werewolf named Martin Creely. Nick and Leigh track him down in the woods. Even though Creely claims he'd never break the code and kill a vampire, Ross kicks him out of the pack. Creely overhears news that the toxin in Buckley's blood can kill any vampire exposed to it. Word quickly spreads throughout the pack.
Charlie is still a little uneasy about his relationship with Andie even though she seems to be in perfect health thanks to the Devil's Weed. He's not concerned about the succubus situation. No, Charlie is worried because he's fallen in love. He should be more worried about Brett, who is getting more and more desperate to be with Andie. He sneaks into her room and waters down her bottle of Devil's Weed.
Sarah is shocked when she hears that Vanessa Buckley is dead. She has no recollection of what went down the night before. But the memories come rushing back when Sarah finds an empty vial in her purse. The poison that's currently in Buckley's system was put there when Sarah slipped it into his drink. She now knows that Devon is the person who gave her the toxin and that she was under her spell the entire time.
Claire realizes the vampire blood used to create the toxin is hers. Devon had blackmailed her for it awhile back. Buckley forgives Sarah for her unwitting role in Vanessa's murder. Dylan says others will be coming after Buckley now that they know his blood carries the deadly toxin.
A reflective Buckley says, "The Gates, a place where anyone, no matter who you are or what you are, can come and make a home." He can't imagine that the people he's been protecting for the last decade would actually hurt him. Then... BANG! Nick, Sarah and Dylan rush into the room where Frank Buckley has just shot himself in the head.
Nick's finally had enough. He tells Sarah they are leaving The Gates. As for Buckley, his body will be incinerated so his blood won't be a danger any longer. But Claire knows that as long as Devon is out there, something like this can surely happen again. Dylan says, "So then we find her and we make sure it doesn't."