April 27, 2007 08:43:54 GMT
scores another honor, not for his acting career, but for his being deeply involved in the Swedish School of Los Angeles. The comedian-actor and his wife Viveca Paulin have been bestowed "The 2007 Viking Prize."

The husband-and-wife are scheduled to accept the award from Margareta Saperston, headmaster of the school, at a ceremony on May 19th later this year.

April 27, 2007 07:27:33 GMT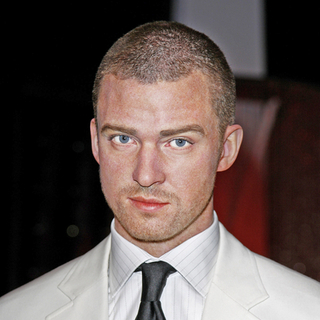 He's sexy in real life, and still so in wax. brings the sexy wax of his figure to Madame Tussauds in London.

The pop singer is having his wax figure unveiled this week near a waxwork model of his ex-girlfriend .

April 27, 2007 06:39:28 GMT
The Entertainment Industries Council, Inc. (EIC) has on Tuesday April 24th annually presented the PRISM Awards, which is in its 11th year. Among the many awards given, here we present the winners of the television categories.

ABC's hit series "Desperate Housewives" wins the Comedy Series, Multi-Episode Storyline award, while Fox's "Family Guy: Deep Throats" nabs the award for Comedy Series Episode category. of the "Ugly Betty" earns the Performance in a Comedy Series award, whereas brings home the Performance in a Drama Series Episode award thanks to her performance in NBC's "Law & Order: Special Victims Unit."

April 27, 2007 05:54:03 GMT
Hollywood's most kept secret is no longer an unconfirmed speculation when comes out with revelation that she is, in fact, a bisexual.

The former "Lost" actress comes out of the closet in this months issue of Curve magazine, revealing among other things her relationship with fellow actress , who hinted in an issue of The Advocate last year they were a couple and very much in love.

April 27, 2007 04:48:46 GMT
Hollywood babe is getting busier with two more jobs to complete. She's been booked to do some photo shoots for charity, and is slated to be the guest star in Hans Klok's new Vegas magic show.

The busty blonde slips back into her Baywatch costume, revisiting the hit TV series scene for a special photo shoot for charity. In other news, she is also scheduled to be the guest star in Hans Klok's "The Beauty of Magic" show, replacing fellow sexy beauty who's pulled out for scheduling reasons.

April 27, 2007 04:26:42 GMT
No doubt more than ready to display her unique brand of provocative comedy, has delightfully signed on to host this year's MTV Movie Awards set to be held on Sunday, June 3 live from the Gibson Theater in Universal City, California, MTV officially announced yesterday, April 26.

"Sarah's irreverent, no holds barred sarcasm and humor have made her one of the hottest up and coming comedians in the industry," the network's president Christina Norman commented. "Sarah is just the person to orchestrate the madness and keep everyone guessing about who'll be her next target."

April 27, 2007 04:18:12 GMT
is added into the long list of celebrities dealing with legal law over DUI. The rapper-actress was arrested early Thursday April 26th on suspicion of DUI after she crashed her Maserati into a divider on Hollywood Boulevard.

According to AP reports, the car crash took place at about 2:45 a.m. on Hollywood Boulevard. Apparently, the 28-year-old rapper lost control of her golden ride and crashed into the concrete median at the Sycamore intersection, police officer Martha Garcia explained.

April 27, 2007 03:29:57 GMT
is jumping from music to enter the world of fragrance. And it seems he isn't lying when he claims himself as "one of the greatest entrepreneurs and entertainers the world has ever encountered" for after his many other projects, he is now ready to launch his limited edition of fragrance.

The rapper's new scent, dubbed "Unforgivable Multi-Platinum," will only be available for a limited period. "I'm definitely attracted to something that won't be around a long time," the star said.

April 27, 2007 03:11:00 GMT
has sparked another celebrity adoption talk as she said to have fallen in love with Russian orphans during a recent visit to Moscow.

The actress, who was in Russia to co-host the MTV Russia Film Awards last week, wrote on her , "I'm going back to visit. I'm in love with them and their spirits."

April 27, 2007 02:45:18 GMT
Are they back together again? and have sparked speculation they are on again after the actor was spotted spending the night at the weekend in the actress' LA house.

According to media reports, Vaughn was seen driving up to Aniston's house in L.A. on Saturday April 21st in his blue Pontiac Firebird convertible and didn't leave until the next day. "Vince didn't leave until 5 p.m. the next day," an eyewitness tells Us magazine.

April 27, 2007 02:15:15 GMT
Trouble has found . The actor has been arrested Wednesday evening April 25th and questioned at a London police station after an allegation of assault in west London.

On that encounter, it is said that Grant involved in a clash with photographer Ian Whittaker near the actor's west London home on Tuesday morning April 24th when Whittaker arrived to take photos of , Grant's former girlfriend, who lives in the same street. Upon meeting with the actor Whittaker asked him to smile when he arrived at the house.

April 26, 2007 09:06:41 GMT
Everything is not okay between and husband . Despite denial after denial of marriage problems, accidentally spills the bean on the couple, telling UK's Heat Magazine they do have marital difficulties.

Aniston, who has been best friends with Cox since they starred in TV comedy "Friends" said, "They are having marital problems, but whatever happens I will be there to support my friend."

April 26, 2007 08:36:12 GMT
Besides his singing career, is adding more into his acting resume. The hip hop star is in talks to play the lead role in a stage revival of Tennessee Williams' 1955 classic "Cat on a Hot Tin Roof."

Per New York Post it is reported that LL is willing to secure the leading role of Brick, an alcoholic ex-football player whose father is dying of cancer, which was played by in the original film.

April 26, 2007 07:49:51 GMT
While her other fellow celebrities would depend on the saying "cash in while you're hot," does the other way around. The troubled pop singer is trying to cash in while she's experiencing the down side of her singing career, planning to pen a tell all book.

On the rumors, sources claim the book will be about the people "who did Spears wrong." Talk is heating up that the paparazzi magnet is determined to reveal every single dirt about her once closest confidants and that "they're going to be shattered by her revelations!"

April 26, 2007 07:31:26 GMT
is leaving MTV's Total Request Live (TRL), reports People.

Explaining on her move, Minnillo said, "I had my four years there like high school or college. I'm ready for the next chapter, what it is, I have no idea. [But] I don't want to be 48 saying, 'Hey kids, now it's Sean Preston Spears' video.'"