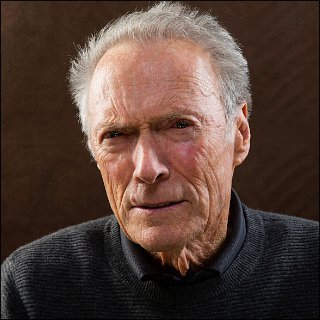 Profile
---
Famous as :
Actor, director

Birth Name :
Clinton Eastwood Jr.

Birth Date :
May 31, 1930

Birth Place :
San Fransisco, California, USA

Claim to fame :
As Insp. 'Dirty' Harry Callahan in movie "Dirty Harry" (1971)


Honored with the University of Southern California's first Honorary Alumni Award in May 2007.
Was inducted as a knight in France's Legion of Honor on February 17, 2007.
Awarded with the Motion Picture Association of America's inaugural humanitarian award, the Jack Valenti Humanitarian Award, at a private dinner in Washington on Feb 6, 2007.
Has been chosen the 4th America's Favorite Movie Star in the nationwide Harris Poll in 2007.
Was presented the Founder's Award during the Motion Picture & Television Fund's 24th annual Golden Boot Awards held August 12th, 2006.
Has his look-alike puppet in the French show "Guignols de l'info, Les" (1988).
Claims "Play Misty for Me" (1971), "The Outlaw Josey Wales" (1976), "Bronco Billy" (1980), "Honkytonk Man" (1982), "Unforgiven" (1992) & "A Perfect World" (1993) as the favorite films he had done.
Was the Top Box-Office Star of 1972-1973 according to the Motion Picture Herald.
Has been the oldest person to receive an Oscar for the Best Director of "Million Dollar Baby" (2004). He was 74 years old at that time.
Weighed 11 lbs 6 oz at birth.
Had ever served in the United States Army.
Appeared in TG Sheppard's music video of "Make My Day."
Was voted mayor of Carmel-by-the-Sea, California [1986].
Was the number two in Empire (UK) magazine's list of "The Top 100 Movie Stars of All Time" in October 1997.
Was the 43rd Greatest Movie Star of All Time according to Premiere Magazine.
Was chosen as the 16th "Greatest Movie Star of All Time" by Entertainment Weekly.
Has been included in Quigley Publications' annual Top 10 Poll of Money-Making Stars for 21 times.
Was nominated for Best Achievement in Directing at the 2003 Academy Awards.
Was granted an honorary Doctorate by Wesleyan University in Connecticut in 2000.
Was honored the Career Golden Lion at the 2000 Venice Film Festival.
Received John F. Kennedy Center Honors in 2000.
Was bestowed an honorary Cesar Award in Paris, France, for his body of work in 1998.
Was the President of jury at the 1994 Cannes Film Festival.
His name was used as the title of Gorillaz's hit song and video in 2001.
Plans to contribute his voice in a Dirty Harry video game.
Is against violence by carefully showing its horrific consequences in "Unforgiven" (1992), "A Perfect World" (1993), "Absolute Power" (1997), "Mystic River" (2003), and "Million Dollar Baby" (2004).
Simply says "okay" instead of "action" and "cut" while directing.
Is an organized director that he finished his movie "Absolute Power" (1997) days ahead of the schedule.
His first work as a director was a thriller movie entitled "Play Misty For Me" (1971).
Replaced director Don Siegel who was ill to shoot the attempted-suicide/jumper sequence in "Dirty Harry" (1971).
His favorite actors, including James Cagney, Gary Cooper, Humphrey Bogart, Robert Mitchum and James Stewart.
Owns an exclusive golf club called "Tehama" in Carmel Valley, California.
Possesses a mixed blood of Dutch, Scottish, Irish and English.
Was mentioned in the theme song of the TV hit "The Fall Guy" (1981).
Received his most popular role, Dirty Harry, after both Frank Sinatra and John Wayne turned it down.
Was encouraged to try acting by his two Army friends, David Janssen and Martin Milner, who later were famous as television stars.
His favorite movies include "The 39 Steps" (1935), "Sergeant York" (1941), "The Ox-Bow Incident" (1943) and "Chariots of Fire" (1981).
Is the owner of the inn Mission Ranch, Carmel, California, U.S.
Partly owns the Pebbles Beach Golf Country Club in Monterey Peninsula, California.
His name is an anagram for 'old west action.'