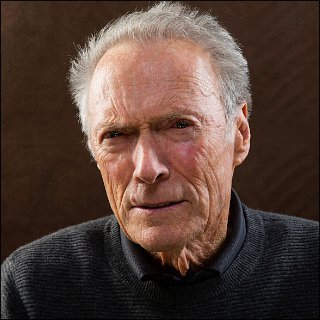 Profile
---
Famous as :
Actor, director

Birth Name :
Clinton Eastwood Jr.

Birth Date :
May 31, 1930

Birth Place :
San Fransisco, California, USA

Claim to fame :
As Insp. 'Dirty' Harry Callahan in movie "Dirty Harry" (1971)


Biography
---
by AceShowbiz.com
---
Clint Eastwood, actually named Clinton Eastwood Jr., was born on May 31, 1930 in San Francisco. Despite the fact that his father was only a steelworker, Eastwood is well known as an American movie actor and director, famous for his "tough guy" roles. Previously did a stint in the United States Army, he then moved to Los Angeles to study at Los Angeles College, where he primarily studied business administration, but eventually dropped out.

There he tried to get into the movie business by becoming an actor and appearing in such B-films, as "Tarantula" (1955) and "Francis in the Navy" (1955). His first break, indeed, came in 1959 when he landed in the long-running TV series, "Rawhide." Playing the role of Rowdy Yates, he made the show his own that it became a household name around the country. In 1964 Italian director Sergio Leone asked Eastwood to take part in his film direction entitled "A Fistful of Dollars" (Per un pugno di dollari), which soon followed by "For a Few Dollars More" (Per qualche dollaro in più) released in 1965. A year after, Leone asked him to one more time played in his film entitled "The Good, the Bad and the Ugly" (Il Buono, il brutto, il cattivo), where he found one of his best known trademark roles, the mysterious "man with no name." Those three films were hits, particularly the third, which made Eastwood becoming an instant international star, redefining the traditional image of the American cowboy.

After that Eastwood went on playing in any other films, like "Where Eagles Dare" (1968), before he at the end decided to branch out his acting played in "Paint Your Wagon" (1969) which was still a Western, but a musical and in "Kelly's Heroes" (1970) that combined tough guy action with offbeat humor. Not afraid of trying something new, Eastwood came to his career peak in 1971 when he starred in that year film productions, mainly in the thriller "Play Misty for Me" and "The Beguiled." However, it was his role in Don Siegel's 1971 film entitled "Dirty Harry," as the eponymous Harry Callahan, a San Francisco detective tracking the serial killer Scorpio that later on became his most memorable role. Appeared to be true, the film had been credited with inventing the 'loose-cannon cop genre' remains imitated to this day. Moreover, many people also believed Eastwood's portrayal of the tough and ...