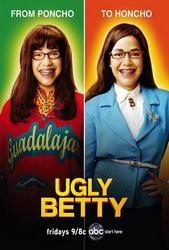 TV Info
---
Episode Premiere
November 13, 2009

Distributor
ABC

Genre
Drama, Comedy

Show Period
2006 - 2010

Production Company
Touchstone Television, ABC


Cast and Crew
---
Director
John Putch
Screenwriter
Jon Kinally, Tracy Poust
Main Cast
Additional Cast
Synopsis
---
Betty has to convince Matt that she can be fearless to pitch an article for the "Fearless" issue of Mode. She and Hilda run into Hilda's bad-boy high school boyfriend, Bobby, whom Betty always had a crush on, and Betty fantasizes about asking him out.
She does, but only to ask him to teach her to drive stick shift. "You are a good girl and he is a very bad boy," Hilda reminds her. Hilda sets her up with the very tame, and very boring, accountant Larry, but Betty makes an excuse to go hang with Bobby instead. Trouble is, he can't stop talking about how he never got over Hilda!
Meanwhile, Marc advises Justin to befriend the "popular-slash-mean girls" to make high school bearable. He helps Justin alter the cheerleaders' outfits and even choreograph a routine for homecoming. The whole family shows up to support Justin, even though it's a sore point for Hilda: She was voted homecoming queen, but as she was six months pregnant at the time, Ignacio refused to let her go.
At homecoming, the jocks have planned a cruel joke: Justin is announced as Homecoming Queen! Taking Marc's advice to "show them you're in on the joke," and not let it get to him, Justin proudly accepts his crown! Justin is applauded when he says, "As much as I hate giving up an accessory, I think there's someone who deserves this more," and he hands it to Hilda. We're so proud of him!
Wilhelmina realizes the only way she can come up with the money to pay off Nico's blackmailer is to go away with Connor. So Wilhelmina publicly resigns from Mode as a signal for Connor that she's taking him up on his offer. We're crushed for her, then, when Claire tells her that Connor's body just washed up on a beach in Panama!
Daniel invites Amanda along on a weekend-long Phoenix event, but Natalie is concerned that Amanda will mess everything up. Sure enough, Amanda tells Daniel,"All this cleansing and vitamins isn't just giving you bad breath. It's giving you bad judgment. Why can't you see all of this is crap?" Daniel starts to waver, but is talked into staying so he can reach "Level 5" and see Molly again.
Betty confesses to Bobby, "I just wanted to be the kind of girl who could date a guy like you," and she finally does something fearless and kisses him! Hilda is upset, so Betty assures her, "I will always be your less attractive geeky sister, so no need to get jealous. She tells her that all Bobby ever talked about is her. And that she's going to pitch her as the subject of her fearless article. "You're the bravest person I know and you raised the bravest kid in the whole world."
We wonder then why, after the family and Marc are celebrating Justin's triumph at homecoming, does Justin say, "It's a joke. I was just playing along. I'm not gay."