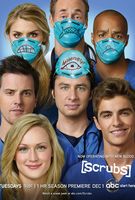 TV Info
---
Episode Premiere
December 01, 2009

Distributor
ABC

Genre
Drama, Comedy

Show Period
2001 - 2010

Production Company
Doozer, Towers Prod., ABC, Touchstone Television


Cast and Crew
---
Director
Michael Spiller
Screenwriter
Bill Lawrence
Main Cast
Additional Cast
Synopsis
---
J.D. is back as a teacher at the all-new Sacred Heart. The old hospital was ripped down and rebuilt on the Winston University med school campus. J.D. has a morning ritual of kissing Elliot's seven-months-pregnant belly seven times for luck. Told you things have changed. As J.D. walks through campus, he tells us via his patented voiceover that he hopes to find a way to make everything feel fresh. CUE THE NEW NEWBIE!
Lucy Bennett (Kerry Bishe) speaks to us via what we're assuming will be her patented voiceover about her exciting first day of medical school. Joining her in this adventure are a few other intriguing med students. Cole Aaronson (Dave Franco) is a cocky, underachieving rich kid whose daddy donated all four wings of the new Sacred Heart. And Drew Suffin (Michael Mosley) is a 30-something loner who is taking a second shot at becoming a doc. Ten years ago he was the most promising of med school students, now he's just the oldest.
Dr. Professor Cox (that's not a typo, it's just how an intimidated Lucy addresses him) says in his orientation to a room full of eager-to-learn students that medicine is a dead career. He goes on to add that he already hates each and every one of them. Perry, you may have missed your calling as a motivational speaker.
Turk is also doing the professor thing. He doesn't quite care for Cole, who considers himself untouchable because of his family name. Dr. Kelso is also teaching a few classes after spending a full two days mourning the loss of his deceased wife. Hey, you gotta move on, right?
Dr. Denise Mahoney (Eliza Coupe) is back and serving as an adviser to the students. She gets into a battle of wills with Drew, who just wants to fly under the radar. That doesn't fly with Denise. They argue in her room before deciding to take a shower together. We're guessing this qualifies as Drew's first anatomy lesson.
During rounds, Lucy meets a kind, gentle patient named Ben. When Ben offers her a grape, Dr. Cox pulls her away telling her not to steal food from patients. A little later, Cox quizzes Lucy on another patient's symptoms. She freezes up and the guy dies. Okay, he was already dead. This was just Cox's way of letting Lucy know that he won't waste time on someone who won't make it. Even gentle Ben can't cheer her up after that.
When Drew confronts Dr. Cox about the fact that he seems to pick on the weakest kids, Perry offers to unload his years of frustration onto him alone, which is nice. But after a little chat with J.D., Cox decides to take an interest in Drew. No, really! Meanwhile, Lucy tries to cheer herself up by sleeping with Cole. She has a good feeling about him until she discovers he snapped a naked picture of her with his cell phone camera.
J.D. can't seem to bond with his students. He's seriously bummed when he catches his class downing drinks with Dr. Kelso. If only there was one student out there who could use his help. CUE THE NEW NEWBIE! Lucy tells J.D. about her troubles with Dr. Cox. It's a "been there, done that" moment for Dr. Dorian. He tells Lucy that Cox needs to know that she's strong enough to survive here. She has to stand up to him.
When Lucy rattles off the correct diagnosis of that dead guy from before, Cox is not impressed. He's pegged her as a crier. Lucy says, "I have not cried once in my entire adult life and I am not gonna start now because of you." Hey, she did it! She stood up to him! Later, the students are shown the cadaver they'll be working on for the semester. Drew wonders what the deal was with this particular dead guy. A composed Lucy says, "His name was Ben." Maybe she really will make it here.
Now, we saved the most vital piece of information from this episode till the end. J.D. spent eight years at Sacred Heart being tortured by a mysterious figure known simply as The Janitor. When Turk informed The Janitor that J.D. had left the hospital for a new job, the crestfallen custodian dropped his mop, walked out the door and hasn't been heard from since. No Janitor at Sacred Heart? Guess things really have changed.