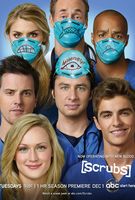 TV Info
---
Episode Premiere
January 26, 2010

Distributor
ABC

Genre
Drama, Comedy

Show Period
2001 - 2010

Production Company
Doozer, Towers Prod., ABC, Touchstone Television


Cast and Crew
---
Director
Peter Lauer
Screenwriter
Corey Nickerson, Kevin Etten
Main Cast
Additional Cast
Synopsis
---
We think Dr. Cox is scary enough when he's barking insults at his med students and marching around the hospital with a permanent scowl on his face, so imagine how completely and totally unnerving it is to see him in a great mood. What could put a smile on our favorite curmudgeon's face? That's right, it's Hell Week-a non-stop gauntlet of tests, term papers and exams that will make his students utterly miserable. If Denise's memories of her Hell Week are any indication, someone is going to have a psychological breakdown. Yeah, Dr. Cox loves the simple things.
To make things even tougher on our favorite study group, Drew, their natural leader and still Cox's number-one student, is tired of being responsible for this little bad of misfits. Dr. Cox happily obliges and, after summoning everyone at 4 AM-including "paging" Cole with an air-horn next to his ear-he assigns everyone but Drew their Hell Week cases. Drew's project is something special. He has to stay as far away from his old study group as possible, forcing them to succeed or fail on their own and focusing his time on making himself a better doctor. Hmmm...seems suspicious to us, and we wonder if Dr. Cox doesn't have some sort of ulterior motive hereh...
Hell Week's not much better for Turk. Ever since he was named the Chief of Surgery, Turk's been enjoying the perks of the job-respect from all of his co-workers and a sweet, shady parking space. But when Russell Vaughn-a full-of-himself doctor who spends most of his time practicing in third-world countries, name-dropping and collecting annoying anecdotes-parks in his space, takes his patients and just generally impresses the hell out of everyone, Turk's pretty annoyed. Things reach a head when Russell takes a difficult surgery away from Turk and then asks Turk to assist instead. Turk can't stand suddenly having to be another surgeon's "secretary," but as usual Dr. Kelso is there with some words of wisdom. Namely, a good leader knows how to set his ego aside and do what's best for everyone, like keeping blowhard doctors who raise a ton of money for the hospital happy. And in the end, that's exactly what Turk does.
Denise and Drew are having some issues since the whole "I love you" thing. Let's face it, relationships aren't their strong suits. They're just not sure what to say to each other anymore, but Russell shares one of his really annoying stories about other cultures valuing the role that silence can play in a strong relationship. This seems to work and Denise and Drew work things out without saying a word.
Hell Week begins to take its toll on the study group. Lucy tries to take over the leadership role from Drew, but Trang has other ideas. When she tries to intimidate her new rival with no success, Lucy falls back on violence. We guess that's one way to take control. Unfortunately, Lucy goes mad with power and it seems like the whole group is breaking apart. It looks like Dr. Cox's beloved med student psychological breakdowns have begun in earnest. Drew can't help himself any longer and dives in to quickly set things straight. Too bad Dr. Cox catches him in the act.
Drew tells Dr. Cox that he can't help but lead those misfits, even if it means he fails his own project. Dr. Cox just smiles and agrees. He knew Drew wouldn't be able to stay away, because they're both leaders. We knew Perry was up to something! He tells Drew to go lead his group and to pick a leadership style and stick with it-just not aggressive and shaming, because that's his shtick. With their leader back in the saddle, it looks like the group might make it through their first Hell Week after all.