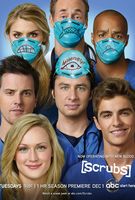 TV Info
---
Episode Premiere
March 10, 2010

Distributor
ABC

Genre
Drama, Comedy

Show Period
2001 - 2010

Production Company
Doozer, Towers Prod., ABC, Touchstone Television


Cast and Crew
---
Director
Eren Celeboglu
Screenwriter
Alessia Costantini, Prentice Penny
Main Cast
Additional Cast
Synopsis
---
During a physical exam, Turk sees that Cole has a mole on his chest. Test results show that Cole has skin cancer. The news doesn't seem to bother him. Lucy tries to impress upon him the seriousness of the situation, but he's just chilling in his hospital bed sipping the orange soda he put in his IV bag.
Lucy wants to know if Cole needs her to gather up anyone to be with him during his surgery. But his parents are out of the country and his buddies are under house arrest for getting into a fight with Criss Angel at a porn convention. It happens. When Lucy suggests their study group for support, Cole says it would be cool if they came. Lucy is psyched. She loves a good cancer party.
When Lucy approaches the group, no one wants to attend the surgery. Cole never supports them, so why should they be there for him? Lucy promises to make cupcakes if they do this for her. But not even a colorful assortment of individually-wrapped frosted treats can lure them in. Cole's pretty bummed when no one shows.
Lucy tries to cheer up Cole with some gifts from the Winston University gift shop. She bought a mini-fan, a license plate holder and a stuffed owl, which she wants to keep because it's so cute. Cole's mad at Lucy for promising something she couldn't deliver. He says some pretty jerky things and ultimately drives her away, too.
There's a bit of a power struggle happening between Denise and Dr. Cox. She wants to teach the med students new and exciting procedures. He wants them to do things like move his car in and out of the 10-minute parking space, well, every 10 minutes. In Dr. Cox's defense, it's a really good parking space.
Since Perry Cox is the boss, the students always bow to his wishes. Denise makes a play to take some of his power away. She manipulates Drew into staying with her when Dr. Cox comes a callin'. Drew soon realizes that he's the rope in a tug-o'-war power match between his boss and his girlfriend.
Drew tells them that they are driving him crazy because they are so much alike. The two dueling doctors realize this may actually be true. Instead of battling with each other, perhaps they should join forces to make the med students miserable and berate them as a team. Sounds like a plan!
Dr. Kelso got a little lightheaded while playing a game of Scattergories with his niece. It's understandable. Scattergories can get intense. But there's more to the problem. Tests reveal that our beloved Bob Kelso has a condition that won't allow him to drive. From here on out, he'll have to bum rides from friends.
When Dr. Cox tries to show him a little sympathy (no, really, he's actually being nice!), Kelso is less than receptive. In fact, he's downright nasty. Perry tells him to find his own ride home. Kelso wants Cox to manipulate the paperwork so he can drive again. But Perry doesn't play that way with people who don't consider him a friend. Better get yourself a bus schedule, Bob.
When Dr. Kelso stops by Cole's room to use the bathroom and steal his pudding cup, the two end up having a heart-to-heart about their situations. Cole admits that he's totally freaked out about having the big C. To make things worse, he pushed away Lucy, the one person who was there for him. Dr. Kelso admits that he did the same thing to Dr. Cox, who does end up cutting through the red tape so he can drive again.
Kelso tells Cole that the best thing about letting people know how you feel about them is that no matter how badly you treat them, they'll still show up for you when times are bad. That's why he left a bottle of the good stuff on Dr. Cox's desk. Guess they really are friends.
Cole leaves an apologetic message for Lucy, who makes it to his side before he's taken into the OR. When Cole is back on campus, he picks up a couple of pizzas for his study group. He says, "I just wanted to do something nice for you guys." What's even nicer about this moment is the fact that no one was killed as Dr. Kelso speeds by. He does, however, clip a few trashcans with his front fender. Like we said...Nice.