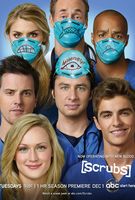 TV Info
---
Episode Premiere
January 05, 2010

Distributor
ABC

Genre
Drama, Comedy

Show Period
2001 - 2010

Production Company
Doozer, Towers Prod., ABC, Touchstone Television


Cast and Crew
---
Director
Chris Koch
Screenwriter
Prentice Penny
Main Cast
Additional Cast
Synopsis
---
Lucy realizes that everyone at the hospital seems to be coupling-up. Denise and Drew are still in their puppy love stage. The interns' dysfunctional mom and dad (that would be Turk and Dr. Cox) spend their days battling each other in an assortment of odd competitions. The latest one involves seeing who can keep their hands on a coma patient longer. Perry wins, but only because he blackmailed the Todd to sabotage the contest.
Dr. Cox tortures Turk by making him honor the terms of the bet. He's supposed to say "Dr. Coxy is hella foxy" on cue. Perry makes him do this as they visit Art, a ballpark peanut vendor who they both like a lot. Art likes Perry and Turk, too. He says, "It must be nice to have risen up with each other, huh? To work with someone who's got your back." This makes both Cox and Turk a bit squirmy, as it's not really all that true.
Art has a pretty big tumor in his peanut-tossing shoulder. Dr. Cox recommends surgery, but Turk knows that it could kill Art. He won't do it until Cox pulls rank and orders him to operate. Things go south during surgery and Art dies. Dr. Cox asks Turk not to say anything. Turk says, "I don't think I have to. You beat yourself up." From what we know about Dr. Perry Cox, we're thinking it's a sure bet that he'll do just that.
Denise and Drew seem to derive pleasure from messing with other people's heads. Their latest victims are Winston University's finest security guards, Captain Duncook and Lieutenant Underhill. When the men in blue give Denise a hard time about trying to move their security golf cart, she and Drew plot revenge. They distribute copies of the golf cart key to everyone on campus for joyriding purposes. Diabolical.
When the security cart goes missing, Duncook and Underhill accuse Denise of stealing it. But she and Drew try to convince the guards that the cart left on its own after a pattern of abuse. Underhill does admit that they may have skipped a few maintenance checks. They should chalk up its disappearance to karma. Or cartma!
Denise tells the guards they should apologize to the cart if they truly want it to come back. After some prodding from Underhill, Captain Duncook says he's sorry for the way he's treated the cart. He says, "If you come back, I promise I'll treat you better." Magically, the cart returns. Okay, there wasn't anything magical about it. Drew pushes it into their view while hiding behind some bushes. That's cartma for you!
Lucy and Cole are still sleeping together on a regular basis. This is information she'd like to keep secret. Too bad everyone already knows. When Cole gets kicked out of the intern study group, asks Lucy to convince Drew to let him back into the group. She says she'll do it, but doesn't. When Cole finds out, he realizes that Lucy is embarrassed to be with him.
Lucy later discovers that Cole has been telling people they were together. He knows that people think he's kind of a jerk, but he thought Lucy saw through that. Cole wasn't bragging about sleeping with Lucy to look cool. He was actually proud that a girl like her would want to be with a guy like him. It may be the first time we've ever seen Old King Cole kind of vulnerable.
Turk helps Lucy see a side of Cole she took for granted. They actually have a really good time together. He's more than just a booty call. Lucy actually likes him! It's a jarring realization. Drew says, "This hospital is so brutal that if you actually find someone that can help you get through it, you're lucky. Because here, everyone needs someone to watch their back." These words hit home with Lucy. With Turk, too.
Turk goes to see Dr. Cox to tell him that he was right to push for the operation on Art. Yes, it cost the patient his life, but it truly was his only chance. Turk was just afraid to take it. He appreciates the fact that Perry had his back. The men share a drink to toast the memory of their lost friend.

Later, Lucy announces to a lecture hall filled with students that she likes Cole. She then introduces him as her boyfriend. Denise enters to say no one cares. That's not exactly true. By the look on his face, it's obvious that Cole cares. Come to think of it, we do, too.