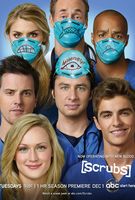 TV Info
---
Episode Premiere
May 05, 2009

Distributor
ABC

Genre
Drama, Comedy

Show Period
2001 - 2010

Production Company
Doozer, Towers Prod., ABC, Touchstone Television


Cast and Crew
---
Director
Zach Braff
Screenwriter
Neil Goldman, Garrett Donovan
Main Cast
Additional Cast
Synopsis
---
In order to spend more time with his son, J.D. moves closer to Kim. This, of course, takes him further away from his friends. J.D. meets Kim's Chief of Medicine, Dr. Mantoots. Shortly after J.D. finishes laughing at the guy's name, Mantoots offers him a job at St. Vincent's. He accepts the offer and tells his friends he'll be leaving Sacred Heart at the end of the month. Mantoots! It's still funny!
Everyone reacts to the imminent departure of Dr. Dorian in different ways. Dr. Cox is so giddy that he does a backflip in the hospital corridor. Too bad he doesn't stick the landing. Cox is especially ornery when one of the interns screws up and a patient almost dies. He wants to crush the intern like a bug and make her apologize to the patient for her incompetence. But Elliot ends up taking the heat, which infuriates Cox even more.
Elliot doesn't understand why Dr. Cox is so set on throwing the intern under the bus when he's always made it a point to protect them (while berating them, of course). But Dr. Cox wonders aloud why he should invest time in someone who's just going to bail when another opportunity comes along. It's not hard for us to see that he's really talking about J.D. and himself. The guy's taking this thing hard.
J.D. and Turk take a break from their typical bantering to engage in some nonstop bickering. It all seems to stem from Turk's new position as Chief of Surgery. But like the Dr. Cox sitch, we sense something more to the turmoil. These two were inseparable all through college, med school and all those years at Sacred Heart. They (and we) thought they'd always be together.
The boys have one of those patented Scrubs dream sequences as they imagine what the hospital would be like with the two of them in charge. Let's just say the fantasy involves free pudding and The Janitor locked away in a crate. But with J.D. leaving, the dream will never come true.
The Janitor isn't crazy about the J.D. situation either. He says, "Change begets change." He's right. Against some janitorial advice, Ted asks the Gooch to move in with him. She happily accepts. Here are a few other changes that are currently under consideration:
- Kelso mulls a return to work

- With a second baby on the way, Carla considers ditching her full-time nursing duties

- Elliot ponders moving in with J.D.

- Lady wants her sister and her son to move in with her and the Janitor

- Jordan considers adopting a couple of Asian kids
OK, that last one's probably not gonna happen. But change is coming for all of our favorite Scrubbies! We can't wait to see how they handle it in the season finale!