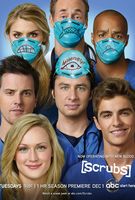 TV Info
---
Episode Premiere
March 18, 2009

Distributor
ABC

Genre
Drama, Comedy

Show Period
2001 - 2010

Production Company
Doozer, Towers Prod., ABC, Touchstone Television


Cast and Crew
---
Director
John Putch
Screenwriter
Kevin Biegel
Main Cast
Additional Cast
Synopsis
---
Dr. Cox is happy to meet Jordan and Jack in the cafeteria, but he's a little confused. Shouldn't Jack be in school? Apparently Jack was able to convince Jordan that school was closed for Yom Kippur-which was six months ago-and proudly declares he hates school. We're not ones to encourage truancy, but you have to admit that's a pretty good scam for a little kid.
While Cox and Jordan are bickering about her parenting abilities, they see the Janitor and some lady kissing goodbye. Wait, that's not some lady, that's THE Lady! It looks like the Janitor has found someone to love and she's real. Admit it, you had your doubts, too! The Janitor can't help but gloat about him and Lady being a better couple than Cox and Jordan. Yeah, like that's an achievement.
Turk is treating a kid who broke his neck and will most likely never walk again. Turk has never had to deliver that kind of news before, so he asks J.D. for some help. Besides telling him to think of the dancing gopher from Caddyshack if he thinks he's going to cry, J.D. tells Turk that it's very important to not give anyone false hope. Even so, Turk can't help but suggest that there might be a treatment he can try, but it's a risky procedure that he heard about on that bastion of medical knowledge, SportsCenter. Love it!
There's some trouble in paradise for Lady and the Janitor when she refuses to hold hands with him. Jordan can't help but make a joke at his expense which leads him to point out that Perry is wearing his wedding ring again. This may be the first time we've ever seen a man get in trouble for wearing his ring instead of taking it off.
Jordan demands that he take it off since they're not married anymore, they're just two adults who enjoy each other's company. But Perry won't take it off. He explains to Jordan that it makes him happy and he asks her why it bothers her so much. The next day, she's wearing her wedding ring, too, and they hold hands. Theirs is a complex relationship, wouldn't you agree?
Lady's still not going for the whole touchy thing and the Janitor is convinced she's going to dump him. He initially plans to dump her first, but he tries to have a heart-to-heart with her in the coffee shop. An eavesdropping Dr. Kelso is hoping for a relationship meltdown, but Lady admits that she's a germophobe, especially when it comes to hands.
They may not hold hands, but the Janitor's happy to walk beside her and keep a hand on her shoulder. It's a happy ending for everyone. Well, not everyone. Kelso was hoping for something more entertaining. We can't blame him. People-watching in the coffee shop and afternoon power-walks through the lobby doesn't sound like a particularly scintillating way to spend a day, even at Sacred Heart.
Turk takes a big risk going forward with the experimental freezing procedure. Carla is very supportive at first, but even she has her doubts when she hears where Turk got his great idea. Hey, don't go dissin' SportsCenter, Carla. Thankfully, the procedure looks like it may have been a success, as the patient begins to respond to stimuli. In the spirit of SportsCenter, let's just say that's one for the highlight reel!