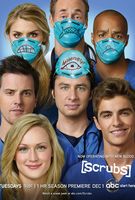 TV Info
---
Episode Premiere
February 10, 2009

Distributor
ABC

Genre
Drama, Comedy

Show Period
2001 - 2010

Production Company
Doozer, Towers Prod., ABC, Touchstone Television


Cast and Crew
---
Director
Ted Wass
Screenwriter
Devin Mahoney,Rego Marquiis
Main Cast
Additional Cast
Synopsis
---
Denise, the intern J.D. nicknamed "Jo," has enough trouble being nice to patients, so we can't imagine what she'd do when teamed with Sunny, her aptly named fellow intern who just can't stop smiling. No, really, she just can't! These two polar opposites are teamed to impersonate our favorite docs, Turk and J.D., in the Sacred Heart intern talent show.
J.D. and Turk have been dismayed that the annual intern talent show has sucked every year after they killed when they were interns. They've taken charge of things this year and insist on writing every sketch and assigning all of the interns their parts. They even bring in Jimmy, the overly-touchy orderly to spice things up with some impressions.
The show is a huge success. J.D. and Turk are so excited, they can't help but hug. But when Denise and Sunny exchange a kiss while impersonating them and the whole hospital laughs, they both start to think that maybe their bromance has gone a little too far.
Carla thinks she's alone in the break room when she plucks the longest nipple hair you've ever seen off of her chest. But just as she holds the miraculous/disgusting specimen up to get a better look at it, the Janitor exclaims "Holy mackerel!" She realizes he saw everything. In fact, so did Dr. Kelso.
The Janitor confronts her about it the next day, but Carla denies he saw anything. The Janitor goes to see Kelso and he has the same story. Is our beloved Janitor losing it? It turns out that Carla is in cahoots with Kelso to trick the Janitor into question what is and isn't real. That's fine, but we know the truth. So we're just wondering what ultimately happened to that hair!
Turk's helped create a big medical breakthrough, but J.D.'s not able to celebrate with him like they both want to. What's worse, it's the five-year anniversary of the time they met David Caruso on a Ferris wheel and they can't do "Eagle!"
What's "Eagle!"? Turk lifts J.D. up in the air and spins him around while J.D. shouts out "Eagle!" Yeah, it's as cool as it sounds. Finally, Turk and J.D. can't take it anymore and our favorite bromance is back on, full blast. J.D. is soaring high and they don't care what anybody thinks. Nor should they.
Elliot finds out that Denise blew off Sunny and the other interns again and she insists that she take a break. Meanwhile, Sunny and Denise are treating a girl with an immune deficiency whose mom won't ever let her go anywhere. Elliot forbids the interns from talking to the mother about it, but they can't help themselves.
When the mom shuts them down for trying to tell her how to raise her kid, she tells them that Elliot already tried it. Denise realizes she was setup as a lesson to show her that she should appreciate the free time she has, and she's going to need it if she's going to stay sane at Sacred Heart. Well, mostly sane.