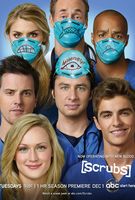 TV Info
---
Episode Premiere
February 10, 2009

Distributor
ABC

Genre
Drama, Comedy

Show Period
2001 - 2010

Production Company
Doozer, Towers Prod., ABC, Touchstone Television


Cast and Crew
---
Director
John Putch
Screenwriter
Devin Mahoney, Rego Marquiis
Main Cast
Additional Cast
Marcia Ann Burrs
Eliza Coupe as Dr. Denise Mahoney
Sam Lloyd
Synopsis
---
There's big news at Sacred Heart-Carla's pregnant! Yeah, we know, it's her and Turk's second baby, but that's just as exciting, right? Apparently not, because nobody seems all that jazzed about it and it's really getting to Turk. We're thinking J.D. would be excited if he was there, but he's MIA in this episode.
Turk realizes that the reason he's so upset that no one else is that excited is because he's not as excited as he was the first time. With Ted's help, Turk understands that while the newness may be gone, it's still a great thing and he finds his own joy about having a baby.
Intern Sunny is bent on keeping a dying coma patient alive long enough so that his sister can come say goodbye. Cox steers her over to Carla, who always has a soft spot for hard luck cases and interns who want to save the world. But when Sunny asks Carla to help her watch the patient overnight, Carla blows her off and goes home. Confused, Dr. Cox shows up at her place to ask what made her stop caring. We'd like to know that, too.
Elliot and Jo are treating a friend of Dr. Kelso's-an older widow who was married to her husband for 53 years before he recently passed away. The woman dies suddenly and Elliot thinks it's sad that she didn't have her own life to live after her husband was gone.
Kelso reminds Elliot that she's been pining for J.D., who's only been away for twelve hours. She's no different than her patient. At first, Elliot doesn't see it and she decides to stop checking in with J.D. so often, but she finally realizes that she really does care that much and tells him so.
Cox apologizes to Carla the next day. He knows that he was asking too much of her. After awhile, everyone loses their sympathy for hopeless, dying, coma patients and overly optimistic interns. Apparently, Carla held onto that hopefulness longer than anyone else.
Carla doesn't seem so happy about it, but she has to admit that after so much time, it's just not the same. Nevertheless, she does end up staying late to watch over the dying coma patient so that his sister can make it there to say goodbye. Carla tells Cox that that's not a part of her she's ready to let go of. And we hope she never does.