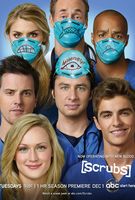 TV Info
---
Episode Premiere
February 03, 2009

Distributor
ABC

Genre
Drama, Comedy

Show Period
2001 - 2010

Production Company
Doozer, Towers Prod., ABC, Touchstone Television


Cast and Crew
---
Director
Mark Stegemann
Screenwriter
Debra Fordham
Main Cast
Additional Cast
Sam Lloyd
Philip McNiven
Kate Micucci
Synopsis
---
Ted wants his "a cappella" group to sing songs to the sick kids at Sacred Heart. He's thinking of some feel-good hits like "Don't Fear the Reaper." But the new Chief of Medicine, Dr. Cox, shoots him down. Turns out, there's already someone who sings to the sick kids-a sweet young woman named Stephanie Gooch who really knows how to rock a ukulele.
Ted is immediately smitten with the Gooch, which means he must run for his bike and head straight home. It's a Ted thing. J.D. and the Janitor form an unlikely team to help Ted work through his jitters. Think they can really help him land a date?
The Janitor's advice to Ted is to be confident and J.D. tells him he should be honest. They throw him into an elevator alone with the Gooch, but Ted's still shaky. Finally, Ted comes up with a plan. He's confident with his band around, so Ted and the Gooch end up having an all-night jam session.
The next day, Gooch wants to have coffee with Ted, but he can't seem to get it together without his band. Stephanie takes Ted's awkward fear as a sign of disinterest. Ted admits that he just doesn't know how someone like her could like someone like him. Looks like Ted's about to find out as they actually do go out for coffee, minus the band.
Dr. Cox is having trouble juggling all his new responsibilities. He has to worry about a nursing schedule, treating a patient and teaching Ed the intern, who doesn't know anything except bar trivia. He also has to pick up his son Jack up from school. That barely leaves enough time to berate J.D. (though we're sure he'll somehow manage to squeeze it in).
With such a full plate, Kelso advises his new, secret friend that he's going to have to give up some stuff or it's all going to come apart. But Perry Cox is not built for giving up on things he cares about. So it's no surprise that out favorite acid-tongued doctor lets some things fall through the cracks. His scheduling goof has all the nurses show up at once, he misses his patient's biopsy and he forgets to pick up Jack. Get it together, Perry!
Jordan tells him he needs to compromise. He apologizes to Jack, treats his patient and takes a first pass at the new nurse's schedule, but asks Carla to revise and distribute it. He stops worrying about teaching the incorrigible Ed and flat-out fires him. We're thinking it's about time.
But even with those compromises, he doesn't quite make it home in time to read Jack his bedtime story. Jordan tells him he'll try again tomorrow.