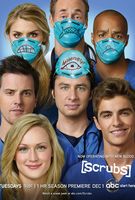 TV Info
---
Episode Premiere
January 06, 2009

Distributor
ABC

Genre
Drama, Comedy

Show Period
2001 - 2010

Production Company
Doozer, Towers Prod., ABC, Touchstone Television


Cast and Crew
---
Director
Bill Lawrence
Screenwriter
Aseem Batra
Main Cast
Additional Cast
Synopsis
---
What was meant to be a bromantic night of song, dance and steak for J.D. and Turk quickly turns into a profound, hours-long conversation with a dying patient. We can never trust Scrubs to be predictable.
Sacred Heart's unethical new Chief of Medicine, Dr. Maddox, seems to meet her catty match when she tries to toss Jordan off the computer she's using. "I'm the Chief of Slag-Smacking," Jordan tells her. "So I'd keep moving if I were you."
And just when we think Dr. Maddox is warming up to J.D., she tells him the patient he's treating only has enough insurance to cover three days in the ICU. J.D. daydreams that Maddox smothers the poor guy with a pillow. At least we hope he was daydreaming.
J.D. informs intern Denise-or, Jo, as he refers to her, since she reminds him of Jo on The Facts of Life-that she's too abrasive. He tells her she needs to dig down in her soul and find sympathy for her patients at Sacred Heart. Something tells us that well ran dry long around the time The Facts Of Life went off the air.
Meanwhile, J.D. and Turk are excited about Steak Night, an annual tradition of meat and bromance they've been celebrating for a decade now. The two docs even treat us to a Steak Night song and dance they've perfected. Their manly mirth is interrupted, though, when J.D. has to go change the IV of a patient named George.
We learn that George is dying. When J.D. and Turk ask him if he'd like anything before they head out, he requests a beer. When they return with the brewski, we find out the guy at the checkout stand chided J.D. for only buying one beer, so he also bought a pack of condoms and a flare gun to front like he's got a wild night ahead of him.
After bringing George his beer, the guys head out for Steak Night. But don't put your dancing shoes on just yet, because they bump into Ted on their way, who is working on George's will. Ted tells J.D. and Turk that the patient actually has no family.
George gets stuck with Denise as his night nurse, who decided she's going to make a connection by telling him about a one-night stand she had recently. It's a sigh of relief for us-and George-when J.D. and Turk show up after deciding that taking care of a patient means more than Steak Night.
The guys stick around the hospital in order to get to know George. The three of them discuss the questions we all have in life about what it's like to die. J.D. and George both tell George they're not afraid of it.
However, later the two of them both admit to George that they're terrified of dying. "There we are. Everybody's scared," George says.
J.D. says that when he dies, he hopes that his last thought is a good one. Eventually, George goes to sleep. He never wakes up.
Okay, we said Scrubs is never predictable. And while we knew George was eventually going to pass away, the emotional impact of this episode admittedly threw us for a three-Kleenex loop.
At the very end, J.D. and Turk go up to the roof and shoot a flare into the sky for George.