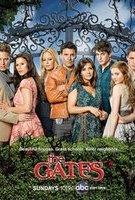 TV Info
---
Episode Premiere
June 20, 2010

Distributor
ABC

Genre
Drama, Crime

Show Period
2010 - 2010

Production Company
Fox TV Studios


Cast and Crew
---
Director
Terry McDonough
Screenwriter
Grant Scharbo, Richard Hatem
Main Cast
Additional Cast
Brett Cullen
Georgia Cole
James Preston
Devyn Tyler
Roger Cross
John Rodriguez
Billy Slaughter
Matthew Cornwell
Johnny Messner
Randy Austin
Carrie Scharbo
Synopsis
---
Sprawling homes, picturesque landscapes, friendly neighbors and, of course, bloodsucking vampires. These are just a few of the things that lie beyond The Gates.
Young Emily Radcliff chases her runaway skateboard into the street. A pickup truck barrels toward her. The driver swerves at the last possible moment. CRASH! The truck smashes into a cement pillar. Emily is fine but the driver, a contractor heading out of this quiet suburban community, has a bloody gash on his head.
Emily's mom, Claire Radcliff (Rhona Mitra), tends to the injured man inside her home. The contractor wants this married mom to kiss more than just his boo-boo. This guy has thirst for passion, but Claire has a thirst for blood. Fangs emerge as she bites down on the man's neck. The contractor is dead. Claire, however, looks as though she's been reborn.
Nick Monohan (Frank Grillo) is an ex-Chicago homicide cop with a troubled past. He's also the next Chief of Police at The Gates. His wife, Sarah (Marisol Nichols), hopes to start a new life in their beautiful new home. Their kids, Charlie (Travis Caldwell) and Dana, will hopefully fit in with the cliques their new upscale school.
Nick meets a couple of the officers in his charge, Marcus Jordan (Justin Miles) and Leigh Turner (Janina Gavankar) at their state-of-the-art police station. Video surveillance shows the crash that occurred in front of the Radcliff house. Marcus tells his new boss that the driver's hometown police department recently identified him as a missing person. Maybe Nick's new town isn't as peaceful as he thought.
Claire Radcliff decides to welcome Sarah Monohan to the neighborhood by bringing her a tasty high-carb meal. She lathers herself in lotion before stepping outside. Apparently, Claire burns big time if hit by sunlight. When hubby Dylan Radcliff (Luke Mably) returns home, he senses something is amiss. It probably has something to do that dead body and bottled blood Claire's storing in the wine room.
Dylan is totally ticked at his wife for her earlier indiscretion. His concern is primarily for Emily. He says, "Adopted little girls... they do not survive out there. Not with our crowd." When Nick questions the Radcliffs, he's not satisfied with Claire's story. Dylan knows they need to get rid of the body.
Claire drugs the guard at the main gate with cookies so the contractor's truck is seen leaving on video, driver unseen. They dump the body near a lake outside of town, but not before Dylan bears his fangs. He tears into the driver, ripping him to shreds. It has to look like wolves were responsible for this mutilation.
Sarah meets Devon (Chandra West), the owner of a local day spa, who gives her some special tea to help with her stress. This upsets a holistic physician named Peg Mueller (Victoria Platt), who tells Devon they are supposed to help people with their problems, not exploit them. We're wondering just what's in Devon's tea, especially after Claire asks Peg to give her something for her "cravings." Devon overhears the request and says she helped a local lady forget they saw Claire put the contractor's truck in her garage. Hmm.
At the Gates Academy, Charlie meets a cute girl named Andie Bates (Skyler Samuels). There's an instant attraction. That doesn't sit well with Andie's boyfriend Brett Crezski (Colton Haynes), who takes out his frustrations during football practice with a bone-crushing tackle on a teammate. Brett seems to have strength that goes beyond that of a typical teen. He also lets out a nasty little growl when he's angry.
A classmate, Lukas, wants Brett to run with him as part of his pack. A wolf pack, perhaps? Brett knows it's a violation of the rules to do something like that inside The Gates. But all bets are off on the outside. Guess that's why Brett transforms into a vicious wolf when he catches Charlie in a secret rendezvous with Andie. Lukas tackles him before he can act; convincing Brett that now is not the time for his vengeance.
A still-suspicious Nick wants a warrant to search the Radcliff house. Frank Buckley, the man who developed The Gates and Devon's ex-husband, makes it clear that the residents in his community like their privacy. The search warrant is denied. Though he's still unsure, Nick promised his wife he'd try to change his suspicious ways. He reluctantly closes the Radcliff case.
Nick gets a late night call. A body has been discovered on the outskirts of town. If you're thinking it's the missing contractor, think again. Nick doesn't recognize this particular dead guy. However, Marcus and Leigh do. It's their old boss, AKA the former Chief of Police. Welcome to The Gates.