News
>
Celebrity Gossip
August 23, 2008 06:57:43 GMT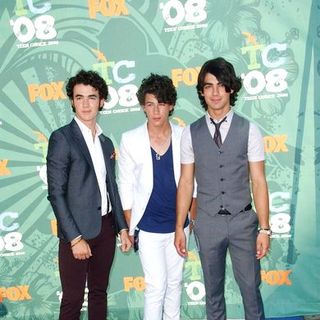 Having their new album, "," opened at No. 1 on the Billboard top 10 apparently has escalated to their best giving mood ever. Having had so much in their life, the brothers want to share some of their belongings, donating their outfits to a museum.

Taking a tour of the Rock and Roll Hall of Fame and Museum in Cleveland, Ohio on Friday afternoon, August 22, , and donated the suits they wore on the cover of their hit album "A Little Bit Longer" to the museum. The threesome handed over their outfits to the museum's vice president Jim Henke.

News
>
Movie News
August 23, 2008 06:39:51 GMT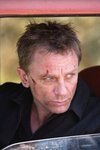 While the 22nd installment of James Bond movie, "", has been pushed back a week later than its original schedule, recent report claimed that the high-octane film will be getting a brand new trailer soon. According to 007 Nederland, the new video will be unveiled on September 11.

The information is said to be shared out by an employee from Sony Pictures Netherlands. Though giving out the possible release date, the employee didn't let out any further and specific details of this future compilation of clips. Yet, Commander Bond has noted that many Bond fans expect that it will provide an in-depth look into the movie compared to the earlier released .

News
>
Music News
August 23, 2008 06:39:01 GMT

A week after her at "Good Morning America", actress and singer is eager to continue promoting her upcoming debut album called "" which is planned for release on September 23 via Hollywood Records. Just after the premiere of Disney Channel Original Movie "The Cheetah Girl: One World", she dropped a music video for the first single "Get Back". The song which is listed in her upcoming set, is written by Demi herself with a favor from members of band .

Philip Andelman is the director who is chosen to help Demi making the music video. The video is shot near the big apple river. It shows Demi, doing a live performance with her band without any audience to watch her. When night comes, Demi's stage act is illuminated with some flashes from big lamps, which is set behind her and the band.

News
>
Celebrity Gossip
August 23, 2008 05:59:24 GMT

Famous American retailer of women's wear, lingerie and beauty products, Victoria's Secret, has a new coffee table book called "Supermodel Obsession". The brand new book, which reportedly pretty much looks like one of their catalogues, features some of their angels, two of whom are and . Both models strike some sexy poses for the tome, posing only in their lingerie and high heels.

No single clue about the coffee table book, but a number of the supermodels' photos, which are taken from the book, have made their round on the Internet. Some of the pics feature Lima donning sexy lingerie in various colors and models. She's shown wearing high heels matching to the color of the lingerie she models. As for Kroes, she's also photographed striking some raunchy poses for the tome.

News
>
Music News
August 23, 2008 05:11:27 GMT
Diva will share her remarkable voice with her fans at Canadian idol finale session. The show will be aired live by Canadian television CTV on Wednesday, September 10. A written statement, issued by CTV, is read, "CTV announced today that Mariah Carey will headline the star-studded, two-hour Canadian Idol season finale, airing live on Wednesday, September, 10 at 8 P.M. E.T."

To join her is five-time Grammy winner , who has recently dropped a for his brand new single "Green Light", taken from "" which comes out on October 28. Other performers who are lined up for the result show, are Canadian rocker , last year's Canadian Idol champion Brian Melo, and R&B singer Jully Black.

News
>
Celebrity Gossip
August 23, 2008 05:09:45 GMT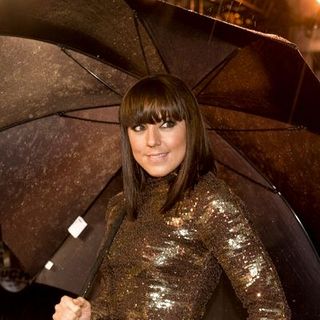 A confirmation is soon to come from hot on the heels of mounting rumors that she's pregnant with boyfriend Thomas Starr's baby. The singer announced Friday, August 22 on her official website that she and Tom are expecting a child and feeling "very happy."

"As I'm sure you'll understand we needed time to wait for results and tell our families," the Sporty Spice wrote about her confirmation. "Thank you for all your kindness, good wishes and support (even if it was based on speculation!)".

News
>
Movie News
August 23, 2008 04:54:50 GMT

It has been confirmed previously that the original "Terminator" star, , won't be appearing in the forthcoming "", but it doesn't mean that he is completely cut off from the movie. Recently, it has been inferred that the actor-turned-California Governor will lend his voice to the film.

Sparking speculation that Schwarzenegger will do a voiceover, the action fantasy movie's producer Moritz Borman told Wired, "Schwarzenegger is governing California. He will not be, as a person, in the film." When asked further on the hidden meaning of his remark, he said, "I'm not going to answer the question about what we're trying, or what we want, or what we're toying with. It's really up to what fits in the film or not. Maybe his voice, or maybe not. It's really not settled."

News
>
Movie News
August 23, 2008 04:11:31 GMT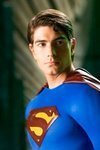 After sparking a major question of where they are going to bring the next "Superman" movie, Warner Bros. Pictures have finally confirmed to start the project right from the scratch once again meaning that they are going to reboot the franchise. The confirmation of the remake has been offered by Warner Bros. Pictures Group President Jeff Robinov to Wall Street Journal.

In Wall Street's recent article, Robinov stated that the decision to reintroduce the 'man of steel' has to be taken after the considerable failure of "". "Superman [Returns] didn't quite work as a film in the way that we wanted it to," Robinov said. "It didn't position the character the way he needed to be positioned. Had Superman worked in 2006, we would have had a movie for Christmas of this year or 2009. But now the plan is just to reintroduce Superman without regard to a Batman and Superman movie at all."

News
>
Celebrity Gossip
August 23, 2008 03:59:49 GMT
Getting used to prank his co-stars, gets the sweet flavor of revenge as his "High School Musical" co-stars prank him on the film's set. Among those who prank him are girlfriend and close friend .

Allegedly, the cast and crew of the highly anticipated "" were enjoying a break from shooting. It was during that time that some of them surprised Efron with water-guns, forcing him to run over the film's set to avoid the intense 'attack'. Getting all wet, Efron then took his clothes off, showing off his toned body.

News
>
Celebrity Gossip
August 23, 2008 03:52:17 GMT
A representative for has confirmed that the actor and his girlfriend Ceren Alkac have welcomed their first child together, a baby girl, on August 10. The representative provided no further details on the newborn baby. The baby girl joins older brother, Pilot Inspektor, whom Lee has from a previous marriage.

Alkac's pregnancy with Lee's child was exposed by media in late April. His representative soon thereafter confirmed the news, telling People exclusively that the couple were about to welcome the arrival of the child in fall. Lee himself let it slip during an interview on the Today show in early May that he and Alkac were expecting a girl.

News
>
Music News
August 23, 2008 03:46:57 GMT

Alecia Beth Moore, professionally known as , has just released a music video to promote her lead single "So What". The song is produced by Max Martin via LaFace Records and comes off her upcoming fifth studio effort called "", which will hit the stores on October 28.

Pink has worked with long collaborator, director Dave Meyers in the video's production. The video, which features cameos by her ex-husband, free stylist motocross rider Carey Hart and producer Butch Walker, captures the singer as a trouble maker.

News
>
Music News
August 23, 2008 03:43:29 GMT

Behind the highly-successful and controversial song of "I Kissed a Girl" lays . The song's crooner and co-writer, , confessed that she was inspired by the actress when she flipped through a magazine revealing a picture of the sexy blonde.

"'I Kissed a Girl' was inspired when I opened up a magazine and I saw a picture of Scarlett Johansson," Perry said to Steppin' Out magazine. "I was with my boyfriend at the time, and I said to him, 'I'm not going to lie: If Scarlett Johansson walked into the room and wanted to make out with me, I would make out with her. I hope you're okay with that?"

News
>
Movie News
August 23, 2008 03:25:24 GMT

Though Universal Pictures have yet to officially release the trailer of the forthcoming "" movie on the virtual world, it has been leaked out. The bootleg trailer of the "The Fast and the Furious" franchise is taken from the one previewed in front of "" theatrical screening.

Giving a sneak peak to the latest street car racing film, the video doesn't provide any sound from the footage, but it displays many of the hardcore actions the fans and moviegoers are going to see, including the explosions and the fierce fights. It is dominated with a scene where Dom Toretto and his crew are trying to hijack a gasoline land train in Dominican Republic, but in a blink of an eye it all goes in the wrong way.

News
>
Music News
August 23, 2008 02:58:49 GMT
Songwriter and soul singer has just dropped by FNMTV to premiere his music video for his first single "Green Light" where aka Andre 3000 of helps him on its chorus by adding extended verses. The song is among the confirmed tracks in his upcoming third studio album "", which is set for release on October 28.

The music video is directed by Alan Ferguson, who also directed 's music video for single "Pocketful of Sunshine". The video which co-stars Andre 3000, figures John as a club guy, who is having a night-long party with beautiful women at a Hollywood hills mansion. The singer is seen welcoming all his party guests by singing the tune. The party continues with all the guests dancing together and then ends with Andre, leaving the hot party the following morning on a bicycle.

News
>
Movie News
August 23, 2008 02:51:35 GMT

After surprising fans with the release of its back in June, "" has finally delivered the domestic version of its teaser. Generally containing the same footages as the international one, this brand new video showcases the extended shot of the car sequences as well as more of the intense fighting sequences.

Directed by Olivier Megaton, the third installment of Luc Benson's action movie still follows Frank Martin, the former SAS trooper turned professional transporter specializing in delivering packages without questions, in his mission. Though the plot has yet to be unraveled, the teaser lets out that this time he will be troubled with the potentially exploding wrist bracelet locked in his arm. To be delivered into theaters on November 26, it features the likes of , Francois Berleand, , Justin Rodgers Hall and Katia Tchenko.