News
>
TV News
October 20, 2014 04:52:58 GMT

Carrie can't make Aayan open up about his uncle. In a clip for the next episode of "", Carrie asks Aayan about "rumor" that his uncle wasn't killed in the attack, but it only makes Aayan angry and feel insulted.

Meanwhile, Quinn has a problem with the way Carrie recruiting her asset, which may involve manipulation and exploitation of his/her weakness. Another clip shows Saul at the airport, tracking a suspect who is about to board a plane for Johannesburg. He later informs Quinn about this.

News
>
Celebrity Gossip
October 20, 2014 04:43:05 GMT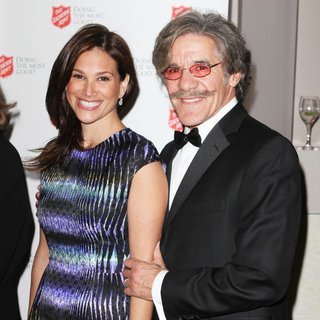 Geraldo Rivera's family is uninjured following a recent car crash. The veteran journalist took to Twitter on Sunday, October 19 to talk about the accident involving his wife Erica Levy and their child Sol.

Levy apparently rear-ended a car in front of her on the West Side Highway. "Erica & Sol are fine but her Range Rover's a mess after guy from out of state stopped short on the West Side Highway," Rivera captioned a photo of the wrecked car.

News
>
Music News
October 20, 2014 04:16:01 GMT

was a guest performer in the Sunday, October 19 episode of U.K.'s "". and his bandmates treated viewers as well as the judges of the competition to the live performance of their new single "Animals".

Levine, wearing a white leather jacket with red elbow patches over a T-shirt and a pair of jeans, showed off his amazing vocals as he hit plenty of high notes. The band wasn't the only performer on the Sunday elimination show.

News
>
Celebrity Gossip
October 20, 2014 04:03:13 GMT

has slammed Russian Tennis Federation president, Shamil Tarpischev, for making "extremely sexist, racist and bullying" remarks on her and her sister . On Sunday, October 19 at a press conference for WTA Finals in Singapore, Serena responds to Shamil's comments, "I think the WTA did a great job of taking initiative and taking immediate action to his comments."

"I thought they were very insensitive and extremely sexist as well as racist at the same time. I thought they were in a way bullying," she added, "I've done the best that I can do, and that's all I can say. So I just wasn't very happy with his comments. I think a lot of people weren't happy as well... But the WTA and the USTA did a wonderful job of making sure that - in this day of age, 2014, for someone with his power, it's really unacceptable to make such bullying remarks."

News
>
Movie News
October 20, 2014 03:54:27 GMT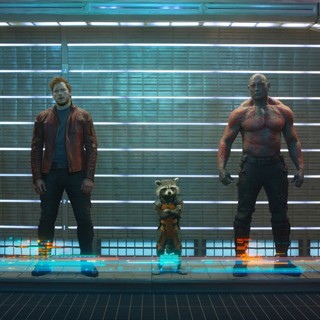 ©
"" continues to gather accolades and becomes a stand-out movie of the year. The Marvel film jets to the top of the foreign box office this weekend after racking up $23.1 million overseas.

The film owes it to China, the world's second-biggest movie market, for a large chunk of its foreign total. At $69 million, China is now the highest grossing country outside of the United States for "Guardians of the Galaxy".

News
>
Celebrity Gossip
October 20, 2014 03:51:41 GMT

and have been inducted to Canada's Walk of Fame. The actress, who took part in "" and "" among others, looked pretty in a strapless Zuhair Murad Couture dress at the ceremony which took place at the Sony Centre on Saturday, October 18 in Toronto.

The actress, who matched her outfit with a pair of Norman Silverman earrings and Kwiat jewelry, was excited to receive her star. "To be recognized by your own country like this and to be put on this illustrious list of people that have come before is, I mean, is sort of beyond words for me," she said, as reported by U.K.'s Express.

News
>
TV News
October 20, 2014 03:46:53 GMT

channeled his inner beast during his audition for "". The audition tape was actually uploaded in 2012, but only recently gained attention, three years after he first appeared as Khal Drogo on the hit HBO series.

In the video which reportedly is the callback audition that Momoa received, the actor looked intense as he performed a Haka, an ancient ritual or dance that the Maori people of New Zealand performed before engaging in battle.

News
>
Music News
October 20, 2014 03:06:03 GMT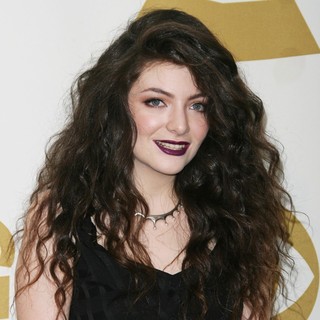 San Francisco radio stations have banned 's hit single "Royals" from their playlist ahead of the 2014 World Series. Stations 104.5 KFOG and 96.5 KOIT have announced they won't be playing the song during the baseball championship which will see the city's Giants taking on the Kansas City Royals.

KFOG recently posted a photo of Lorde on their Facebook page and said, "No offense, Lorde, but for the duration of the World Series, KFOG Radio will be a 'Royals'-free zone. We're sure you understand." KOIT, meanwhile, wrote on Twitter, "#Lorde #Royals will be removed from the @965KOIT playlist until the end of the World Series #GoGiants..."

News
>
Movie News
October 20, 2014 02:55:32 GMT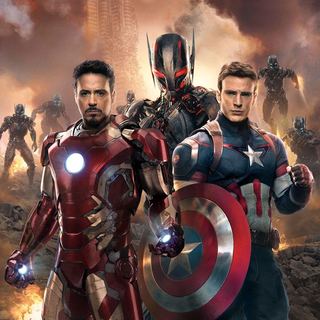 ©
The upcoming "" sequel may not give a close up look at the Stark Tower for the gigantic "A" sign was already taken down and bestowed upon The actor recently revealed that Marvel gave him the 30-foot tall sign after he jokingly asked for it.

"On the last Avengers, there's this scene where there's this 'A' which is probably 30 feet tall, and I'm looking at it, and we're shooting in England, and I go, 'I need that in my office in Venice,' " Downey said in a BBC One Radio interview. "About two weeks ago, a wheeler showed up, I'm like, 'What the heck is this doing here?' And they go, 'This is the 'A' you asked for.' And I go, 'They brought it?' So now we have a massive Avengers 'A' that will be prominently placed."

News
>
TV News
October 20, 2014 02:54:44 GMT

Maggie and Rick don't trust Father Gabriel. In the next episode of "", the two confront Father Gabriel as Maggie believes they're being watched and three members of the group went missing after they arrived at the church.

A clip shows Father Gabriel denying he has anything to do with this, but Maggie goes angry and threatens him with a knife. Rick also snaps at Father Gabriel as seen in a preview video for the same outing.

News
>
Celebrity Gossip
October 20, 2014 02:53:58 GMT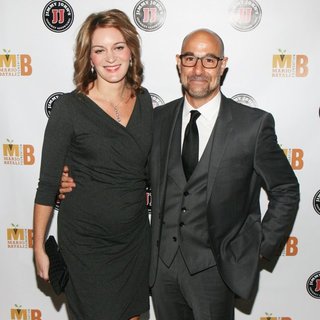 and his wife Felicity Blunt, the elder sister of actress , are expecting their first child together. Stanley confirmed the happy news to Us Weekly at the Mario Batali Foundation Dinner at Del Posto in New York City on Sunday, October 19.

The star of "" tells the site, "I'm very excited to be a dad. It's incredible. I'm most excited to have a baby with Felicity and for the baby to be healthy." Stanley then added and laughed, "The sex is of no concern to me. The sex of the baby, that is."

News
>
Celebrity Gossip
October 20, 2014 02:39:53 GMT

The cast of "" had another reunion over the weekend to support at her new play. , and attended Ferrera's show "Lips Together, Teeth Apart" on Saturday, October 18 in NYC and took a photo together at the event.

The trio are all smiles in the snap shared on Tamblyn's Instagram. "Go America! Supporting our girl in her play, Lips Together, Teeth Apart. #sisterhood," she captioned the snap. Ferrera shared the same photo on her Twitter and thanked the ladies for supporting her. "Sisterhood dropped by matinee of #lipstogetherteethapart @2STNYC &made my day! I get by w/a lil' help from my girls," she wrote.

News
>
Music News
October 20, 2014 02:13:26 GMT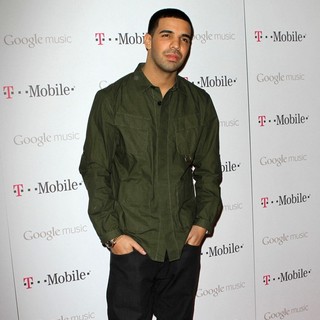 The Internet went into a frenzy when a song unexpectedly hit the web on Sunday, October 19. Titled "How About Now", the slow-tempo track features a sample of Jodeci's classic ballad "My Heart Belongs to You."

"How About Now" opens with a voicemail recording from a woman. Drizzy is later heard rapping about an ex-girlfriend who dumped him after all the things he did for her when they were dating. Now that he's successful, he asks his former lover how it feels.

News
>
Movie News
October 20, 2014 02:01:31 GMT
©
"" predictably stole the box office crown from two-weekend champion "". The -starring World War II drama took in an estimated $23.5 million, a considerably good start for a film made on $68 million budget.

"The relationship and camaraderie of the cast is really poignant in the film, which is also very visceral and action packed," Rory Bruer, president of worldwide distribution for Sony, said in a statement. "We're feeling really good about it. It's a very good opening for us and it's a movie that we're so proud to be a part of."

News
>
Celebrity Gossip
October 20, 2014 02:00:13 GMT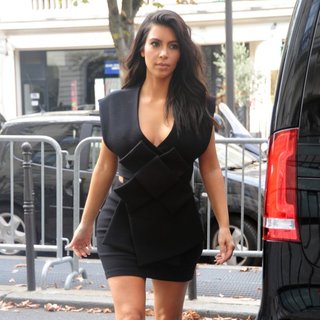 took to Instagram on Sunday, October 19 to speak out against bullying. She re-posted a picture of statement about bullying along with caption, "You think you know but sometimes you just don't #IHateBullying #MeanCommentsIsBullyingToo."

The statement in the picture cited many examples of bullying, which read, "The 'gay boy' you punched in the hall today. Committed suicide a few minutes ago. That girl you called a slut in the class today. She's a virgin. The boy you called lame. He has to work every night to support his family. That girl you pushed down the other day. She's already being abused at home."