April 10, 2014 07:20:19 GMT

A new song by is currently on the way. On Tuesday, April 8, the band fronted by hitmaker Ryan Tedder took to their SoundCloud page to post the preview of the track titled "Love Runs Out".

The track is going to be officially released on April 14. Lead singer Tedder, who also wrote and produced the song, recently revealed that "Love Runs Out" was originally intended to be the lead single off his band's current album "".

April 10, 2014 06:11:32 GMT

may perform with when the legendary band is inducted into the Rock and Roll Hall of Fame on Thursday, April 10. The speculation began after , whose members include , posted a photo of instruments on their Instagram earlier this week.

The image features Grohl's drumkit, Krist Novoselic's bass, Pat Smear's strat and what has been identified as Jett's Melody Maker. If Jett's participation is true, it will quash the rumor that 's close friend Michael Stipe will fill in for the late frontman.

April 10, 2014 04:33:37 GMT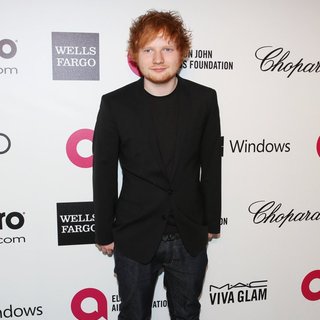 took to Instagram on Wednesday, April 9 to unveil the full tracklist of his hihgly-anticipated new album, "". The British redhead posted a picture featuring the list of 12 songs in his forthcoming record and captioned it, "Album track listing. Pre-order goes up on Friday."

The list includes songs titled "Sing" and "Tenerife". The former serves as the record's lead single. Produced by Grammy Award-winning hitmaker , the R&B-tinged track was released earlier this week.

April 10, 2014 03:34:33 GMT

The nominees of this year's Billboard Music Awards were announced on Wednesday, April 9. Rock band , who's been enjoying the success of their "" album, leads the pack with 12 nods in categories including Top Artist, Top Duo/Group and Top Rock Artist.

The Las Vegas four-piece isn't the only act who scores 12 nominations. They're joined by New Zealand singer who's nominated for Top New Artist, Top Female Artist and Top Rock Artist awards among others.

April 10, 2014 02:03:36 GMT

The soundtrack of "" keeps its position steady at No. 1 on Billboard 200. Nielsen SoundScan reports that the compilation album has just claimed its ninth week atop the chart after selling another 149,000 copies.

The record, which was released back in November, has so far sold 1.9 million copies. Currently on course for its tenth week on the chart's top slot, it may tie "The Lion King" for the longest run at No. 1 by an animated film soundtrack. "The Lion King" soundtrack spent 10 non-consecutive weeks at No. 1 in 1994 and 1995.

April 09, 2014 08:56:34 GMT

takes viewers to a basketball court in the music video for his new track, "Gotta Make the NBA". Arriving on Tuesday, April 8, the four-minute clip shows how serious the rapper is to become a basketball player.

It opens with a message telling fans that he must win 50 out of 100 games to get a chance to play for an official NBA team. The video then gives glimpses at the BasedGod taking over the basketball court and getting injured after failing to do a lay-up. He's also seen rapping the track while talking to a friend on the street.

April 09, 2014 08:18:43 GMT

debuted a new song when she performed during "ACM Presents: An All-Star Salute to The Troops" which was held at the MGM Grand Garden Arena on Monday, April 7. Gracing the stage in a beautiful white dress, the country crooner gave fans the first listen to a track called "Keep Us Safe".

Featuring lyrics like "God, keep us safe on our way/ Keep our eyes on the heavens," the moving ballad was especially co-written by Underwood, Luke Laird, Hillary Lindsey and Shane McAnally for the Monday event.

April 09, 2014 07:08:50 GMT

joined forces with to transform some explosive rap tracks into smooth and jazzy songs. During the Tuesday night, April 8 episode of "", the "" actress and the TV host performed the Broadway version of hits by , and .

Hathaway, clad in a black jumpsuit, served as the lead vocalist while Fallon backed her and pretended to play the piano. For the first song, they sang Snoop's "Gin and Juice". They then followed it up with the cover of 50's "In Da Club (It's Your Birthday)".

April 09, 2014 06:28:20 GMT

U.S. sanction against Russia will not affect and 's upcoming concert at Finland's Hartwall Arena. Reuters reports that the two stars, and several other U.S. acts, are still allowed to play shows at the Russians-owned venue.

"The sanctions will not have an impact on Hartwall Arena nor our business there," Nina Castren, the chief executive of Live Nation Finland said. This means that Cyrus' June show and Timberlake's sold-out gig scheduled for May will go ahead as planned.

April 09, 2014 04:59:12 GMT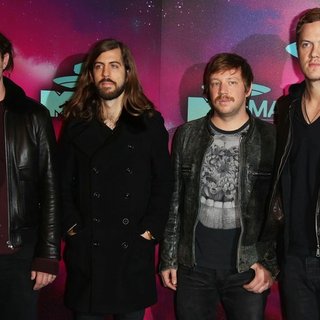 is no longer expected to play Spain's Bilbao BBK Live which will take place over the weekend of July 10 to July 12. The Las Vegas-based rock band has decided to cancel the upcoming gig so they can work on their second album.

They have apologized to fans in a statement issued earlier this week. "We are incredibly sorry to be canceling this show. We had an amazing time playing in Spain last year, and we were excited to be coming back to see you all once again. Unfortunately, it will have to wait just a little longer," they wrote.

April 09, 2014 04:12:40 GMT

dropped "We Are One (Ole-Ola)", the official song for 2014 FIFA World Cup, on Tuesday, April 8. The upbeat and highly-danceable multilingual track also features guest vocals from and Brazilian singer Claudia Leitte.

"One love, one life, one world/ One fight, whole world, one night, one place/ Brazil, everybody put your flags in the sky and do what you feel," Pitbull sings before telling everyone, "Put your flags up in the sky/ And wave them side to side/ Show the world where you're from/ Show the world we are one."

April 09, 2014 02:56:59 GMT

is readying the music video for "It's on Again", a song that she recorded for the soundtrack of "". Arriving on Tuesday, April 8, the cinematic trailer shows some shots of the R&B diva as well as her collaborators, rapper , producer and composer Hans Zimmer.

At the end of the 45-second clip, 's Spider-Man makes a brief appearance from the top of a building, striking his signature pose against the sky filled with dark clouds. There's still no word on when the full visuals will arrive.

April 09, 2014 02:08:03 GMT

and have been added to the line-up of performers for the upcoming MTV Movie Awards. The Detroit rapper and the Bajan beauty are set to reunite for the live performance of their latest collaboration hit, "The Monster".

This will mark Em and RiRi's first time to sing the "" track live. However, this won't be their first time to take the stage at the annual event. Eminem played a medley of "We Made You" and "Crack a Bottle" in 2009 while Rihanna teamed up with for their hit "Umbrella" in 2007.

April 08, 2014 08:57:08 GMT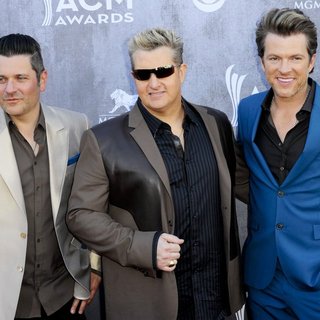 ' performance at the Academy of Country Music Awards disappointed fans. Some spectators quickly noticed that lead vocalist Gary LeVox wasn't really singing during the event which took place in Las Vegas on Sunday night, April 6.

Now, the country trio has publicly admitted that they did lip-sync their song "Rewind" at the awards show. They told TMZ that LeVox had played many shows before the ACMs and subsequently lost his voice last week.

April 08, 2014 08:23:17 GMT

has enlisted Chicago rapper Lil Herb for her new track called "Chi-Raq". The song, which was posted on the femcee's SoundCloud page on Monday, April 7, was co-produced by Boi-1da, Vinylz and Allen Ritter.

In it, Minaj makes references to several things including her recent controversy. "Malcolm X's daughter came at me/ Lookin ass ni**as ain't happy," she raps. She also hints that she may unveil a new song every week until her new album, "", comes out.