March 05, 2014 02:01:27 GMT

and are hitting the road together this summer. The members of the two bands announced at a Hollywood press conference on Tuesday, March 4 that they would co-headline a tour called "Carnivores Tour" with as special guest act.

The tour has been teased with a trailer that was screened during the press conference. The one-minute clip gives glimpses at the three bands performing their respective hit singles in front of thousands of fans.

March 04, 2014 09:14:31 GMT

has hired to sing her Oscar-winning song for the Monday, March 3 episode of his "". The TV host and the Broadway star were joined by to perform the track using classroom instruments.

Menzel belted out the song while playing her triangle. Fallon, who sat next to the 44-year-old star, played the wooden letter blocks and the snare drum. The members of the backing band, meanwhile, played various instruments including rainbow-colored xylophone and mini keyboard.

March 04, 2014 08:40:46 GMT

Wisin has enlisted and for his solo single "Adrenalina" and its accompanying music video. Arriving on Monday, March 3, the clip features the Puerto Rican rapper throwing a party where the two Latin superstars are among the guests.

Lopez steals the spotlight as she dances to the upbeat song while flaunting her killer curves and giving the camera some provocative moves in skimpy outfits. Later in the clip, the 44-year-old songstress meets Martin and things get steamy between them.

March 04, 2014 07:50:31 GMT

It has been reported that is readying a new song with . Some new details about the collaboration recently emerged as Brown's celebrity barber posted a photo revealing that the track would probably be called "Don't Be Gone Too Long".

Grande and Brown first teased their collaboration by tweeting what might be the lyrics of their new project. The Nickelodeon star, who released her debut album "" last summer, then revealed to her fans that a new song that they hadn't heard would arrive later this month.

March 04, 2014 07:03:53 GMT

took the stage at the 22nd annual AIDS Foundation Academy Awards Viewing Party on Sunday night, March 2. The 23-year-old redhead joined John to perform a special rendition of the veteran entertainer's "Candle in the Wind".

Dressed casually in a black shirt and a pair of jeans, Sheeran sang while playing his guitar. Meanwhile, John performed while sitting at a piano. They played the classic for audience members that included A-listers like , , , and .

March 04, 2014 05:02:58 GMT

has unveiled the full tracklist of her upcoming self-titled album, "". The deluxe edition of the record will feature 15 new songs including her collaboration with , "Can't Remember to Forget You".

The track was released as the lead single off the new album and it has peaked at No. 15 on Billboard 100. The rock/reggae-tinged song is followed up by second single "Empire" which was dropped in late February.

March 04, 2014 04:11:00 GMT

Just a few months after releasing "", already has a plan to drop a follow-up album. The singer made the revelation about the new record during an interview with , which is on newsstands now.

"It's called White Panties," Kelly announced the title of the sequel to "Black Panties", which peaked at No. 4 on Billboard 200 following its arrival in December. "And you can expect a whole other level," he added.

March 04, 2014 03:16:44 GMT

will do anything to save his marriage to . The R&B singer was making a tour stop at the Borgata Hotel Casino & Spa in Atlantic City, New Jersey, on Sunday night, March 2 when he decided to woo back his estranged wife through song.

When Thicke took a break to interact with audience, a fan yelled, "I love Paula." The "Blurred Lines" singer, who was still wearing his wedding ring, then responded, "I do too," before singing a cover of 's "Let's Stay Together".

March 04, 2014 02:16:13 GMT

's Roc Nation announces that it has partnered with 's creative company DONDA. According to a statement released on Monday, March 4, the partnership includes the "Bound 2" rapper's "international recording brand and worldwide touring ventures."

DONDA, which is named after West's late mother, was officially launched in 2011. The company was responsible for the packaging and tour design of his musical collaboration with Jay-Z "" as well as the artwork of "" album and the production of "Yeezus" tour.

March 03, 2014 09:27:13 GMT

has just dropped the music video for "Word Up". Jesy Nelson, Perrie Edwards, Jade Thirlwall and Leigh-Anne Pinnock are featured hitting the gym and showing off their athletic side in the three-and-a-half-minute clip.

Donning their workout gears, the ladies break some sweat on the treadmill and exercise bikes. They play fitness instructors as they perform some stretches and dance energetically with some gym goers that include Olympic gymnast Louis Smith.

March 03, 2014 09:00:42 GMT

has debuted the official music video for their newest single, "Arabella". Shot in black and white, the four-minute clip opens with a parental advisory warning before giving glimpses at the British four-piece performing the song in a room.

The performance footage intersperses with scenes of a wild house party and a group of young people riding motorbikes. Some girls are seen getting topless while some couples are making out and some others are drinking together.

March 03, 2014 08:22:33 GMT
Just a week after dropping new track "Midnight" and its accompanying music video, announces that their new album is coming out soon. The new record will be called "" and is set to arrive on May 19 via Parlophone/Atlantic Records.

The album will feature nine tracks including "Midnight" and "Magic". The latter song will likely serve as the first proper single off "Ghost Stories". It is available for free download for fans who pre-order the forthcoming album.

March 03, 2014 07:04:11 GMT

"It was a very difficult year," said in a recent interview with E! News, referring to 2013 when she had to deal with the tragic death of his boyfriend . She added, "Yet somehow something beautiful came out of it."

Michele's debut album, "", was originally scheduled to arrive last year. Following Monteith's passing, Michele decided to record and add more songs related to her "" co-star who died of lethal combination of drugs and alcohol back in July.

March 03, 2014 05:11:14 GMT

was among stars who performed at the Academy Awards. The singer took the stage at the event to perform his nominated song "Happy", which also serves as the soundtrack to animated movie "".

Wearing his famous big hat by Vivienne Westwood, the Grammy Award-winning producer made everyone happy as he energetically sang while being surrounded by a bunch of dancers. He then walked off the stage and approached stars like , and who sat in the front row.

March 03, 2014 04:19:35 GMT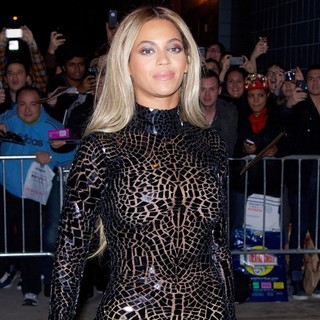 received a surprise gift from fans at her recent concert at London's O2 Arena. The singer was making her way through the crowd while performing her single called "XO" when an audience member got too excited and threw their wig at the star.

She was surprised when the wig landed in front of her. The 33-year-old performer then stepped around the wig and missed some lines of the song to make a joke. "You got me snatching wigs, snatching wigs," she said before continuing her performance.