November 16, 2014 18:53:39 GMT
was a musical guest on "" over the weekend. He first performed his solo song "I" before returning on stage to deliver "Pay for It" with Jay Rock and . He also made a cameo in a sketch "Young Tarts & Old Farts" that mocked 's collaboration with .

Lamar was not the only star who performed during the episode. Earlier on the show, who served as a host grabbed a guitar and delivered his own version of 's "Blank Space". He was later joined by "" castmates , , and .

November 16, 2014 11:57:33 GMT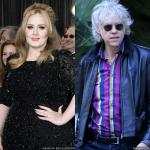 doesn't participate in Sir Bob Geldof's Band Aid to raise funds to fight the Ebola outbreak in West Africa, but she shows her support in a different way. Her rep reveals that she makes a donation to benefit the Ebola crisis.

A representative for the Grammy winning singer opens up to The Sun, "Bob and the organisers spoke directly with her management but at no point was she confirmed. Adele is supporting Oxfam's Ebola Appeal with a donation."

November 15, 2014 06:01:15 GMT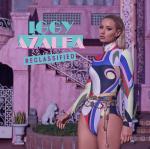 keeps building the anticipation of "" by previewing another new song from the forthcoming album. A day after teasing "", the Australian femcee shared a snippet of her collaboration with called "Heavy Crown".

In the 50-second clip posted on Iggy's YouTube page on Friday, November 14, the 24-year-old rapper refers to herself as a "captain of the cruise ship." She calls out her haters and tells them to take a seat as Iggy season continues.

November 15, 2014 04:46:27 GMT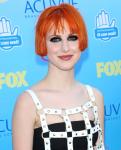 Another honoree for the 2014 Billboard Women in Music Awards was announced on Friday, November 14. is set to accept the Trailblazer award at the ninth annual event scheduled to take place in New York City on December 12.

The frontwoman will be the first-ever artist to win the award, which is given to a "standout female artist who breaks from convention to make a unique mark in music and pave the way for other talent."

November 15, 2014 03:56:06 GMT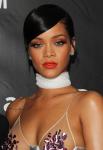 's new album may come sooner than expected. According to DJ Skee of Dash Radio, the Bajan singer recently took some bosses of her record label to a "top secret location" in New York City and played them ten new songs created for her eighth studio effort, which she planned to drop before 2014 ends.

"That project is a lot closer than anyone realized, including her own record label," said Skee. "She's trying to put out a project to capitalize off the fourth quarter." The deejay additionally revealed that there's one song titled "I've Been Searching for Something to Ignite Me When I'm Alone" that might be released as a single.

November 15, 2014 01:51:21 GMT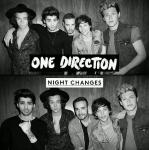 has premiered "Night Changes", the newest single off their upcoming album "". Hitting Vevo on Friday, November 14, the mid-tempo tune was co-penned by Jamie Scott who previously worked with the group on hits like "Story of My Life" and You and I".

On the sweet song, the boys talk about how fast life can change. "Everything that you've ever dreamed of/ Disappearing when you wake up/ But there's nothing to be afraid of/ Even when the night changes/ It will never change me and you," they sing the chorus.

November 14, 2014 09:04:32 GMT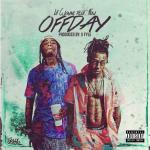 has debuted another new song from his highly-anticipated new album, "". The track arriving on Thursday, November 13 is titled "Off Day". It's produced by X-Fyle and features a guest verse by Flow, a new rapper signed to Young Money.

The rappers detail what happens when they and their ladies are in the bedroom on the explicit track. "I f**k her til she exhausted, p***y tasting like frosting/ Then she get on her knees like she begging my pardon, and that's word to my right hand/ That's my dice hand, pop that p***y like a price tag til I white flag," Tunechi raps.

November 14, 2014 08:24:24 GMT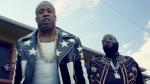 teamed up with for "Trap Luv", a new cut from his upcoming album "". The track hit the web on Thursday, November 13 along with its accompanying music video.

In the Dre Films directed video, Rozay and Gotti take it back to the trap in Miami. The Maybach Music Group boss compares himself to , W.E.B. Du Bois and Ronald Reagan while he and his collaborator stand in front of a motel, hit the streets and interact with local children from the community.

November 14, 2014 07:51:21 GMT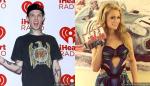 still refuses to acknowledge 's DJing skill. He recently tweeted a "congratulatory message" to the hotel heiress after TMZ reported she won a prize at the NRJ DJ Awards in Monte Carlo.

At the fan-voted event held on Wednesday, November 12, Hilton was named the Women's Newcomer of the Year. She received her trophy from French DJ and producer . The awards show isn't very big, but big names like , and are among its previous winners.

November 14, 2014 06:57:43 GMT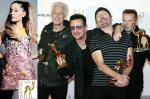 was among the winners at the 66th Bambi Awards. The singer took home the Best Newcomer trophy during the ceremony held on Thursday, November 13 at the Stage Theater in Berlin, Germany.

Grande, who rose to fame for playing Cat Valentine on Nickelodeon's "" and its spin-off "", already has released two albums. Both peaked at No. 1 on Billboard 200. This year, she dominated the singles charts with her hits "Problems", "Break Free" and "Bang-Bang".

November 14, 2014 04:52:03 GMT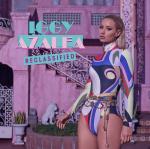 has shared a preview of "We in This B**ch", one of the new cuts from her forthcoming "" album. The Australian raptress posted a 30-second snippet of the track on her YouTube page on Thursday, November 13.

On the song, Iggy calls out haters over a '70-inspired beat and a bass guitar. "I had to write a hit to get this type of chip/ Riding d**k won't get me nowhere, I ain't that type of chick/ It's so un-lady like especially knowing they be like, Iggy this Iggy that/ As long as you say it, say it right," she raps.

November 14, 2014 04:10:49 GMT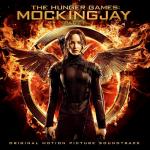 Another track featured on the -curated "" soundtrack has arrived online. Hitting the web on Thursday, November 13, the song titled "All My Love" is a collaboration between and .

The former Nickelodeon star showcases her beautiful, smooth vocals over the EDM beat produced by . "All your love will make us ache/ All your love is worth the chase/ All my love, I know we're you'll find it/ All my love's up on the mountain tops," she sings the hook.

November 14, 2014 03:05:02 GMT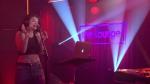 played a cover of 's hit "Don't Tell 'Em" when she stopped by BBC Radio One's "Live Lounge" on Thursday, November 13. Accompanied by a band, the New Zealand native gave the club anthem a dark makeover while showing off her signature dance moves in the studio.

"I have basically been a really big fan of this song since I first started hearing it around," the 18-year-old singer explained why she chose to cover the song. "I love the vocal melodies. I think they're really smart and just consider them cool. It's quite a saucy song and I think it would be interesting to flip the dynamic and make that power mine."

November 14, 2014 02:04:55 GMT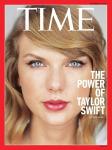 once again explains her decision to leave Spotify. The country-turned-pop superstar, who graces the cover of 's December edition, says in an accompanying interview with the magazine that she first put her music on the service because she's "always up for trying something."

"And I tried it and I didn't like the way it felt," the "Shake It Off" singer explains. "I think there should be an inherent value placed on art. I didn't see that happening, perception-wise, when I put my music on Spotify."

November 13, 2014 22:24:20 GMT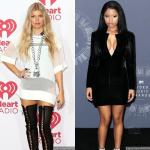 A Fergie and duet is coming. The hip-hop star whose real name is confirmed the collaboration with the "Anaconda" rapper during a recent interview with "Ebro in the Morning" on Hot 97.

"This is the first time I've even announced anything," the leading lady said of her first solo album since 2006's "". When asked if fans would get to hear the duet ahead of the album, she teased, "Possibly."