July 14, 2014 08:00:41 GMT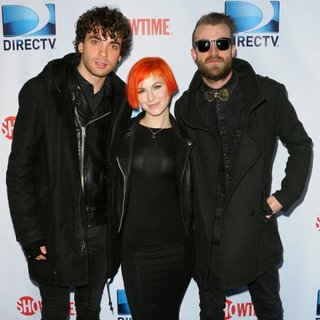 A skunk unexpectedly made an appearance at 's recent concert and prompted the band to pause their performance. The group had just started singing their "The Only Exception" when vocalist noticed something might have happened in the crowd.

"Do you guys want me to stop?" the turquoise-haired singer asked the audience from the stage. "Let's just pause. Is everybody OK down there? Good? Not good? We'll just hold on until everything gets cool."

July 14, 2014 06:51:38 GMT

expects to repeat the success of 2012's "" with a new album. Simply titled "", the upcoming project finds the super talented singer reuniting with Raining Jane whom he has been making music and performing with since 2007.

"Yes!" started from numerous tracks that Mraz wrote with the all-girl group together. "Within the last couple of years, we started to feel more momentum with our musical musings. The years of bonding and growing - both as fivesome and as individuals - added up to a new level of synergy," Raining Jane said in a statement posted on their website when announcing the new record.

July 14, 2014 05:01:38 GMT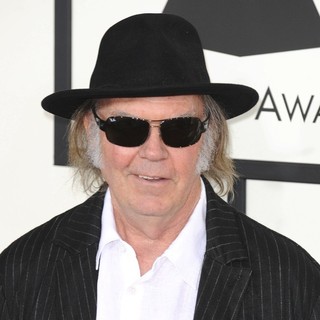 and Crazy Horse have canceled their upcoming show in Tel Aviv, Israel. A spokesman for the legendary musician said on Sunday, July 13 that the decision was made because of ongoing tensions between the country and militants from the neighboring region of Palestine.

"It is with heavy hearts and deep sadness that we must cancel our one and only Israeli concert due to tensions which have rendered the event unsafe at this time. We'll miss the opportunity to play for our fans and look forward to playing in Israel and Palestine in peace," the spokesperson explained in a statement.

July 14, 2014 02:42:46 GMT

made a surprise appearance when Jay Electronica took over the Brooklyn Hip-Hop Festival on Saturday, July 12. The Roc Nation mogul happened to be in the city for his and wife ' "On the Run" tour. He then decided to visit the New Orleans rapper during his show and support him.

The two Jays performed some tracks together, including Big Daddy Kane's "Young Gifted and Black", their remix of 's "We Made It" and their 2010 collaboration "Shiny Suit Theory". They also tackled Jay-Z's solo hit "P.S.A. (Public Service Announcement)".

July 14, 2014 01:46:46 GMT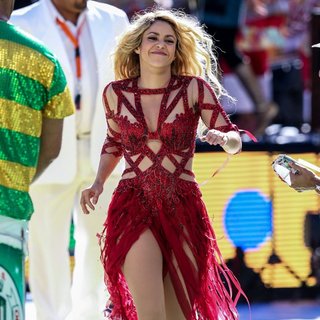 stole the spotlight at 2014 FIFA World Cup Final closing ceremony held at Maracana Stadium in Rio De Janeiro, Brazil, on Sunday, July 13. Looking hot in a red sequined strappy dress with a revealing fringe skirt, the singer delivered an amazing live performance of her World Cup song, "La La La (Brazil 2014)".

Shak brought along collaborator Carlinhos Brown, who's dressed in black tie and an Indian headdress. The duo performed while being surrounded by numerous backing dancers, Samba dancers and drummers.

July 12, 2014 05:58:20 GMT

can be very nice too. A new video recently surfaced showing the singer, who's been making headlines for his antics and his run-ins with the law, stopping his car to say hi to a little girl who's been waiting for him along with older Beliebers.

The Canadian superstar pops out of the window and grabs the 4-year-old fan named Hayley, who wears a cute pink dress and a matching bow. He hugs her and kisses her on the cheek before sweetly telling her, "It's way past your bedtime, little one."

July 12, 2014 04:57:00 GMT

lets fans take a peek into the upcoming music video for her newest single, "Come Alive". In a preview arriving on YouTube on Friday, July 11, the hotel heiress/DJ is seen performing the song while sitting on a swing covered with pink and white roses. In another scene, she appears as an angel in a white bejeweled corset completed with wings.

The full music video, which will also feature a unicorn, is expected to be released in the coming days. Hilton recently explained the concept of the visuals in a behind-the-scene clip she shared via E! News. " 'Come Alive' is all about love and how it makes you feel alive," she said.

July 12, 2014 03:49:26 GMT

kicked off his two-day concert at London's Wembley Stadium on Friday, July 11. The rapper treated about 80,000 fans in attendance to the live performances of the tracks from his "" album as well as his older hits like "The Real Slim Shady", "Without Me" and "Lose Yourself".

During the show, Em also excited the crowd when he welcomed his longtime friend and collaborator to the stage. The Beats founder joined the Detroit MC for some of his classics that included "Still D.R.E.", "Next Episode", "Nuthin' But a 'G' Thang" and "Forgot About Dre".

July 12, 2014 02:52:22 GMT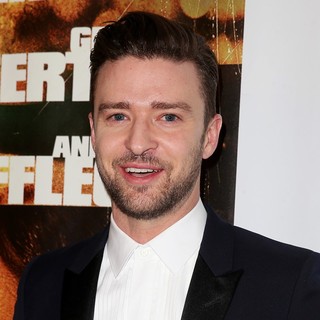 got an unexpected present from a fan when he was playing a show at the Hammerstein Ballroom in New York on Thursday, July 10. Mid-concert, an overexcited female fan in the audience threw her panties onstage and then received hilarious response from the singer.

Timberlake, who was performing on behalf of Citi/AAdvantage & MasterCard Priceless Access, picked up the underwear and jokingly told the fan, "This is a MasterCard-sponsored event, sweetheart, and this will not get you any more priceless points." He added, " I f**king love you too."

July 12, 2014 01:44:14 GMT

After officially ending their feud, and appear to be planning a collaboration. A photo recently surfaced showing the two superstars hitting the studio, standing next to each other while listening intensely to a track.

The picture was first posted to Instagram by Kosine, one half of production duo Da Internz. "Ay @ericbellinger should we give these n***az more glow or nah? #harvestseason #KINGSONLY," he asked songwriter Eric Bellinger in the caption. Bellinger then reposted the pic on his own Instagram and asked fans to "stay tuned."

July 11, 2014 08:54:20 GMT

isn't worried about the low sales of 's latest album, "". The record, which was pushed back numerous times before being released in late May, posts the diva's smallest opening sales for a non-holiday album after selling only 58,000 in its first week.

Speaking to Rap Up TV recently, Dupri who executive produced "Chanteuse" revealed he believed the LP could still be really big. "I actually feel like it's probably one of her best albums she's ever made," he said. "I'm excited to see where the album ends up. I tell a lot of people, this era of music and this genre, they don't understand records that come out small and sell a lot of records."

July 11, 2014 08:13:59 GMT

is back. A few months after announcing his new album, he treated fans with the upoming project's first offering. Called "The Exit Plan", the dark and sinister track was produced by Cardiak and features singer on the hook.

In it, the rapper teaches younger generation the rules and regulations that used to mean something on the street. "And we don't talk to police/ That's the number one rule in the streets/ 'Cause if you can't do the time, then you don't do the crime/ N***a keep the streets quiet," he raps.

July 11, 2014 07:23:40 GMT

's "", which is his latest attempt to win back his estranged wife , also failed to impress fans in Australia. According to a new report by News.com.au, the R&B singer's latest record didn't even place in the country's Aria top 500 Chart.

A Blondie compilation occupies the 500th spot after selling 54 copies. It means that Thicke's album must have sold less than that. However, it's unclear how many copies have been sold since the exact sales figures are not registered for albums that chart outside of the top 500.

July 11, 2014 06:22:19 GMT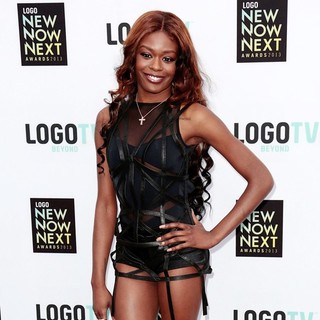 finally gets what she wants. The raptress, who made more headlines for her feuds with fellow artists than her music, took to Twitter on Thursday, July 10 to announce that she'd departed Universal Records which she joined back in 2012.

"IM ABOUT TO GET OUT OF MY DEAL!!!!!!!!!!!!!!!!!!!!! THATS THE BIG SURPRISE!!!! I'm feeling like miss celie at the end of color purple... Free at last," she wrote. "I'm gonna have a fresh start. I'm so excited!!!!" No official announcement has been made by the label.

July 11, 2014 04:52:56 GMT

has previewed his upcoming album with a new single. Titled "R&B Chicks", the song was premiered on HOT 97's "Funkmaster Flex" on Thursday, July 10 and it finds the MMG artist and fellow rappers and showing their love for the hottest girls in the industry such as , , , and .

"I had a dream of fu**ing R&B b**ches," Montana raps in the hook. In the track, Fabolous and Wale also name-drop other female singers like , , , , and .