July 22, 2014 06:08:04 GMT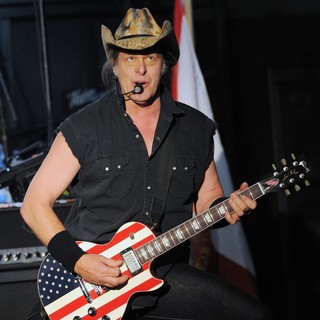 's upcoming concert at a Native American tribe's casino has been canceled. On Monday, July 21, the Coeur d'Alene Tribe said that they decided to axe the show scheduled to take place at the casino in the northwest Idaho city of Worley on August 4 due to the rocker's "racist and hate-filled remarks."

"We know what it's like to be the target of hateful messages and we would never want perpetuate hate in any way," Chief Allan, chairman of the Coeur d'Alene Tribe, said of the cancellation in a statement.

July 22, 2014 04:45:11 GMT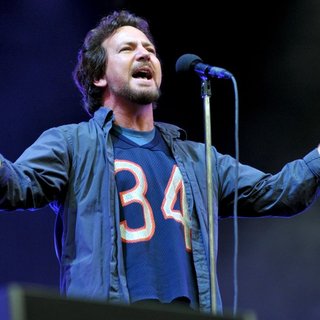 For the first time in his career, 's frontman covered 's classic "Imagine" during a live concert. The singer, appearing at the Super Bock Super Rock festival in Portugal late last week, was accompanied only by an acoustic guitar when playing the track.

"This next song, I've always thought is the most powerful song ever written, which is why I've never played it," Vedder told the crowd prior to the performance, as quoted by Consequence of Sound. "It seems like maybe there is a reason to play it."

July 22, 2014 03:56:16 GMT

got emotional when she delivered a touching speech during her recent concert in Las Vegas. Taking the stage at the MGM Grand Garden Arena, the singer thanked her fans for their support and shed some tears when talking about her past as a nightclub dancer.

"I want to say thank you to all of you, for inspiring me, for letting me be myself, it means so much to me," the New York native told the crowd as she sat at the piano. "I'm so very grateful, I used to come here when I was little and see all the big fancy lights."

July 22, 2014 02:51:57 GMT

has unveiled the official cover art and the full tracklist of their forthcoming fifth studio album, aptly titled "". On Monday, July 21, just two days after frontman tied the knot with , the band posted on Twitter the artwork that simply sees a neon red "V" standing against a desert landscape.

The new album will feature 11 tracks including its lead single "Maps" and "My Heart Is Open". The latter track, written by , is the group's collaboration with Levine's fellow coach on "" . The LP will also feature three B-sides including "Lost Stars" that appears in the soundtrack of Levine's film "".

July 22, 2014 01:58:23 GMT

's new album and music may come out soon. The rapper, who graced the cover of , says in an interview with the magazine that he hopes to release his highly-anticipated new LP "most likely in September."

"I hope I can get one of these songs out in the next couple of weeks, just to have something up and running. But I think most likely September," he explains. However, he doesn't seem really sure about the release date.

July 21, 2014 09:07:10 GMT

Several big names in music have been listed as performers for the 2014 iTunes Festival, which will be held for the eighth time in the U.K. in September. Apple announced on Monday, July 21 that , and would be among stars to take the stage at the Roundhouse in Camden.

This year's fest is also set to feature performances from other artists like , , , , and . Tickets to the event are free for contest winners. Those who can't get the ticket can still stream the event live on Apple devices.

July 21, 2014 08:41:09 GMT

is back with a new single titled "Superheroes". Premiered on Monday, July 21 , the track serves as the first official offering from the Irish group's upcoming album "".

"Superheroes" is a catchy pop/rock mid-tempo jam with empowering lyrics. It features the band talking about the pain someone must go through to become stronger. "When you've been fighting for it all your life/ You've been struggling to make things right/ That's a how a superhero learns to fly/ Every day, every hour/ Turn the pain into power," they sing the chorus.

July 21, 2014 07:15:45 GMT

is clearly having a good year. The band, which started gaining international fame after joining on their "Take Me Home" tour last year, became a household name after they came with their worldwide debut single "She Looks So Perfect" earlier this year.

The track reached No. 1 on charts in 39 countries including the U.K. and the four-piece's home country of Australia. It has even been certified double platinum by the Australian Recording Industry Association. It serves as the first single and title track of their EP that arrived in early April and peaked at No. 2 on Billboard 200.

July 21, 2014 05:57:28 GMT

is planning a new album and he has enlisted a number of A-listers for it. According to Rolling Stone, , and are among those who have been working with the musician at Ocean Way Studios in Hollywood.

The songs for Wilson's solo album were initially written for ' new LP. Refusing to shelve the new material after Mike Love pulled the plug on the group's reunion tour, the singer/songwriter teamed up with the girls, and some other singers too, to complete the tracks.

July 21, 2014 03:00:45 GMT

A few days ago, reports emerged suggesting that Lifetime hired singer to cover 's hits for their upcoming biopic. Now, an audio of Cox covering the late star's "I Will Always Love You" has surfaced online thanks to TMZ.

Cox's version was recorded earlier this month, according to the site. In the clip, the two singer's voices are almost indistinguishable. The song is expected to be featured at a climatic point in the biopic that will star as the iconic singer and Arlen Escarpeta as .

July 21, 2014 01:54:19 GMT

The Charleston RiverDogs, a minor-league baseball team in South Carolina, hosted a mass destruction of and ' music and merchandise. Dubbed "Disco Demolition 2: You Better Belieb It", the event was held at a Saturday, July 19 game between RiverDogs and Augusta GreenJackets.

Fans could buy tickets to the game for $1 if they brought items associated with Bieber and/or Cyrus. Those items were put in a fake boombox placed in the middle of the field before being blown out.

July 20, 2014 16:47:42 GMT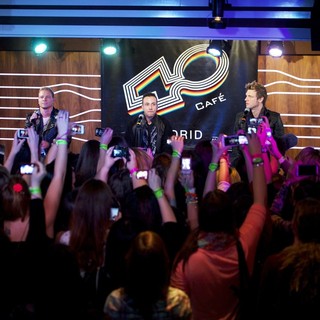 A. J. McLean, Howie Dorough, , Kevin Richardson, and Brian Littrell scrap their scheduled concert in Israel as the country's conflict with Palestine escalates. They were supposed to perform in Israel for three consecutive nights starting July 29.

"We are very sorry to inform you that the BSB concerts planned for July 29-30-31 at the Ra'anana Amphitheater have been postponed," the boyband says in a statement. "This is a major disappointment for the band and fans as this was to be our first visit to Israel and we looked forward to meeting our fans."

July 19, 2014 05:49:55 GMT
has unveiled the music video for his collaboration with , "Scholarship". Arriving on Friday, July 18, the clip literally lives up to the song's lyrics as it shows the two rappers indulging in pool games and later being joined by a number of twerking ladies.

"Say you need some extra cash to pay for college with/ And it just so happens I got a lot of it/ Spin around the pole while you're doing splits/ By the end of the night might earn you a scholarship," he raps.

July 19, 2014 04:42:40 GMT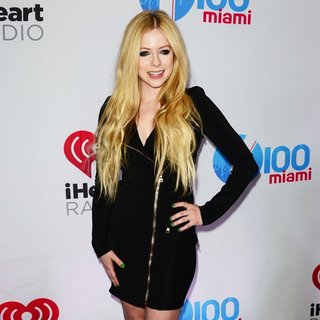 is suing live concert streaming company 2VLive over unpaid gig, TMZ repots. The Canadian superstar has filed a lawsuit against the company in Los Angeles, claiming they owe her $375,000 for a gig she did last year.

In the 23-page suit, Lavigne explained that she signed a contract with 2VLive to make a promotional appearance and play a concert in New York City on September 25, 2013. She was supposed to be paid $500,000 for it.

July 19, 2014 03:44:08 GMT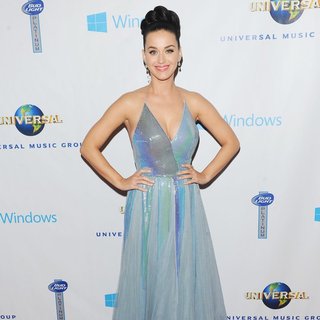 had a big success with her 2013 smashing hit single "Roar", so she was probably surprised that it wasn't nominated at all at the MTV Video Music Awards. One day after the nominations were on Thursday, July 17, the singer took to Twitter to subtly shade the awards show.

"I'm good with my 569,000,000+ views on Roar," she wrote. Perry, however, wasn't completely snubbed by the VMAs as her collaboration with "Dark Horse" was nominated in Best Female Video and Best Collaboration categories.