June 06, 2008 02:59:10 GMT
Max Liron Bratman, the son of famous pop singer , is about to make his TV debut. The infant, who's just 4 months old, makes his TV debut alongside his mother in a public service announcement (PSA) which is shot for Rock the Vote campaign, which aims to engage young voters in the U.S. political process.

In the PSA, Max is wrapped in an American flag and cradled in Aguilera's arms as she sings a lullaby version of "America the Beautiful." The advertisement, which is scheduled to run at the end of the month, ends with Aguilera making a call "to make history" and "rock the vote."

June 06, 2008 02:18:42 GMT

It's over. The love relationship of and has come to an end, it's been confirmed.

A representative for Karina confirmed the couple's split to E! News, saying "Karina has parted ways with her two-year relationship with Mario Lopez. The relationship wasn't heading in the right direction." As for Mario, he issued his own statement about his split from the dancer. Through his representative he said, "Karina and I have the utmost respect for each other. She is a phenomenal and talented woman. I support her always and feel blessed to have her in my life."

June 05, 2008 07:54:56 GMT
On Tuesday, June 3 it was reported that Houston rapper has been involved in a car crash in his hometown. Although details are still scarce, it is revealed that Flip whose real name is Wesley Eric Weston, Jr. was injured in the accident.

The unfortunate event occurred on Southwest side of Houston, Texas according to a press release issued by Flip's spokesperson. The car which type is unidentified was totaled and Flip was quickly rushed to hospital where he was treated for neck and wrist injuries.

June 05, 2008 07:16:22 GMT

, the outspoken British/Sri Lankan rapper is giving back to the community with the paycheck that she earned for performing. The star will make use of her $100,000 salary that she earned as the guest singer of MTV Movie Awards after-party on Sunday, June 1 to build schools in Liberia.

"They're giving me $100,000. Not bad, eh? I'm going to use it to build schools in Liberia," M.I.A. who climbed on a photo booth told the crowd. "It costs $52,000 to build a school for 1,000." After two civil wars that ended in 1996 and 2003 respectively, Liberia has been in a state of flux that cost many lives and crushed the country's economy.

June 05, 2008 06:30:04 GMT
turned heads not only when she arrived at the annual Glamour Women of the Year Awards on Tuesday, June 3 but also on her departure. The London event witnessed the pop singer coming in bright pink hair and elegant soft pink dress but going out too drunk to even walk on her own. Allen has since addressed the incident and apologized for the behavior.

The "Smile" singer insisted that she felt "awful" about the embarrassing situation and suggested that other kids should not do the same. In her MySpace blog Allen wrote, "Last time I wrote here, I was defending my honor and dignity, explaining my innocence and also outrage at the press for insinuating my behavior (sunbathing topless while on holiday) was embarrassing." She then added, "This time I'm putting my hands up, I got very drunk last night, too drunk. It's not cool getting that drunk, I feel awful..."

June 05, 2008 04:35:14 GMT
Daddy factor apparently has something to do with the breakup of and American quarterback . A report on US Weekly insinuated that the singer's father slash manager Joe has been interfering with their love life that ended in their split last month. However, Joe was quick to deny the allegation.

In attempt to push out the truth, Joe told the publication, "It's unfair to criticize me for what every manager does for his or her clients. And in this business, where people can quickly turn on you, who better than a parent to be working for his children?" Joe has been managing Jessica and her younger sister, 's careers for years. He added, "A parent will always be there for his kids and never give up on them. I work hard seven days a week for my girls because I love them. Why in the world would I ever want to do anything that would hurt my children?"

June 05, 2008 03:54:44 GMT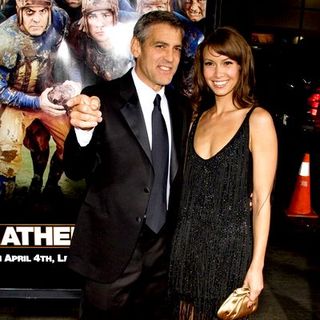 The mystery behind -Sarah Larson split may have just been unearthed. E! News reported that a source told them that Larson is just one of those girlfriends who use his celebrity status to advance her own career. This put off the circulating rumors that Clooney has found someone else for him.

Clooney, who is famous for his no-settle-down status reportedly broke off the romance last month because he was getting worried that Larson was giving too much information of their relationship to the public. "George is very protective of his private life," the source told E! "He started feeling like she had spoken too much about the relationship. She wanted the fame."

June 05, 2008 03:25:25 GMT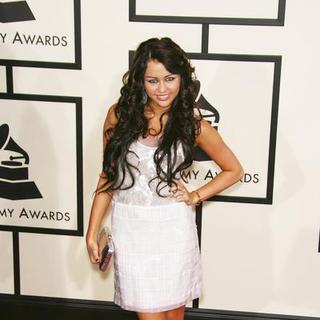 Having her supposed-private photos leaked to the net has been like a weekly routine for lately. After several scandalous pictures of her sexy poses, a couple more emerge this week, showing her kissing a boy on the cheek and hugging him.

The 15-year-old star apparently took her own pictures with the boy whom she posed with intimately. Gossip blog PerezHilton managed to acquire a photo where Miley is seen and later on another one which is less intimate. The features her hugging with him to pose for the camera.

June 05, 2008 02:44:23 GMT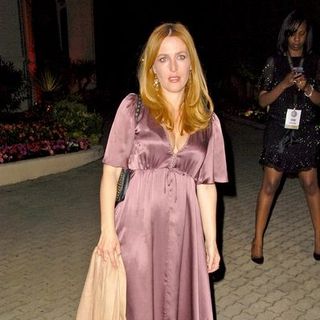 had it all planned in time. The actress who rose to prominence with her acting skill as agent Scully in "The X-Files" series is now pregnant with her third child, just months away after wrapping up the big screen version of the TV series.

A representative for Anderson confirmed the good news to E! although missed out on detailing the due date. This would be the second pregnancy for Anderson with businessman boyfriend Mark Griffiths. The couple have had one son named Oscar who was born on November 1, 2006. In addition, Anderson has a 13-year-old daughter named Piper from her first marriage to Clyde Klotz, "The X-File"s series assistant art director.

June 04, 2008 09:36:25 GMT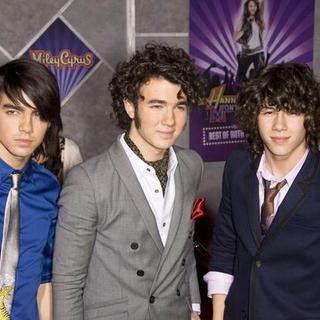 When it comes to a very hectic schedule, are the best to deal with it. The siblings have revealed the secret to keep up with their busy schedules, saying they rely on coffee and sports drinks for maintaining their energy on stage.

, the youngest of the brothers, tells Teen Magazine in its summer issue, "I have an energy drink when I wake up and a coffee when I eat breakfast. Then [I have] a coffee at dinner and an energy drink right before I go onstage. Then I'm good." No words on what his brothers; and drink to keep up with their busy schedules.

June 04, 2008 09:02:22 GMT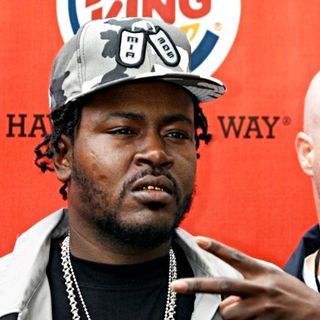 Is known as a rap artist, is invading the world of literature. The rapper and Dunk Ryder Record label CEO has revealed to Allhiphop.com he's currently working on a new autobiographical book.

The book, which has yet to be titled, will offer readers "Trick Daddy's personal, honest account of his life, from his upbringing in Miami's notorious Liberty Square Housing Development (aka the "Pork'n'Beans Projects"), to his successes in the entertainment industry," Allhiphop.com claimed. Still according to the site, the book will also "discuss the effects of gentrification and the drug trade on Miami's African-American community, challenging the somewhat glamorized version of the city's ongoing criminal element shown in films like Scarface, television programs like CSI Miami and video games like Grand Theft Auto."

June 04, 2008 08:05:27 GMT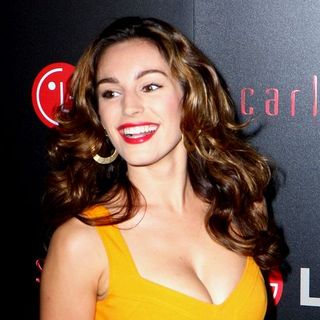 Intended to take her fashion designing career a notch higher, has signed an extension to her contract with British high street chain New Look. The deal, which is said to worth seven figure, will see the actress puts her name to the brand's swimwear and underwear collections which will go on sale later this year.

She, additionally, will also trademark her name for New Look's another swimwear collection which is set to hit the stores in 2009. Details of the collections are not provided though.

June 04, 2008 06:22:35 GMT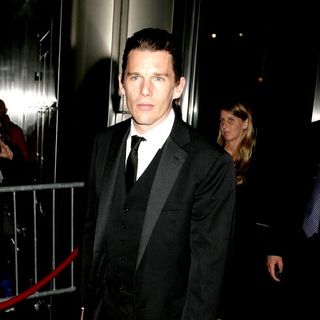 Are expecting their first child together, and his pregnant girlfriend Ryan Shawhughes are said to have been planning to tie the knot soon. Perez Hilton was the first to break the news.

The site cited a source as saying, "Ethan and Ryan are taking out their marriage license any day now." The source went on adding, "I wouldn't be surprised if they had the wedding this week!"

June 04, 2008 04:53:02 GMT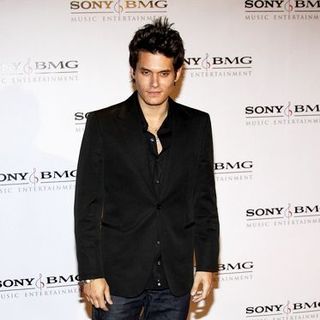 had a run-in with the law and the unfortunate was caught on camera. The recording artist was snapped by photographers being pulled over by the police Tuesday afternoon, June 3 in West Hollywood for driving with expired tags and no license plate.

Mayer was driving his green Land Rover when the authorities stopped him at 12:15 P.M., observed his vehicle only to find out that it was missing its rear license plate. According to the West Hollywood Sheriff Station's watch commander, the singer was ticketed for a registration violation.

June 04, 2008 03:54:40 GMT
Officially over. and her actor boyfriend broke up, The Sun reported. The actress, who reportedly was in Prague, called it off with him, who was in England working on a film, over the phone last week.

An insider told the Sun that Rhys had become very suspicious that Sienna had rekindled her romance with ex boyfriend considering that the two have met regularly in preparation for a promotional campaign for their film "." Things got even worse when Sienna caught Rhys reading her text messages.