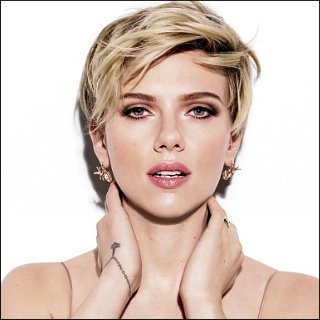 Profile
---
Famous as :
Actress

Birth Name :
Scarlett Ingrid Johansson

Birth Date :
November 22, 1984

Birth Place :
New York, New York, USA

Claim to fame :
As Grace MacLean in "The Horse Whisperer" (1998)


Voted the 3rd on Maxim magazine's list of 100 Hot Hollywood Starlets in 2007 and 2nd in 2008.
Ranked 1st on FHM magazine's annual list of 100 Sexiest Women in the World in the year 2006 and then voted 5th in both 2007 and 2008.
Was voted to have the Sexiest Style in Victoria's Secret 2008 "What Is Sexy?" list, unveiled in January 2008.
Included in a poll of 100 Sexiest Movie Stars compiled by Empire Magazine in December 2007.
Voted the 1st on the poll of Women Most Men Want to Marry compiled by British Esquire Magazine in April 2007.
Chosen the 7th in In Touch Magazine's list of Hollywood's Hottest Blondes in March 2007.
Voted the 5th World's Most Eligible Bachelorette by FHM Magazine in February 2007.
Chosen 7th on the poll of the Most Wanted Star Hairstyles conducted by In Touch Magazine in November 2006.
Was chosen Most Glamorous at Life & Style Magazine's 2nd Stylemaker's Awards, held Sept 14, 2006 in Los Angeles
Ranked 3rd in Forbes.com's first-ever analysis of Top-Selling Famous Faces (October 2007).
Proved her singing prowess, took the stage at the Coachella Music Festival took place April 27, 2007 at the Empire Polo Field in Indio, California.
Voted the 1st in a poll on World's Sexiest Bodies compiled by women magazine Glamour in April 2007.
Ranked 2nd in a poll on Sexiest Women conducted by men's magazine Stuff in April 2007.
Teamed up with athletic footwear giant Reebok to create a sporty clothing line, called "Scarlett Hearts Rbk," available in department stores and boutiques around the world by March 1, 2007.
Included in Teen People's list of Power-Wielding Players in Young Hollywood, compiled in August 2005.
She's been named Playboy's Sexiest Celebrity (February 2007).
Picked up the coveted "Pudding Pot" for winning Harvard University's Hasty Pudding Theatricals 2007 Woman of the Year award (February 15, 2007).
Is photographed as Cinderella, wearing a designer ball gown and a diamond tiara, in the "Year of a Million Dreams" promotion for Walt Disney Co. theme parks (January 2007).
Voted the No. 3 Best Dressed Female in a poll conducted by American publication Life & Style in December 2006.
Has been crowned the "Sexiest Woman Alive" by Esquire magazine in its November 2006 issue.
Ranked 3rd on the poll of the Greatest Ever Hollywood Starlets, carried out by Yahoo! Entertainment (September 2006).
Topped Maxim's 7th annual "Hot 100" list of the Most Successful Women in Film, TV, Music, Sports and Fashion at No. 6 (May 2006).
Included in People magazine's "100 Most Beautiful People" issue (April 2006).
Posed naked alongside Keira Knightley and Tom Ford on the cover of Vanity Fair's annual Hollywood issue in February 2006.
Finished second in the Grazia Magazine's list of Best-Dressed Women of 2005.
Has been chosen as the face of L'Oreal by January 2006.
Experienced a car accident in August 2005 when trying to evade paparazzi, fortunately she was not hurt.
Her favorite films including "Goodfellas" (1990) & "Mean Streets" (1973).
Her favorite directors are Martin Scorsese, Francis Ford Coppola, and Tim Burton.
Marc Jacobs, Chanel, and Gucci are her favorite designers.
Her favorite actresses including Judy Garland, Helena Bonham Carter, Juliette Lewis, and Meryl Streep; while her favorite actors are Gary Sinise, Christopher Walken, and Tom Cruise.
Her favorite musicians are Miles Davis, Billie Holiday, Anita O'Day, Rosemary Clooney, Edith Piaf, Nina Simone, Chet Baker, and Duke Ellington.
Spending her time doing charity work and helping out "The Make Poverty History" campaign.
Lends her voice to the movie adaptation of "SpongeBob SquarePants" (2004).
Campaigned for John Kerry in the 2004 Presidential Election.
Invited to join the Academy of Motion Picture Arts and Sciences (AMPAS) in June 2004.
Celebrated her 20th birthday at Disneyland.
Living in Hokkaido with then boyfriend Faiz Ahmad in order to prepare her role in "Lost in Translation" (2003).
Lost a role she auditioned for "The Parent Trap" (1998) to Lindsay Lohan.
Originally cast as Rebecca in "Thumbsucker" (2005), but dropped out before filming and was replaced by Kelli Garner.
Was not accepted at New York University's Tisch School of the Arts for the fall 2003 semester.
Has had an interest in acting when she was just 3 years old.
She is three minutes older than her twin brother.
Divides her time to be with her father in New York and with her mother in Los Angeles.
Also known as Scarlett Johansen or Scarlett Johanssen.
Is of Danish, Polish, and Jewish descent.
Is the granddaughter of writer Ejner Johansson (d. 2001).