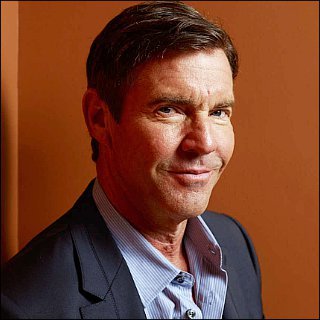 Profile
---
Famous as :
Actor, musician

Birth Name :
Dennis William Quaid

Birth Date :
April 09, 1954

Birth Place :
Houston, Texas, USA

Claim to fame :
As Mike in "Breaking Away" (1979)


Biography
---
by AceShowbiz.com
---
before brought back the glow to his star with several stellar performances in "Wyatt Earp" (1994), "Something to Talk About" (1995), and "Dragonheart" (1996).

Also struck high in his subsequent projects of "The Parent Trap" (1998) and "Any Given Sunday" (1999), Dennis went steadier by the turn of the third millennium through a series of well-known big screen productions he was cast in, including "Traffic" (2000) alongside Benicio Del Toro, Catherine Zeta-Jones, and Don Cheadle, also "The Rookie" (2002) opposite Rachel Griffiths. However, it was his next movie, "Far from Heaven" (2002), that really rose his career several notch higher when it directed him to secure both Golden Globes and Screen Actors nominations in the Supporting Role category a year later, enabling him to land more roles in high-profile movies. Afterwards being seen in Roland Emmerich's smash box office hit of "The Day after Tomorrow" (2004), he continued walking his path smoothly, appearing in "Yours, Mine and Ours" and "American Dreamz" in 2005 and 2006, respectively.

By the following year, Dennis has wonderfully risen as presumably one of the busiest actors in Hollywood if looking on his hectic schedule for years ahead. Not only landed major part in Pete Travis' thriller drama "Vantage Point," he also received billings in "Smart People" and "The Horsemen," all three slated to come up in 2008. The same year would likely see him appear in drama musical "Shame on You" and Gary Fleder-directed biopic "The Express" as well as hear his voice in animated feature "Terra" alongside the likes of Evan Rachel Wood, Ron Perlman, Luke Wilson, and Amanda Peet, among others.

Taking a glance into his love life, Dennis was first married to actress P.J. Soles in 1978 shortly after their meeting in the set of "Our Winning Season" (1978), but their knot only lasted less than 6 years for the twosome in the end decided to split in 1983. He then dated his "Jaws 3-D" (1983) co-star, Lea Thompson, to later live together with her for 4 years before fell into the arms of Meg Ryan and married her on February 14, 1991. Sadly, this did not last long enough either as he eventually filed for divorce by July 12, 2000 following Ryan's affair with Russell Crowe though they already had a son, Jack Henry, whom she delivered on April 24, 1992. Officially became single again on June 16, 2001, the actor ...