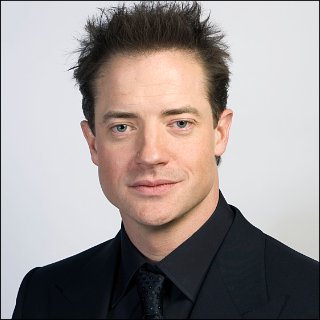 Profile
---
Famous as :
Actor

Birth Name :
Brendan James Fraser

Birth Date :
December 03, 1968

Birth Place :
Indianapolis, Indiana, USA

Claim to fame :
As George, the King of the Jungle, in "George of the Jungle" (1997)


Biography
---
by AceShowbiz.com
---
bigger roles, he finally nabbed the second billing in Les Mayfield's comedy flick of "Encino Man" (1992) to play Link, a neanderthal brought back to life by two modern-day teenagers, played by Pauly Shore and Sean Astin, after they thawed him out from a block of ice. Despite being critically panned down, the picture surprisingly encountered great success in box-office with domestic income of more than 40 million U.S. dollar, automatically brought Brendan's name to the surface as a new fresh look to be noticed in that year. Moved on without much difficulty, he gradually became a familiar face to the audience through a series of other comedic features, like "Airheads" (1994) also "Mrs. Winterbourne" and "Glory Daze" which both came up in 1996.

It was not until he was cast to portray the title role in "George of the Jungle" (1997) that Brendan eventually rose to widespread recognition he had eyed for since the beginning of his career. Delivered wacky yet memorable performance, he effortlessly captured not only kids' attention, but also that of adults to fantastically propel the flick's total worldwide gross into more than $170 million, unmistakably creating tremendous profit for Disney, the film's distributor. Looking at this huge attainment, many thus waited in anticipation for him to generate another roaring laughter, but he, presumably intended to avoid being typecast, preferred to explore the diversity of human character instead, getting romantic in "Still Breathing" (1997) then showing his dramatic side in "Gods and Monsters" (1998) before again enacting a fish-out-of-water guy in "Blast from the Past" (1999). Kept staying away from comical roles, he next crossed to more exciting genre of adventure in "The Mummy" (1999), one of Universal's big-budgeted pictures of that year.

Starred opposite Rachel Weisz in this ambitious effort of Stephen Sommers, Brendan wonderfully managed to construct a good teamwork also chemistry with the British actress and so helped the movie to fabulously score over $415 million around the world after garnering about $44.6 million during its first weekend in U.S. theaters. The glorious achievement certainly gave such a great contribution to his career, boosting his popularity as well as his status in the industry several notches higher. Thus glided very smoothly in maintaining his path, he afterwards returned eagerly to comedy genre in subsequent projects of "Dudley-Do-Right" (1999), "Bedazzled" (2000), plus "Monkeybone" (2001) to later rejoin the "Mummy" cast for its sequel, "The Mummy Returns" ...